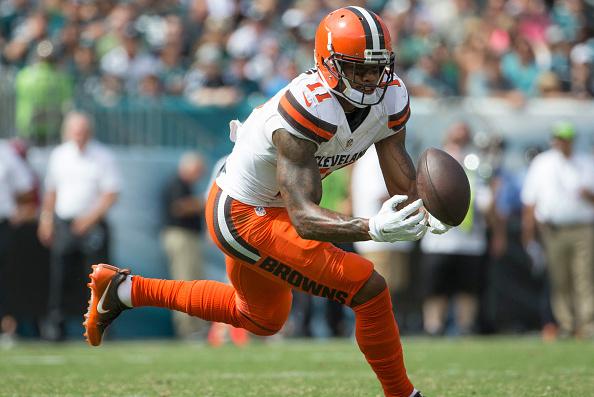 by Nick Broulis
CANTON, Ohio– With all the talk about the quarterback position in Cleveland, the Broulis Beat Report wants to remind people that the Browns need a lot of help at the wide receiver position.
Earlier this week, I wrote that the Cleveland Browns must sign a veteran quarterback. Now that Kansas City traded Smith to Washington and Kirk Cousins is all but out of the nation's capital, the Browns need to sign a quarterback or perhaps two, that have won at the NFL level. Regardless of whoever is under center, that quarterback still needs multiple threats on the outside to throw to.
Cleveland has one of the worst, if not the worst wide receiving core in the NFL. That MUST be addressed during the offseason.
First, let's take a look at the free-agents that Cleveland could realistically bring in that have already played at the NFL level.
FREE AGENTS
JARVIS LANDRY: Miami put the franchise tag on Landry, but rumor has it that the Dolphins are open to trading one of the best slot receivers in the NFL. In four seasons in Miami, Landry caught 22 touchdowns and 400 catches for 4,038 yards. Landry reportedly wanted a four-year $58 million deal. The Browns would be smart to stay away from trading for Landry and here's why. He'd probably ask for even more from Cleveland because of the situation that is the Browns. Secondly, He's not worth paying $14 million a year as a slot receiver. Next, Cleveland already has a slot receiver in Corey Coleman. Though he's been injured quite often, he has shown, when he does play, that he might be a productive slot receiver. My last point, Coleman is still under a rookie contract for two seasons. Let's give him another year and see what happens.
ALLEN ROBINSON: At 6-foot-3 and 220 pounds, Robinson would give the Browns a big target. Robinson is also young. His best season came in 2015 when Robinson caught 80 passes for 1,400 yards. Last season he only played one game before tearing his ACL. Luckily for him, he'll only be 25 in August.
SAMMY WATKINS: If Watkins can stay healthy, he could be a very nice piece for Cleveland. Most of the time, defenders are so afraid of getting burnt by Watkins speed, that they'll give him a lot of cushion. In those situations, a nice screen play called for Watkins would allow him to make the defender miss and cause havoc after the catch. If the defense plays a press coverage, that's where the defender plays within a few yards of the receiver to try and bump them at the line of scrimmage, he could then make a move to get past the defender and beat a defense with the threat of a deep passing play.
TERRELLE PRYOR:  I realize Pryor had a bad year in Washington in 2017. He gambled on himself when he left Cleveland and it didn't pay off. Through social media, Pryor has made it clear that he would love to return to Cleveland. In 9 games for the Redskins, Pryor had 20 receptions for 240 yards. While in Cleveland in 2016, and a revolving door at the QB position, Pryor had 77 catches for 1,007 yards and 4 touchdowns. Usually I wouldn't have thrown in such a small number when it comes to touchdowns but considering how bad the Browns have been the past few seasons, it's worth mentioning. Pryor would give the Browns another big target outside with speed. What's even better? Cleveland could probably get Pryor at a good price.
DRAFT PROSPECTS:
CALVIN RIDLEY (ALABAMA): Ridley is not a big target but he's a great route runner with good hands and speed that could cause a lot of problems for any secondary if he finds open field after a catch. Ridley would've had more production but down in Alabama they love running the ball. Also, the only concern according to most scouts, is his thin frame and if his body will be able to handle the pounding at the NFL level.
COURTLAND SUTTON (SMU): A big, athletic receive whose biggest weakness is getting separation from defenders. I did notice that, but he also made some very difficult catches. According to his scouting report, Sutton should be available in the second round.
CHRISTIAN KIRK (TEXAS A&M): I don't really see Cleveland drafting Kirk but I wouldn't rule him out simply because he could be available in the second or third round.
Those are the three prospects I think are the most likely to be drafted by Cleveland. Realistically, I see the Browns upgrading the wide receiver position, mainly through free agency and possibly one rookie WR. And I don't think it will be any of the three names I listed above because the Browns will likely wait until the third round or later for a receiver and at that point, I have no idea who it would be.
Coach Hue Jackson said during his press conference at the NFL combine early Wednesday morning that the Browns would be aggressive in free-agency in signing a veteran quarterback but that also tells me that Cleveland is going to sign one free agent WR. The question is who will it be? So far, Josh Gordon, according to Jackson, has had a good off-season. If this continues, Gordon would undoubtable be the Browns No. 1 wide out. As of now, the next best option would be David Njoku or Seth DeValve. Corey Coleman has some proving to do, so that leads me to believe that there's a good chance Browns fans will see Terrelle Pryor back and maybe a Sammy Watkins signing. Hypothetically, a Cleveland receiving core of Gordon, Coleman, Watkins, Njoku, DeValve and Pryor is a big improvement over last year's group.