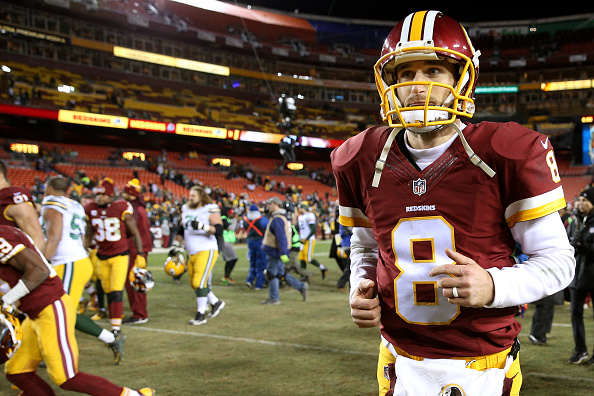 CLEVELAND – It's rare that a quarterback as talented as Kirk Cousins becomes available via free agency. So it's no surprise that Cousins been the focal point of the 2018 NFL offseason.
The Washington Redskins sealed Cousins' free agency fate back in January when details of a trade with the Kansas City Chiefs for quarterback Alex Smith were first revealed. Trades can't be finalized until the start of the new league year at 4 pm on March 14, but even news of the deal guaranteed that Cousins won't be back in the nation's capital next season.
Since then, every quarterback-needy team has been linked to the 2012 fourth-round pick, including the Cleveland Browns. However, as of Saturday, it appears the Browns are no longer in the mix for Cousins, who according to a report from ESPN's Adam Schefter, has whittled his list of suitors down to four. Schefter reported that Cousins will choose between the Denver Broncos, Arizona Cardinals, New York Jets and Minnesota Vikings as his next team.
The final four teams expected to be vying for free-agent quarterback Kirk Cousins are the Broncos, Cardinals, Jets and Vikings, per league sources.

— Adam Schefter (@AdamSchefter) March 3, 2018
The biggest dilemma in signing Cousins has been the fact that he'll likely garner upwards of $30 million or more per season on the open market, due to the fact that Washington drove up his price by making him play on the franchise tag in each of the last two seasons. Cleveland is projected to lead the league in available cap space this offseason with well over $100 million at their disposal. That made the idea of signing the 29-year-old a realistic possibility, initially. Perhaps Cousins desire to play for a more equipped Super Bowl contender is a higher priority than finances.
The Browns elimination from the Cousins sweepstakes will obviously impact what general manager John Dorsey and his staff do in the coming months to address the QB position. There are still a number of other solid quarterbacks that will be available when free agency opens in two weeks. None are viewed on the same level as Cousins, though.
Holding the first overall pick in April's NFL Draft, Cleveland will also have their pick of the liter with this talented class of rookie quarterbacks entering the league. And many believe they will select a QB at No. 1. However, on Thursday, at the NFL Combine in Indianapolis, Dorsey did mentioned that he's open to trading that selection as well. The Browns also own the fourth overall pick, which they could use on a quarterback. Perhaps they'll even explore pairing a rookie with one of the other veteran free agent options.
Nonetheless, it appears Cleveland's future plans at QB will not include Cousins like many Browns fans were hoping at the start of the offseason.