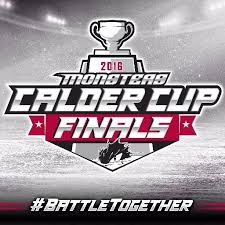 CLEVELAND, Ohio – It was another wild weekend in Cleveland Sports. Here is your http://amazingtickets.com/ NEO Sports Weekend Cap ( CHAMPIONSHIP VERSION)
The Amazing – The Lake Erie Monsters are now your 2016 Calder Cup Champions with a thrilling 1-0 overtime win over the Hershey Bears Saturday night at Quicken Loans Arena. Stayed tuned to NEO Sports for full coverage of the championship rally and parade this Tuesday.
The Good – The Indians remained hot, and took 2 of 3 on the road against the Angels. It brings their record to a season best 35 – 27 and 3 games ahead of the defending World Series Champion Kansas City Royals in the American League Central Division.
They kick off a 3 game set on the road in KC tomorrow, before coming home as they will return to Jacobs Field this weekend to take on the visiting Chicago White Sox. For Tickets to those games, stop by http://amazingtickets.com/ and type in promo code NEO Sports for 10% off your ticket purchase.
The Ugly – The big question on coach Lue's plate heading into Game Four at home in Cleveland, would be who would he start at power forward? If Kevin Love passed concussion protocol, how could possibly not start one of your three best players? On the other hand, you just won by 30 with Love on the bench all night and Jefferson starting, it was hard to argue with that logic as well.
In the end Lue had the decision made for him, "allegedly", when after being cleared to play, Love went to him and asked to come off the bench that night.
Who knows what the real truth behind it all was, but the lineup including Richard Jefferson starting paid off once again as the Cavaliers got off to a hot start once again. The great beginning to the game was half in part to a raucous crowd screaming with excitement after every play and also the nice shooting touch from Kyrie Irving who remained on fire.
Irving was unstoppable as he was able to drive to the basket with ease, and also play tough defense when needed. Behind the strong play from Irving, the Cavaliers led at halftime 55-50 and looked to have things in hand.
Everything would fall apart in the second half as LeBron James played horrible, he completely disappeared and did almost nothing to help Kyrie Irving. Lue also left Love on the bench too long and the game would eventually get out of hand as the Warriors built a 9 point lead only minutes into the fourth quarter.
LeBron continued to his disappearing act while Lue continued to leave Love on the bench, tried as he might and as good as he was, Irving simply couldn't do it by himself. Final score, Golden State 108, Cleveland 97. The Cavaliers hopes at a championship were on life support.
The poor outing from LeBron James wasn't the only thing that kept Cleveland down in Game Four. Two time NBA Season MVP Steph Curry finally started to heat up and scored 38 points. He caught fire and never let up, shooting 7 of 13 from behind the 3 point arc.
He was having a calm series until that point, but one asinine Cleveland fan thought it would be smart to tweet nasty things at his sisters and young daughter, that was not enough to catch national attention and piss of Curry to the point that he had all the motivation he needed to end his shooting slump.
Mix in some hurt feelings over the debut of his new shoe not going well, and Curry had all the ammunition he needed for a big night.
His splash brother's teammate also shot lights out at Quicken Loans arena, going 4 form 9 behind the 3 point arc, and scoring 25 points overall. Perhaps the biggest amount of salt in the wound came from former Cavalier Anderson Varejao who only played 4 minutes, but managed to grab three straight offensive rebounds to keep the ball away from Cleveland at the most pivotal point of the fourth quarter.
The Cavaliers were only down a handful at the time, but
Andy made sure they weren't getting the ball back, despite 3 straight Golden State misses. The Warriors would eventually nail a three pointer on that trip, and that was all they needed to wrap up the win.
As mentioned, the long bright spot for the Cavaliers was the excellent play of point guard Kyrie Irving. Uncle Drew, scored 34 points and attacked the basketball all night long. However, the 7 turnovers and lack of attack from LeBron James, didn't help matters and the Cavaliers now find themselves in a large hole heading into Game Five.
The only and maybe only thing giving them hope as they head back to Oracle Arena in Golden State was that star power forward Draymond Green of the Warriors, would be suspended for Game Five. The ruling came down from the NBA after a serious dirty plays throughout the playoffs had him one strike away from a suspension to begin with.
He took a swipe at LeBron and looked as though he hit James in the groin, or at least attempted to during a heated exchange late in the fourth quarter of Game Four. After reviewing the tape, the NBA felt it had enough to suspend him for Game Five in Golden State. So if the Warriors wanted to put away the Cavaliers in five games, they would need to do so without their resident bad boy.
If the Cavs can pull off the upset, Game Six will be here Wednesday night, at home, you can purchase your tickets at http://amazingtickets.com/
Until next time, this has been your NEO Sports Report Weekend Recap,sponsored by http://amazingtickets.com/

NEO Sports Insiders Newsletter
Sign up to receive our NEOSI newsletter, and keep up to date with all the latest Cleveland sports news.