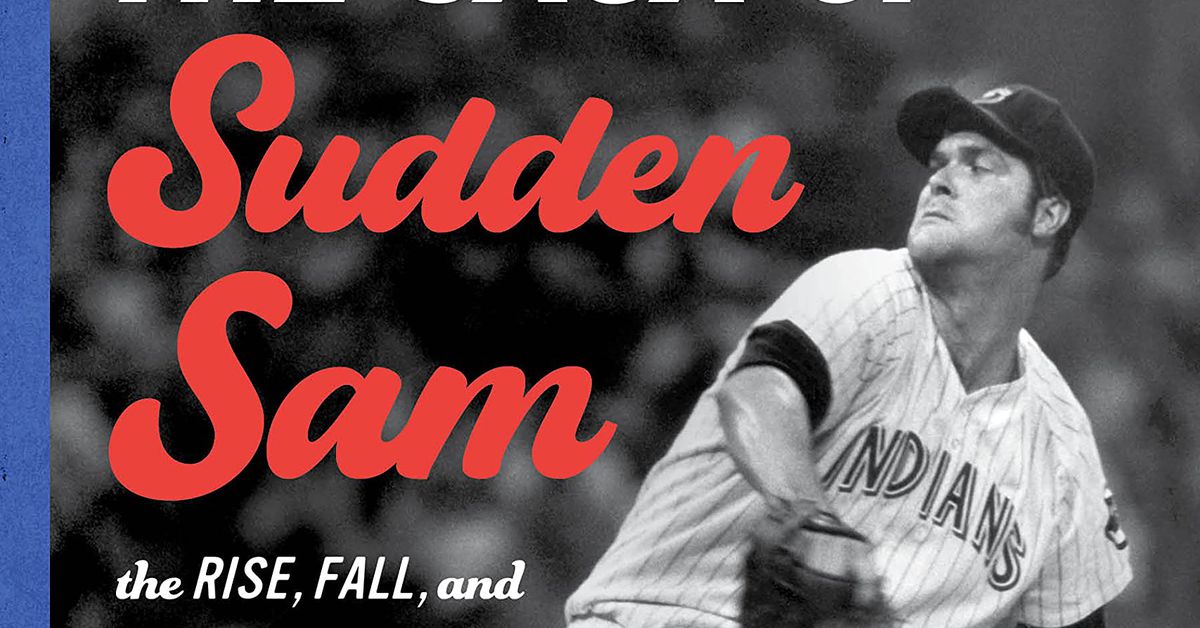 Sam McDowell is known for pitching in the majors and most notably for the Cleveland Indians. He had a tumultuous career that was fueled by an alcohol addiction. Yet, McDowell has spent his life after baseball doing work to help other athletes who suffer with addiction. His autobiography titled "The Saga of Sudden Sam: The Rise, Fall and Redemption of Sam McDowell" is a powerful look into his life.
How the book came to be
I had the privilege to speak with Sam about his book and baseball. I asked him what made him want to put out an autobiography. He told me that, "sportswriters for the past 30 years wanted to do one and I wasn't enthusiastic about it. About four years ago, I decided to do one that might help others who had been in my situation…if it could be done in a way that would be helpful to other people."
Marty Gitlin, a former Cleveland media member, an award-winning sportswriter as well as an author of over 200 books, approached McDowell when the timing was right. It turned out that it wasn't just the timing that clicked, Sam and Marty were on the same page from the jump. "I worked on writing several chapters and sent them to Marty," McDowell told me "and when he sent them back to me it was exactly as I wanted it." The former six-time All-Star was adamant that he would have final say on every word. Which he did.
McDowell jokingly said, "most athletes, the longer we are retired, the better we think we are." He wanted to make sure that Marty had every detail factual. Thus, Marty promised Sam he would, and he delivered.
Sam's younger years
Samuel Thomas Edward McDowell was born in Pittsburgh, PA on September 21, 1942. He was one of six siblings.
During his junior year at Central Catholic High School near Pittsburgh, scouts were falling over themselves to watch McDowell pitch. The left-hander really began to stand out in his senior year. He was dominating on the hill, going 8-0, and not giving up any earned runs. If that wasn't impressive enough, he struck out 152 batters through 63 innings.
During the MLB season of 1960, McDowell signed with the organization at the age of 17. The Cleveland Indians outbid their competition with a $75,000 offer to McDowell. At the time this was a significant amount especially for a kid straight out of high school.
At the time of his signing, Sam appeared on the game show "To Tell the Truth." He announced that he had accepted Cleveland's deal on the show. However, the formal announcement had been written the day before in Cleveland newspapers.
Career accolades
Though Sam made it clear that his focus is on the work he's done to help so many, one cannot ignore what he accomplished in the majors. He was a six-time American League All-Star pitcher. The six-foot five-inch flame-thrower also led the AL in strikeouts five times. McDowell has 141 wins under his belt. He was one of the hardest hurlers in MLB history. Sam's fastball has been said to have hit 108 mph. With that speed he's in the company of the some of the greatest pitchers: Sandy Koufax, Bob Feller, and Walter Johnson.
According to the Society for American Baseball Research, Former Oakland Athletics' outfielder, Reggie Jackson, said this about Sam in 1969,
"I like Sudden [Sam] and I think he's got the greatest fastball, curveball, slider, and changeup I ever saw. I call him 'Instant Heat.' Sudden simplifies things out there. You know he's gonna challenge you, his strength against yours, and either you beat him, or he beats you…and he won't throw at you, either, because he's too nice a guy. He knows that with his fastball he could kill you if he ever hit you."
The nickname "Sudden Sam" was given to him due to his steady, calm pitching motion in which he delivered the heat. Upon retirement he had recorded 2,453 strikeouts. At the time he finished his career only two pitchers had more strikeouts: Nolan Ryan and Sandy Koufax. McDowell's 2,159 strikeouts with the Indians place him second all-time behind Bob Feller.
A chance to clear things up
In Sam's book he clarifies many things that were said of him during his career. He told me, "It has to be read to completely understand there are things that people thought about me, my relationship with the team and Gabe Paul my GM…things that didn't really happen, that weren't really there…that I was accused of throughout my career. The book straightens it out and let's everyone know what the real facts are."
Road to recovery
In 1975, after a bumpy road fueled by alcoholism, McDowell's career as a major league pitcher came to an end.
In his book he admits to hitting rock bottom in 1980. Sam began his recovery and was determined to help others deal with the demons he had fought. He attended the University of Pittsburgh earning associate degrees in sports psychology and addiction. McDowell became the first sports addiction counselor in the majors with the Texas Rangers and Toronto Blue Jays. Sam then began to work as a consultant with B.A.T – Baseball Assistance Team.
Erik Nilsen, the executive director of B.A.T, said "Sam McDowell has performed miracles with B.A.T. since 1987. He's played an integral part in saving lives and keeping families together. His Hall of Fame work off the field has impacted not only our applicants but the B.A.T. board, staff, consultants, and everyone in baseball."
Awarded this offseason
McDowell's work helped numerous athletes overcome their addiction and, in some cases, saved their lives. At this season's winter meetings MLB and B.A.T. awarded Sam with the Lifetime Achievement award for his 40-plus years of work with the organization.
They put together a film that really touched the former pitcher when it was shown to the audience. Sam told me, "my work was 99.9% confidential I would never mention to anyone the work I was doing…which does kind of hurt the work in a way because you don't get as many as you could but that's how it has to be." The video profoundly moved McDowell, "All kinds of people who came out in the film, quite a few of the players that I saved their lives as they were contemplating suicide. It brought tears to me, my wife and those around me. It was professional and well done…it was just awesome."
Still helping others
I asked Sam if he is still counseling players. He told me, "No, I officially retired three years ago – I don't think it'll really ever end though. My son who pitched for a prior organization, he's a psychologist and has taken over the program I designed to start out for baseball…it's going along…you might say it's my legacy. It's turned out to be unbelievable all the people he' been able to help."
In speaking with Sam, I found him to be to the point and as he told me he "doesn't pull any punches." However, the passion he has for helping others is evident in everything he speaks of. I am humbled by his service to struggling athletes and the way he turned his life into giving back.
We spoke of Cleveland baseball, and he told me, "I love going back there every year on two or three occasions…even as old as I am I get to see old friends…and I personally walk around the ballpark and talk to people, I get a kick out of that."
Let's talk Guardians baseball!
I have covered the team for many years, so I had a few things I wanted to know. I wasn't going to let a chance go by to talk about Cleveland's success last year with the youngest team in history. Sam told me, "I still follow the team. I watch them when they're on tv." I talked with him about my frustration with the lack of attendance to which he said "I was watching one of the games in the fight to get into the playoffs with what I consider to be one of the most amazing Cleveland teams ever…with so many young players and they made it into the playoffs and I thought 'nobody in baseball imagined that could happen' they were fighting to get in and to only have like 16 thousand fans there I couldn't believe it."
I agreed with him that I was disappointed to not see the ballpark full as I felt this team was electric. Sam told me that I gave him the word he was thinking to describe them – electric. He said "I was watching the last 40-45 days of the season and it was electric. I don't understand why it wasn't packed every single day considering no one on earth expected them to do what they did over and over…and no manager other than Terry Francona could lead that team of young players…it was just amazing."
We went on to chat about the camaraderie of the Guardians team last season. Sam said, "because of the type of players and their age, in the next two or three years you'll see an exciting team…for such a young crop of players to be in the mix this year…it takes other teams 10,12,15 years to find the type of rookie that Cleveland has a bunch of."
Mickey Mantle understood Cleveland
While we were on the subject of camaraderie, I asked McDowell if there was a particular team when he played where he felt that electric spark.
He explained it to me, "You always have that great camaraderie simply because you're a team and this gang mentality where everyone pulls for each other so for me it's always been there not necessarily anything new. In our case though in 1968 when we knew we were gonna be in last place the minute we left spring training because the team didn't have any money and it was just a season to keep the team in existence. So, we knew it, we understood it and the only thing we had going for us was pride…so we lived on that pride. I remember one time hearing a quote from Mickey Mantle to some reporter who was telling Mantle 'you're going into Cleveland and you guys will be able to relax a little bit.' And Mickey's response was 'Cleveland Indians are the last people on earth that the Yankees want to play' and Sam went on to say, "that's for the simple reason we had nothing to lose, we played our hearts out and they had the most difficult time trying to beat us."
Denny McLain makes a mistake
I told him how it's always as if Cleveland is underestimated, even this past season. They are always the underdog.
Sam agreed, "Oh yeah, that's very motivational, very helpful. I can remember stories written about Cleveland when I was there, and it would motivate us. We'd get a little bit upset. One time specifically when Denny McLain was in the peak of his performance, in fact I'm very close friends with Denny even today and we laugh about that he made the mistake of saying to the newspapers that he had just won his game in Chicago, and they were coming to Cleveland and Denny said, 'well we're playing against the Indians so we'll be able to relax for four days before getting into any serious competition.'
He went on to say, "I immediately heard that and asked my coach if he would change my rotation and let me pitch against Denny. When he came to town, he didn't last more than three or four innings – we beat him, and he even jokes to this day that it was one of the biggest mistakes he made to open his mouth." That memory gave Sam and I a chuckle. Poking at Cleveland is still a thing to this day yet he's right it's motivation.
Meet Sam and get the book
The former pitcher is so much more than a retired athlete. He's a testament that people can turn things around when they spiral out of control. Yes, he told me he "doesn't pull any punches" but that surely doesn't mean his heart isn't big. The lives he's impacted are countless. His story continues on in each of them. I encourage you to read his autobiography "The Saga of Sudden Sam: The Rise, Fall, and Redemption of Sam McDowell." You can purchase it HERE
Sam and Marty will both be at Guards Fest on January 21 at the Huntington Convention Center in Cleveland. They will have copies of the books for sale and also to be autographed and personalized. The book is more than a sensationalized story of a major league pitcher. It's not just a feel-good story, it's raw and real. If you're battling an addiction or if someone you know is this is the perfect book to read. It's also for fans of baseball and fans of people who want to do good regardless of their past.
Thank you, Marty and Sam.

NEO Sports Insiders Newsletter
Sign up to receive our NEOSI newsletter, and keep up to date with all the latest Cleveland sports news.