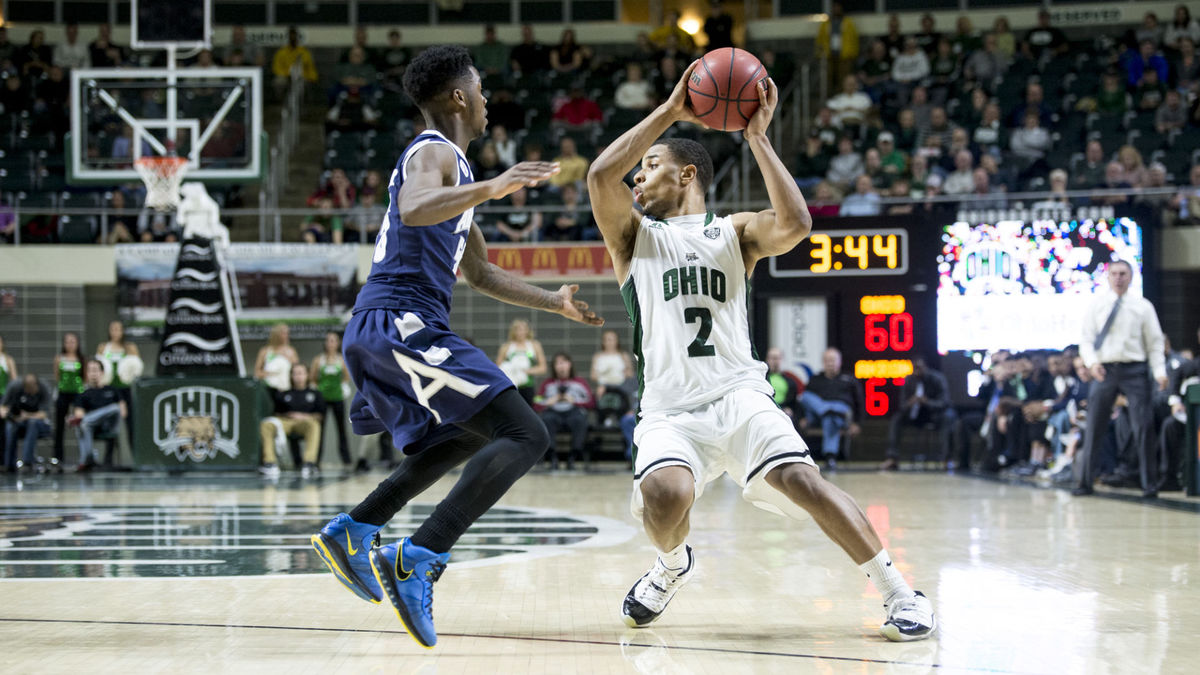 The Akron Zips (14-3, 4-0) have a chance to jump out to a two-game lead in the MAC standings on Tuesday night, as they host the Ohio Bobcats.
The game features arguably the two best teams in the entire MAC and the Bobcats (11-4, 3-1) look to move into a tie for first in the East Division.
Aside from Akron and Ohio, the other four teams in the East already have three conference losses, meaning the Zips can create a nice cushion with a win, which would be their 26th in a row at home.
Two of Akron's three losses this season came to top ten teams on the road, as the Zips fell to No. 7 Creighton and No. 4 Gonzaga. Akron's other loss came in the season opener at Youngstown State, which was followed up by a six-game win-streak.
Since that loss to Gonzaga on Dec. 10, the Zips have won seven straight.
Ohio was riding a four-game win streak before they dropped their first MAC game of the season on Saturday night, losing to Eastern Michigan 53-49.
Eastern Michigan is tied for first place in the MAC West, but each of Ohio's four losses have come against less than elite competition, falling to Marshall, Iona, and Western Kentucky.
Whether you're a fan of Akron, OU, or just good basketball in Ohio, this game should be a highly competitive, entertaining match with relatively high stakes for a January tip-off.
On a side note, if you're looking for an Ohio team with a great chance at making the NCAA Tournament, odds are one of these two will make it. No. 20 Cincinnati, No. 22 Xavier, and Dayton are in good positions to take part in March Madness, as well.
Akron is not far off from the AP Top 25, receiving one vote in the latest poll, and although a win over OU wouldn't be enough by itself, it's possible that with a few more losses in the ever-changing landscape of college basketball, the Zips could move up into that group in the coming weeks.
Players to Watch
Isaiah Johnson (Akron): The senior from Cincinnati has led the way for the Zips all season, averaging a team-high 15.5 points and 7.2 rebounds per game. The 6-foot-10 center leads the MAC in field goal percentage (.651), which ranks 13th in all of Division I.
Jaaron Simmons (Ohio): The junior from Dayton leads the MAC in assists (7.2) for the second straight season, after averaging 7.9 per game in 2015-16. The 6-foot-1 point guard is coming off of what may have been his worst game of the last two seasons, as Simmons scored only two points on 1-of-7 shooting in 40 minutes against Eastern Michigan. This game against Akron presents a big opportunity for him to bounce back in an important match.
Antino Jackson (Akron):  The junior from Houston, TX is the second-leading scorer on the Zips roster, averaging 11.1 points per game and shooting .407 from three-point range. The 5-11 guard has been relatively quiet over his last month, posting single-digit scoring performances in five of his last eight appearances, but is still a threat that Ohio's defense will have to keep from getting hot.
*Antonio Campbell (Ohio)*: The senior from Cincinnati is putting together an impressive season, averaging 16.4 points (8th in MAC) and 8.9 rebounds per game (4th in MAC).  Campbell, the reigning MAC Player of the Year, is questionable for Tuesday night's game with a right foot injury and his absence would make it an even tougher challenge to end Akron's home win-streak.
Kwan Cheatham Jr. (Akron): Since MAC play began on Jan. 3, Cheatham has been on a tear, averaging 16.3 ppg over his last four games. The 6-foot-10 senior forward from Cincinnati is shooting .422 from beyond the arc and averaging 7.0 boards per game this season, filling out the definition of a stretch four to form an imposing duo with Johnson in the frontcourt.
Kenny Kaminski (Ohio): If Campbell does not play, it could be a big chance for the 6-foot-8 senior from Medina to step up. Kaminski averages 13.4 points per game and has the capability of exploding for 20-point performances, like he did against Kent State (23) and Western Kentucky (27) earlier this season.
Where to Watch
The game tips off at 7 pm and can be streamed on AmericanSportsNet.com and the Watch ESPN App/ESPN 3.

NEO Sports Insiders Newsletter
Sign up to receive our NEOSI newsletter, and keep up to date with all the latest Cleveland sports news.