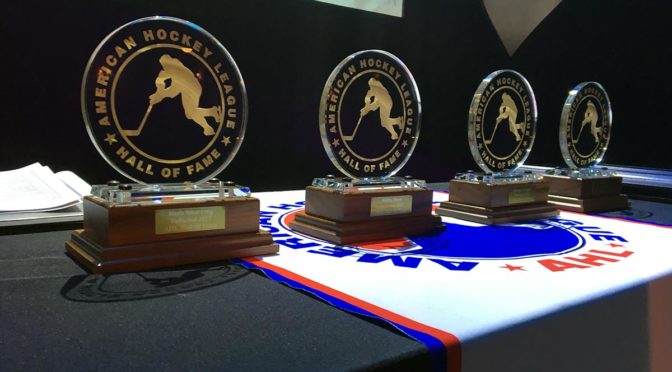 ALLENTOWN, Pa. … The AHL added some new names to the record and inducted four new members into its American Hockey League Hall of Fame.
The awards ceremony took place at the Miller Symphony Hall in Allentown as part of the festivities that are making up the 2017 AHL All-Star Classic.
Honored for their outstanding achievements and contributions in the American Hockey League were Billy Dea, the league's all-time ironman with a record 548 consecutive games played with the Buffalo Bisons; Bryan Helmer, a three-time Calder Cup champion and the highest-scoring defenseman in league history; Rob Murray, a respected leader who is one of seven players ever with 1,000 regular-season games played; and Doug Yingst, whose storied 34-year career in the Hershey Bears front office saw him oversee four Calder Cup champions as general manager.
John Bartlett, will join Alan May and Brendan Burke on the call of tonight's AHL All-Star Challenge, airing live on FOX Sports Ohio and on a comprehensive list of regional networks in the U.S.
In an effort to make the rich tradition of the American Hockey League available to the widest possible audience, the AHL Hall of Fame is housed on-line at www.ahlhalloffame.com and is accessible to fans worldwide with the click of a mouse as a member of the AHL Internet Network.
Formed in 1936 and now in its 81st season of operation, the AHL continues to serve as the top development league for all 30 National Hockey League teams. More than 88 percent of today's NHL players are American Hockey League graduates.
Monday night's festivities continue starting with pregame interviews commencing at 4:45 and the #AHLAllStar Challenge is slated to begin at 7:00 and be completed by 10:00. Look back and see some things from last night as you prepare to tune and watch all the action of The AHL All-Star Classic.
The 3-on-3 challenge will be scheduled as follows for divisional play:
7:15 Central Division vs. Atlantic Division
7:35 Pacific Division vs. North Division
8:00 Central Division vs. North Division
8:20 Pacific Division vs. Atlantic Division
8:45 Pacific Division vs. Central Division
9:05 North Division vs. Atlantic Division
Stay tuned to NEOSI for the best in Cleveland sports, even when they're not in Cleveland. Follow me on Twitter @NEOSI_Sprouse and @neosportsinside. Like us on Facebook and check out my Flickr page for more images from tonight and other events.
As always… Go Monsters!!