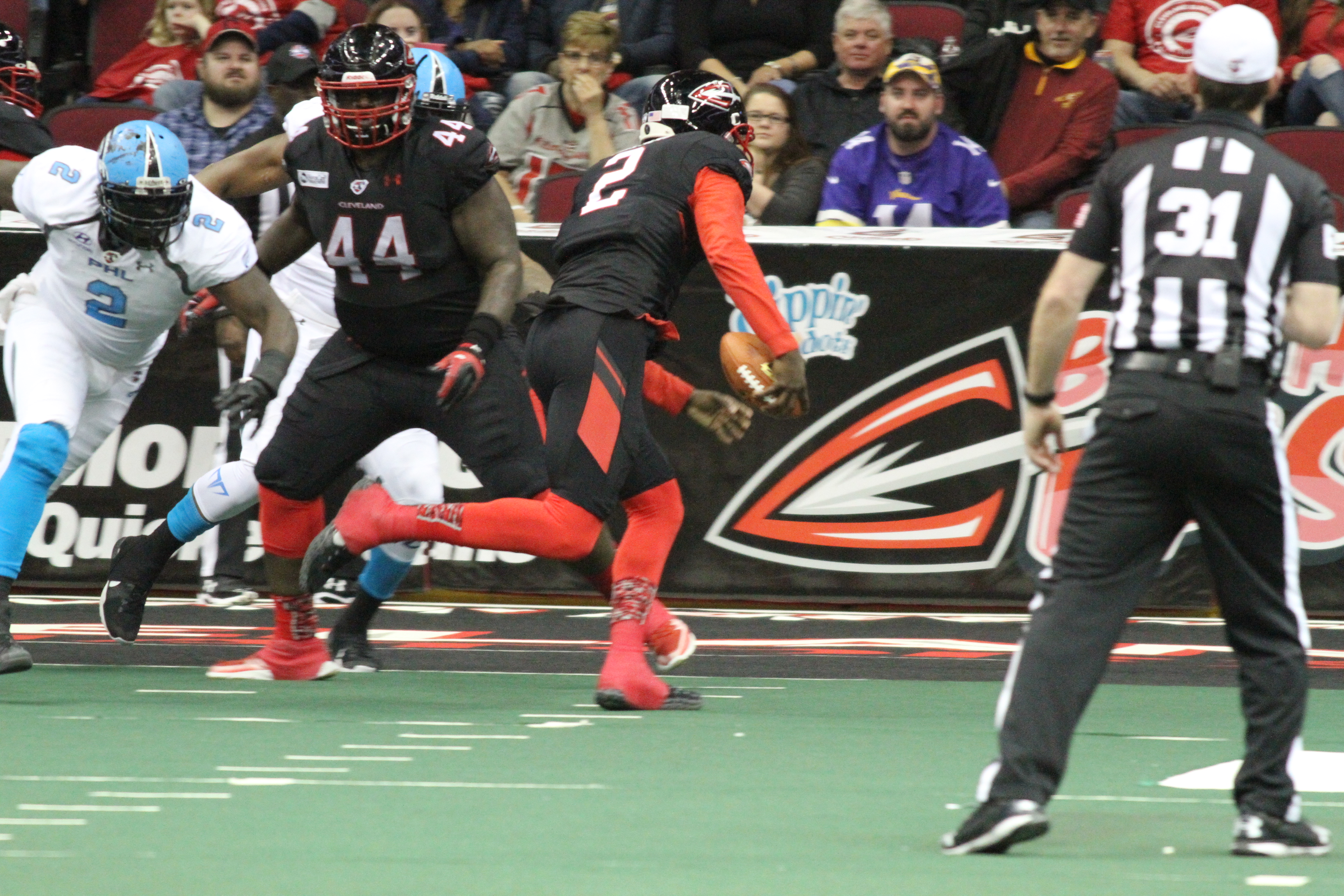 LAS VEGAS – The Arena Football League has announced that Philadelphia Soul wide receiver Darius Reynolds and Cleveland Gladiators defensive back Kenny Veal have been named the offensive and defensive players of the week for Week 11, respectively.
OFFENSIVE PLAYER OF THE WEEK – Reynolds (6'2", 205, Iowa State) caught six passes for 115 yards and five touchdowns in Philadelphia's 62-41 win over the Tampa Bay Storm in Week 11. He becomes the fourth player with five touchdown receptions in a game this season.
DEFENSIVE PLAYER OF THE WEEK – Veal (5'11", 190, Toledo) tallied 7.0 tackles and his first career interception in Cleveland's 59-48 victory over the Baltimore Brigade last week. His 3rd quarter interception began a stretch where the Gladiators would take a 24-point margin to put the game out of reach.
PREVIOUS WINNERS
WEEK 1 – Washington's Mike Washington (Offensive) and Tampa Bay's Ceasar Rayford (Defensive)
WEEK 2 – Philadelphia's Darius Reynolds (Offensive) and Baltimore's Dexter Davis Jr. (Defensive)
WEEK 3 – Tampa Bay's Randy Hippeard (Offensive) and Alvin Ray Jackson (Defensive)
WEEK 4 – Philadelphia's Ryan McDaniel (Offensive) and Dwayne Hollis (Defensive)
WEEK 5 – Tampa Bay's Randy Hippeard (Offensive) and Paul Stephens (Defensive)
WEEK 6 – Tampa Bay's Joe Hills (Offensive) and Philadelphia's Sean Daniels (Defensive)
WEEK 7 – Tampa Bay's Joe Hills (Offensive) and Philadelphia's Joe Goosby (Defensive)
WEEK 8 – Baltimore's Shane Carden (Offensive) and Josh Victorian (Defensive)
WEEK 9 – Cleveland's Arvell Nelson (Offensive) and Rayshaun Kizer (Defensive)
WEEK 10 – Philadelphia's Dan Raudabaugh (Offensive) and Tampa Bay's LaRoche Jackson (Defensive)
ABOUT THE AFL
The Arena Football League is now in its 30th Anniversary Season in 2017. Since its inception in 1987, the Arena Football League has showcased a fast-paced and exciting game to millions of fans in a myriad of markets across the country. Teams slated for 2017 include: Baltimore, Cleveland, Philadelphia, Tampa Bay and Washington D.C. CBS Sports Network nationally broadcasts AFL games each week during the regular season. ArenaBowl XXX is slated for Saturday, August 26. For all the latest news and discussion on the Arena Football League, follow the AFL on Facebook, Twitter and Instagram (@aflarenaball).
— www.arenafootball.com —