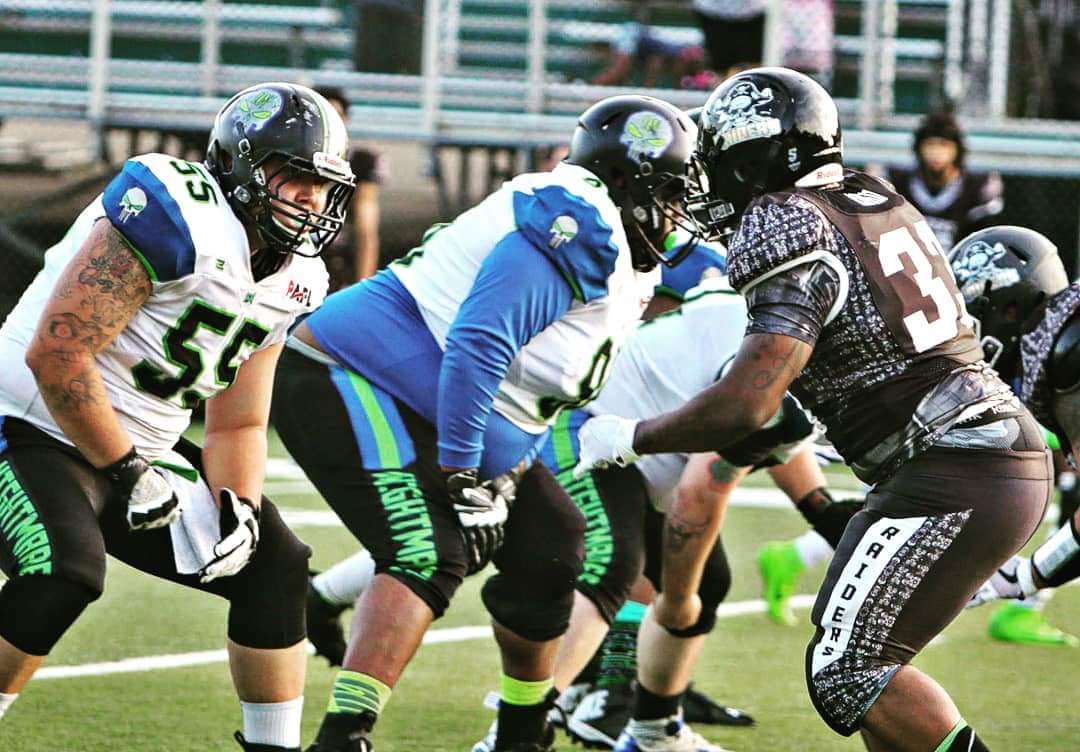 Much has been said about the powerful offense of the Lorain County Nightmares this season. Quarterback Brandon DiMarco even broke the single season passing record for touchdowns tossed.
He didn't do it alone however, there was a stout O-line in front of him that kept the mobile quarterback with the rocket arm standing up. The line gave him plenty of time to find open receivers and lead the team down the field.
These same group of men also did a wonderful job run blocking as both Dontez Smith and David Mosby enjoyed huge holes to run through.
Defensive captain Daniel "Moose" Mattner has dubbed them the Four Horsemen + 1 of the PAFL. They have been outstanding and a key ingredient in the Nightmares possible deep run into the playoffs.  Coach Jeff Blue has done a masterful job as well, leading these men into battle each and every week.
No one can deny that Daniel "Moose" Mattner, has been a vital cog to the unit this season. I had the pleasure to sit down with him and chat about Coach Blue, his teammates and his passion for the fans.  Also, how he came up with the nickname of the Horsemen.
"It relates to our mentality as a unit. No matter what Five guys we put out there, we shoulder the workload of our entire offense. As you know, nothing gets done without the big guys up front. I also got my inspiration from the 4 Horseman of the apocalypse (plus 1). We punish our opponents play after play much like how the 4 Horseman are said to bring punishment on us during Armageddon. 
 In my opinion, the toughest part of our job, as a unit is the mental and physical strain on our bodies and psyches. People who don't know the game think we're just a bunch of brutes…although they aren't completely wrong, they don't know how demanding it is in our minds as well. The game of football is like chess, and even more so in the trenches. We have specific assignments for each play, and also have to think of what our opponent will do to try to counter our attacks. Physically, we're colliding with the opposing d-line every play, and a lot of us play banged up. We don't have the luxury of depth like other units on the field do. 
 I have to credit our success to our Coach Jeff Blue, and the group of guys we've managed to get together this year. We're only as strong as our weakest link and…I don't think we have any. Our cohesion as a unit is among the best of any unit I've had the honor of playing with. It's a brotherhood in the trenches and we do NOT take that lightly. 
Our fans are THE best. The Nightmare Nation, as I affectionately call them, have our backs 100% of the time. Through thick and thin they've been in our corner and that means tons to us not only as offensive lineman, but to the organization as a whole. Our fans this year are absolutely phenomenal. We definitely would not have made it this far without them. The energy they bring is crazy! I love it!"
I spoke with Jake Smith of the Nightmares, who did a masterful job explaining the key differences between pass and run blocking, and what it takes to be successful at both. He was also quick to give credit to coach Blue.
"With run blocking you have to be physical off the get go. As soon as the ball is snapped you have to have hands on the guy over you, bring the hips through and drive your feet and open a hole for the back to get through. Pass blocking is a little different, you take that first initial step, still hitting your guy, then take kick steps to create a pocket for your QB to have plenty of time to find a receiver.
In order to do both you have to have quick feet and hands, this is vital as the d lineman over you aren't just going to run right at you, they are going to try to go around you and you have to have the feet to stay in front of them and good hands to keep their hands off of you. Credit to this goes to coach Blue for having us do drills to help with our hand play and footwork."
 I also spoke with William Barry about the importance of working together as a unit. Few realize that the O Linemen and the QB are the only players on the field for every single offensive snap.  He was great with his answers and also quick to give praise to Coach Blue.
"Having to be counted out every play is a big responsibility, but as a units that's job is to protect we have to be the most dominate and fine tuned out there. We have to know each other's strengths and pick up for each other's weakness. I think we did a great job of learning each taking care of business as a unit.
 At the beginning of the season we set a goal to give up 0 sacks all season. Unfortunately we weren't able to accomplish that goal but stayed in single digit sacks allowed and a lot of that credit goes to Coach Blue for turning us into the line that we are. He spent a lot of time messaging us off the field making sure we were healthy and working with us on the field to make us the dominant unit that he wanted and that we needed to be to protect our QB and open up running lanes for our backs."
I spoke with head coach Jamie Adams who was also quick to praise O-Line coach Jeff Blue, as well as the unit as a whole.
"The superior coaching that Blue has bestowed upon our lineman is unlike anything I've ever seen before. Our linemen are talented and have a level of camaraderie like nothing I've ever seen, but they are put into a position to succeed by coach Blue.  Our running game has been the most successful point of our offense and that credit is due to the offensive line and coaching, it was a big reason why I allowed coach Blue to take over play calling."
Ruga Rell, who is a mountain of a human being, had this to share on the teams season thus far, "Team work is everything when IT comes to the O line. If one of us is not on the same  accord, then we all fail. We really like playing the game of football together!! We have great chemistry amongst the players.. we more like family not teammates!!"
The Nightmares begin there 2018 PAFL Playoff run this weekend in Euclid against the NEO Predators.  We wish them the best of luck!

NEO Sports Insiders Newsletter
Sign up to receive our NEOSI newsletter, and keep up to date with all the latest Cleveland sports news.