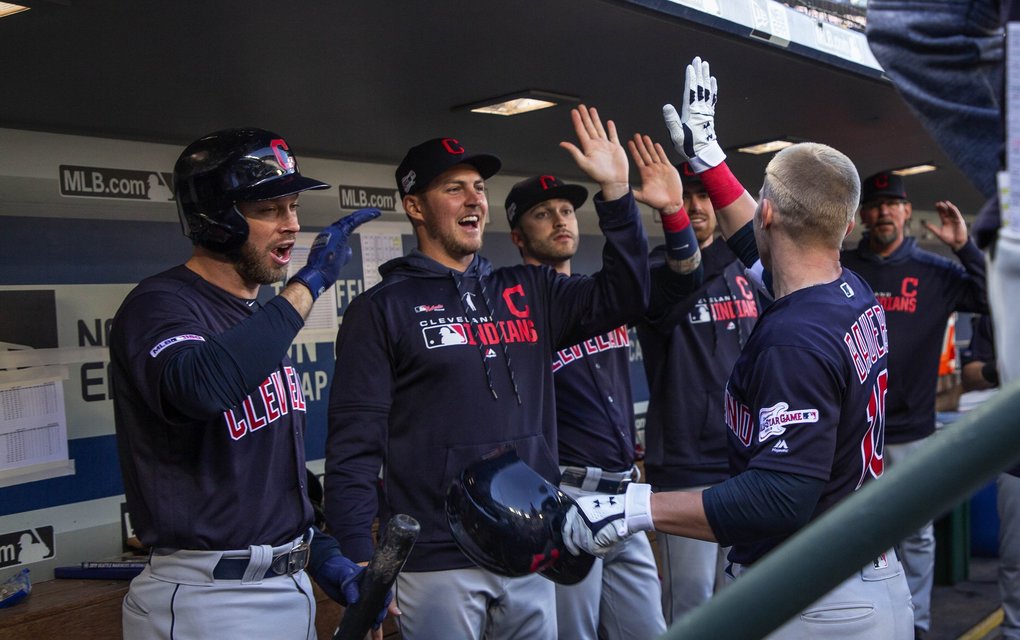 As Terry Francona has said more than once during his tenure as Indians manager, it doesn't matter how you do it, as long as you are one run better on a daily basis that's the goal.
That was exactly the outcome on Thursday at T-Mobile Park in Seattle, as the Indians got one run to the Mariners zilch in a 1-0 pitchers duel that went their way to earn their 11th win against seven losses.
The win clinches a sweep over the Mariners, when many fans were predicting doom and gloom for the Indians after they were swept last weekend by the lowly Royals in Kansas City.
Unlike the outcomes in K.C., this time the starters all had their way with the Mariners, and the bullpen did a sensational job also as the Tribe kept the Mariners bats under wraps all three days.
This is the same Mariners team that went into last weekend against the Astros at 13-2. Now six games later thanks to back-to-back sweeps they are 13-8.
The Indians will get a much deserved day off Thursday as they make their way back to Cleveland to start a weekend series with two teams they have actually played in the World Series over the last 24 years – the Atlanta Braves and the Miami Marlins.
For now, here's a little look into Thursday's 1-0 win and just how this group was able to pull it off.
1. Momentum is Only as Good as Your Starting Pitcher
It's a line that Terry Francona has said over the years, and he couldn't have been more right about that in the Tribe's 1-0 shutout win.
Carlos Carrasco, five days after not being able to get out of the first inning, shut the M's down all night, allowing three hits, two walks and 12 strikeouts.
He lowered his ERA to 7.41, which is crazy to think entering the affair it sat at 12.60. He also moves his 2019 mark to 2-2 on the young season.
He was aggressive against Mariners hitters, worked inside and then back outside, and never was afraid to throw his change-up, which kept M's hitters stymied all night.
As Indians.com pointed out, Mariners hitters were just 2-for-12 on the day against Carrasco's fastball, with five strikeouts and two walks.
He froze quite a few Mariners hitters, and totally confused them as they were thinking one thing, and got something completely different.
2. Bauers in the Clutch
With the two starters, Carrasco and M's starter Erik Swanson both shutting down the two teams' offenses, the Tribe finally got a run on the board when Jake Bauers launched his second homer of the year with one out.
For Bauers, it's been a rough start to the season hitting .226, but the Indians are determined to see what they have in this young prospect, and Thursday he delivered.
On a day when the team gave leading hitter Carlos Santana a much needed day off, and Hanley Ramirez was also out of the lineup, they needed someone to come though with a big swing.
Enter Bauers.
The Indians first baseman hit a 406-foot blast to center on the 8th pitch of the at-bat, and that was enough to get the Tribe the much needed run to push them to the win.
3. Cool Hand Nick
It was another impressive performance during Thursday's win for Indians reliever Nick Wittgren, who was able to give Brad Hand a rest and earn a two-out save in the process.
Wittgren got six outs throwing 29 pitches – 21 of which were strikes, an impressive number anyway you look at it.
In now six innings since being called up, Wittgren has yet to give up a run, and has allowed just two hits to go along with eight strikeouts.
It has to be a huge confidence boost for him as well to be given the ball in the ninth inning of a 1-0 game with the Mariners two, three and four hitters coming to the plate.
He was calm and cool, getting a fly out, ground out and strikeout to end the game.
The Indians may have stumbled onto something good with Wittgren, and he will for sure continue to get important chances.

NEO Sports Insiders Newsletter
Sign up to receive our NEOSI newsletter, and keep up to date with all the latest Cleveland sports news.