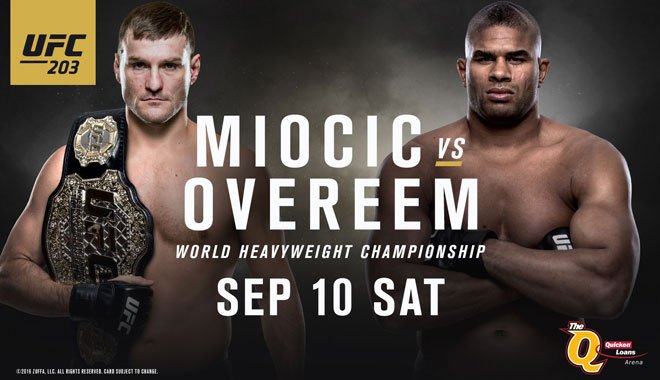 CLEVELAND, Ohio – The UFC in Cleveland was this past Saturday night from Quicken Loans Arena and it was one hell of a show. It lived up to the hype and the card certainly delivered on giving the fans their monies worth. Here are 5 lasting impressions from a great night of fights!
1 – THE UFC should and will return to Cleveland. Despite elevator troubles, the city of Cleveland did a great job hosting UFC 203. The fans were loud from the opening bell to the last seconds of action on Saturday night. The kept up the electric aura at all times and provided and incredible atmosphere for the UFC to return too. I would have to believe that Dana White and the new ownership team would be smart enough to give Cleveland another show.
2- Joe Rogan needs to keep his word and stay true to his morals and stop interviewing fighters who have just been knocked out. It just makes no sense any more to interview the loser after he has been knocked out. It can get really awkward as it did Saturday night with Overeem. Also, it is the same reason why the NFL no longer allows players with a concussion to be interviewed in the locker room following a game.
3 – Stipe Miocic is the real deal. Nuff said! The guy can hit like a mule, and he also has a chin full of granite!
4 – The days of Uriah Faber contending for a title are over. It is sad that one of the pioneers of MMA and one of the men who helped put it on the map will never again see a title shot. His days at the top are over.
5 – Cain Velasquez deserves the next shot at the heavyweight title. With the exception of the opening seconds flying knee, Werdum did very little to show me that he deserves a rematch with Stipe Miocic. Cain Velasquez is one of the most dominant men in MMA, and he deserves the title shot over Werdum. Case in point, at UFC 200 it was Velasquez taking out Browne in under a round as he punished him. At UFC 203, it took Werdum all 3 rounds to win a lackluster decision.
That's all for now fight fans.
Have you stopped by our store? You can do so now by clicking here https://www.neosportsinsiders.com/store/

NEO Sports Insiders Newsletter
Sign up to receive our NEOSI newsletter, and keep up to date with all the latest Cleveland sports news.