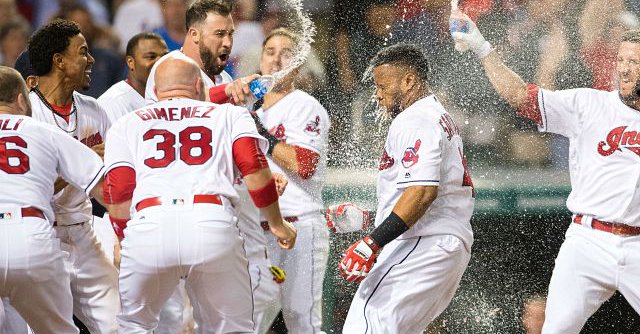 Full disclosure, it's hard not to let the fan side come out when your hometown team is in the championship of any sport.
Seeing what these Cleveland Indians have done throughout the 2016 regular season and an even more remarkable postseason, leads me to believe that anything is possible with this group.
Could the Cubs end up winning the series? Of course.
These are two great teams.
Following this Indians' team as close as I have and I'm sure many of you reading this can say the same thing; it's foolish to count them out.
Here are my five bold predictions for the 2016 World Series.
If the Tribe lose, feel free to blame it all on me.
1. Trevor Bauer will go six or more innings in two starts.
It would only fit the narrative of this team's propensity to prove people wrong for Bauer to go out and give the Tribe two solid, deep outings.
He is scheduled to pitch Game 2 at home, meaning he won't have to bat, so there would be no need to pinch-hit for him relatively early in the game.
The next logical start for Bauer would be Game 6 back in Cleveland, so he doesn't have to bat on the road in Game 5.
Even if he doesn't get the win in both starts or the Tribe loses, just going six innings or more would do wonders for this bullpen.
Bauer heard all the jokes. He's a competitor and will be more motivated than ever. He could end up being one of the heroes of the series.
2. Carlos Santana hits a walk-off home run.
This team had 11 walk-off finishes in the regular season. It's been seven wins since the start of the playoffs and no walk-off.
They're due.
Santana hit two monster home runs in the ALCS, and it appears he's heating up heading into the World Series.
3. Corey Kluber will start Game 7 of World Series on short rest.
Kluber has pitched like the Cy Young Award-winner from 2014 during the playoffs and has been worthy of consideration for the award for all of his contributions this season.
The way it lines up, Kluber could pitch Game 1, Game 4 or 5, and Game 7 of the World Series, if it goes that deep.
4. Francisco Lindor will be World Series MVP.
The 22-year-old is having a phenomenal postseason, batting .323 with two home runs and four runs batted in over his eight games of the ALDS and ALCS.
Lindor continues to shine with his outstanding fielding at shortstop, heads-up baserunning, and timely hitting.
Even if he does not hit a home run in the World Series, it's that all-around five-tool ability that will make Lindor the MVP of the series.
5. Tribe in 7
Sorry, Chicago. Your curse can live on.

NEO Sports Insiders Newsletter
Sign up to receive our NEOSI newsletter, and keep up to date with all the latest Cleveland sports news.