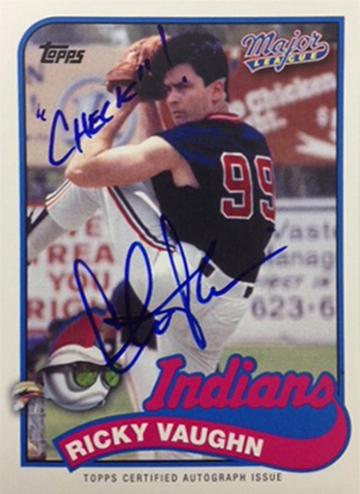 With Spring Training getting under away all over baseball this week, now is the perfect time to sit back and watch some of the greatest baseball movies of all time. Opening day will be here soon enough, so enjoy these classics while you can before the action of the 2017 MLB campaign begins.
Here in order, are our Top Five Baseball Movies of all time.
Let us know if you agree or disagree in the comment section.
5
The Rookie – This 2002 heartwarming flick is acceptable for the whole family, just make sure there are plenty of tissue boxes on hand as you will become emotional watching high school coach Jim Morris fulfill a promise to his team and try out for the Tampa Bay Devil Rays. His fastball has returned years after an arm surgery ended his first run at the majors and the emotional rollercoaster is on. This true story ends with a re-union with his dad and a brief career in the majors. A great film and the fact that it is based on a true story makes it even better.
4
The Bad News Bears. This 1976 comedy is the classic Cinderella story that so many others have been based on since. Ex major league washout Morris Buttermaker (Walter Matthau) takes on a rag tag bunch of Little Leaguers with more fight in them then talent. Buttermaker quickly realizes the team's large void of talent and brings in a couple of ringers to turn things around. These ringers include hard throwing female pitcher Amanda Whurlitzer and power hitting bad boy Kelly Leak. The plan works and the team comes within one run of winning the championship before losing to the dreaded Yankee's. The movie became so popular that two lesser known sequels were made, The Bad News Bears in Breaking Training in 1977 and The Bad News Bears Go to Japan in 1978.
3
Field of Dreams. This 1989 drama filled everyone's imagination while mixing in a piece of legitimate baseball history along the way. Ray Kinsella ( Kevin Costner) is a Iowa farmer who destroys his cornfields to build a baseball field thinking it will relieve the pain of former major leaguer Shoeless Joe Jackson. Joe was said to be the only member penalized from the 1919 Black Sox Scandal who wasn't in on the throwing of the games as he played great in the World Series but was banned from baseball anyway. Despite the urging of his brother in law and the bank, Ray refuses to re-build his crops and keeps his field intact only to be rewarded at the end when the entire group of players banned, plus many others arrive at the field and began to play. His brother in law Mark(Timothy Busfield) finally see's the players as well and Ray is allowed to keep the field.
2
The Sandlot – While this 1993 film doesn't involve any real players, or real teams, it doesn't even involve any levels of structured baseball, whether it be little league, high school, college or pro's, it does have the purest of love shown through for the game. This epic story of a group of young boys finding themselves and friendships in America's favorite pastime allows the viewer to relive moments of their own youth. It is nearly unthinkable to watch "The Sandlot" without reminiscing back to your youth and losing all track of reality while enjoying what you are watching, and isn't that the true point of not only watching a movie but also baseball? What also makes this movie great is that you don't even have to be a baseball purist to love it, but rather someone who enjoys watching a wholesome story with plenty of laughter and an ending no one see's coming.
1
Major League – While picking this 1989 classic as the top baseball movie would surely get me labeled as a homer, it was almost impossible not to. It has everything, great baseball scenes, a loaded cast of Charlie Sheen, Corbin Bernson, Tom Berenger, Wesley Snipes, Bob Uecker and others along with some of the funniest and most memorable lines in sports cinematic history. The team bands together to foil toxic owner Rachel Phelps plans to move the team to Florida in an incredibly dramatic midseason rally that climaxes in a one game playoff win over the New York Yankee's. The final scene where a packed Cleveland Municipal Stadium is loud and rocking is enough to get everyone out of their seat cheering!

NEO Sports Insiders Newsletter
Sign up to receive our NEOSI newsletter, and keep up to date with all the latest Cleveland sports news.