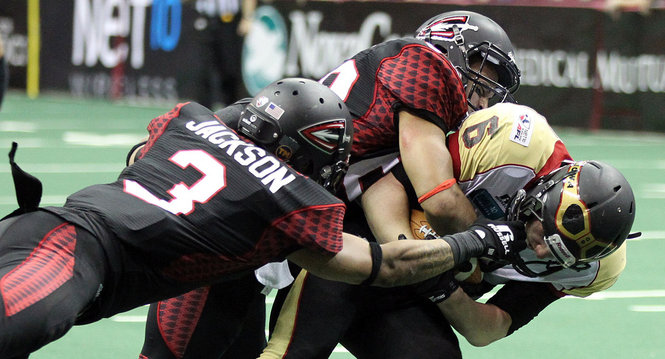 The 2016 AFL season is just around the corner and the Cleveland Gladiators have already made moves to try and put the best possible team on the turf.
So far this year, the Glads have lost major pieces to their once feared roster which was almost undefeated and one game away from an Arena Bowl championship. QB "Stone Cold" Shane Austin signed with the Portland Thunder to help with their abysmal passing game so the team is turning to former starting QB for the Glads and AFL veteran Chris Dieker to lead the Gladiators back to the playoffs for the third straight season.
The defensive side of the ball is where I am not too worried. Fan favorite and defensive leader DB Dominic Jones announced his retirement a few weeks ago via social media.
This is a huge hit to the "No Fly Zone" as they called themselves because despite his height of 5'9, Jones played like he was the tallest man on the field.
To replace Jones in the position, the Glads have brought back former DB Brandon Stephens who was picked up by the Browns during training camp but didn't make the final cut due to a leg injury.
That being said, the defense was suspect in 2015 to what they were back in 2014 when they only lost one regular season game and hosted the Arena Bowl but falling short to the Arizona Rattlers.
At the end of the season last year for the playoff run, we brought back Mario Norman who was assigned to the Baltimore Ravens back in 2014. DT Luke Black and DB Joseph Phinisse will be back this year as well so I feel the defense will be just as good if not better than last years.
With Kitt O'Brien now on the Colts and CJ Cobb joining the Jacksonville Sharks, the offensive line will be rebuilding during the season with new comers like Joe Madson who the team acquired from the LA KISS.
Colin Taylor resigned with the team this season as well so the receiving core with Taylor, Dominic Goodman and Thyron Lewis will still be as flashy as ever.
This season may not be 2014, but I have a sneaky feeling that this team is going to make a bit more noise than the league thinks they will.

NEO Sports Insiders Newsletter
Sign up to receive our NEOSI newsletter, and keep up to date with all the latest Cleveland sports news.