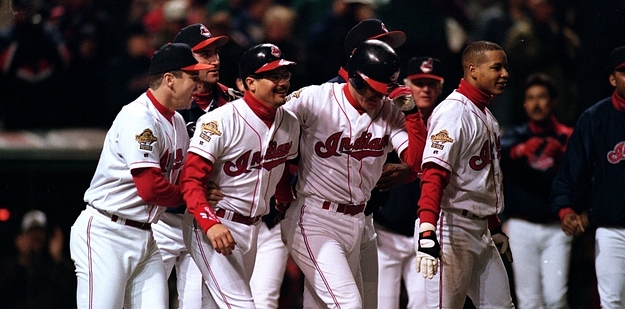 By Scott Piker
Time flies when you are having fun. So let's turn back the clock because I have one question to ask you. What were you doing on this date 20 years ago, September 8, 1995? I know exactly where I was and it wasn't where I wanted to be, not by a long shot. I will share where I was at later.
I'm sure you are asking yourself why is this sports writer curious as to where I was at 20 years ago today. Well today marks the 20-year anniversary of the Cleveland Indians first playoff birth in 41-years.
The Indians beat the Baltimore Orioles to win their first American League Central Division championship in front of a sold out Jacob's Field.
Jim Thome caught a pop up in foul territory for the final out. Tribe radio play by play man Tom Hamilton made the famous call.
"In the air, Thome at third, and the season of dreams has become a reality. Cleveland you will have an October to remember."
Now I want to know, were you a part of the 41,000 plus fans that were at that game? Or are you one of the many fans who claim that they were there when they really were not.
It's interesting because how many people claim they were in attendance on May 15, 1981 at old Municipal Stadium to see Len Barker's perfect game when there was maybe 10,000 fans actually at that game that night.
I would like to say that I was in the stands at Jacobs Field 20-year ago today, but I'm to honest of a person and I wasn't. I was certainly there in spirit that's for sure. I was lucky enough to catch the final out and the championship celebration from a hotel room in Boone, North Carolina.
I was sophomore in college attending Edinboro University as a braodcasting major. I was traveling with the football team to broadcast their game at Appalachian State the next evening.
Yes that's the same Appalachian State that would pull off one of the biggest upsets in college football history at Michigan years later.
After traveling by bus all day long from Northwestern Pennsylvania, we finally arrive at the team hotel. There certainly wasn't much to do around, so my broadcast partner, a member of the football team who was also the radio station sports director at the time and I just decide to go pick up a pizza and watch baseball in our hotel room.
Of course since we are in North Carolina and in the south, the game being broadcast in that region was an Atlanta Braves game. Back then, either NBC or ABC, I can't remember which one had a Baseball Night in America game of the week broadcast on Friday night where they select a couple of games to broadcast regionally across the country.
After watching a good amount of the Braves game, and seeing score updates of the Indians game against the Orioles, the network decides to switch all the stations not watching the Indians over to it for the final out of the game to clinch the division championship. Needless to say, there was a little yelling in one particular hotel room in Boone, North Carolina at that moment.
1995 was a season no Indians fan will ever forget. The Indians won 100 games in a 144 game season. 27 games were won in come from behind fashion with some memorable walk off home runs by Paul Sorrento, Manny Ramirez and Albert Belle.
If only the Indains didn't run into the pitching trio of Greg Maddux, John Smoltz and Tom Glavine and the Atlanta Braves in the World Series.
Maybe 1995 would have been the year Cleveland got the world championship monkey off of our backs. It will happen one of these years Cleveland, just keep believing.

NEO Sports Insiders Newsletter
Sign up to receive our NEOSI newsletter, and keep up to date with all the latest Cleveland sports news.