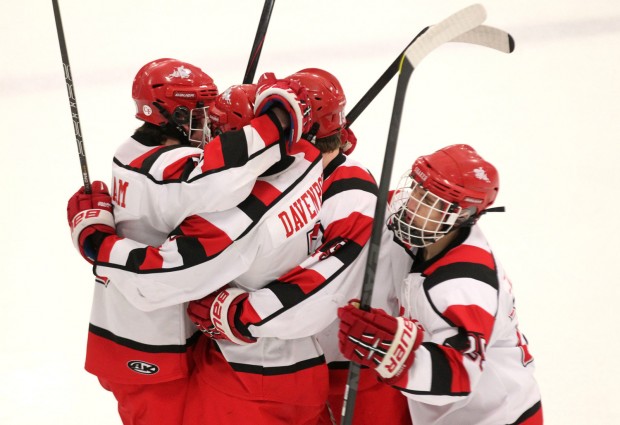 The Baron Cup I Championship featured #1 Shaker Heights and #3 Hudson on Sunday evening, capping off an exciting six-day tournament.
It was a hard-fought contest for all three periods, coming down to the wire, just like the other two Baron Cup Championship matches, but Shaker Heights pulled away late, holding off Hudson by a score of 3-2.
The two teams had met twice already this season. Both games went to overtime, with Shaker Heights winning the first meeting by a score of 2-1 and the second meeting resulting in a 2-2 tie.
Shaker Heights entered play 24-8-2 overall, with a record of 10-1-1 in league play.
Hudson entered play 15-10-1 overall, with a record of 8-3-1 in league play.
After a scoreless four minutes to start the game, Shaker Heights would get on the board with a power play goal 4:32 into the first period, as Geoff Grossman-McKee put the Red Raiders in front 1-0.
Ryan Wheeler would add onto Shaker Heights' lead to make it 2-0 with an even-strength goal 9:47 into the first period.
Hudson would get on the board early in the second frame, thanks to a power play goal from William Harr, which made it 2-1 Shaker Heights with 10:48 to play in the second period.
That would be the lone score of the period, as Shaker Heights stayed in front 2-1 heading into the second intermission.
The Explorers would get a good opportunity thanks to a penalty from Shaker Heights 4:22 into the third period, which put Hudson on the power play, but Peter Shick made it a two-score game with a short-handed goal. It was Shick's third goal of the tournament, putting the Red Raiders up 3-1.
Maxwell Cole would respond for Hudson, scoring an even-strength goal to make it a one-score game with five and a half minutes remaining.
Shaker Heights' defense and goaltender Liam Siwik held strong for the Red Raiders, shutting out the Explorers for the final five minutes.
Hudson opted to pull their netminder, Austin Ganley for the final 47 seconds, but it was to no avail and the Red Raiders would win 3-2 in a nail-biter to bring the Baron Cup I Championship trophy back to Shaker Heights for the first time in 15 years. It was Shaker Heights' 11th Baron Cup Championship in school history.
It was a dramatic conclusion to a fun-filled tournament, and hockey fans would be hard-pressed to find a better ending to a great week of Baron Cup hockey. NEO Sports Insiders was honored to be a part of the coverage and thanks all the great fans for coming out and supporting their respective schools and teams.