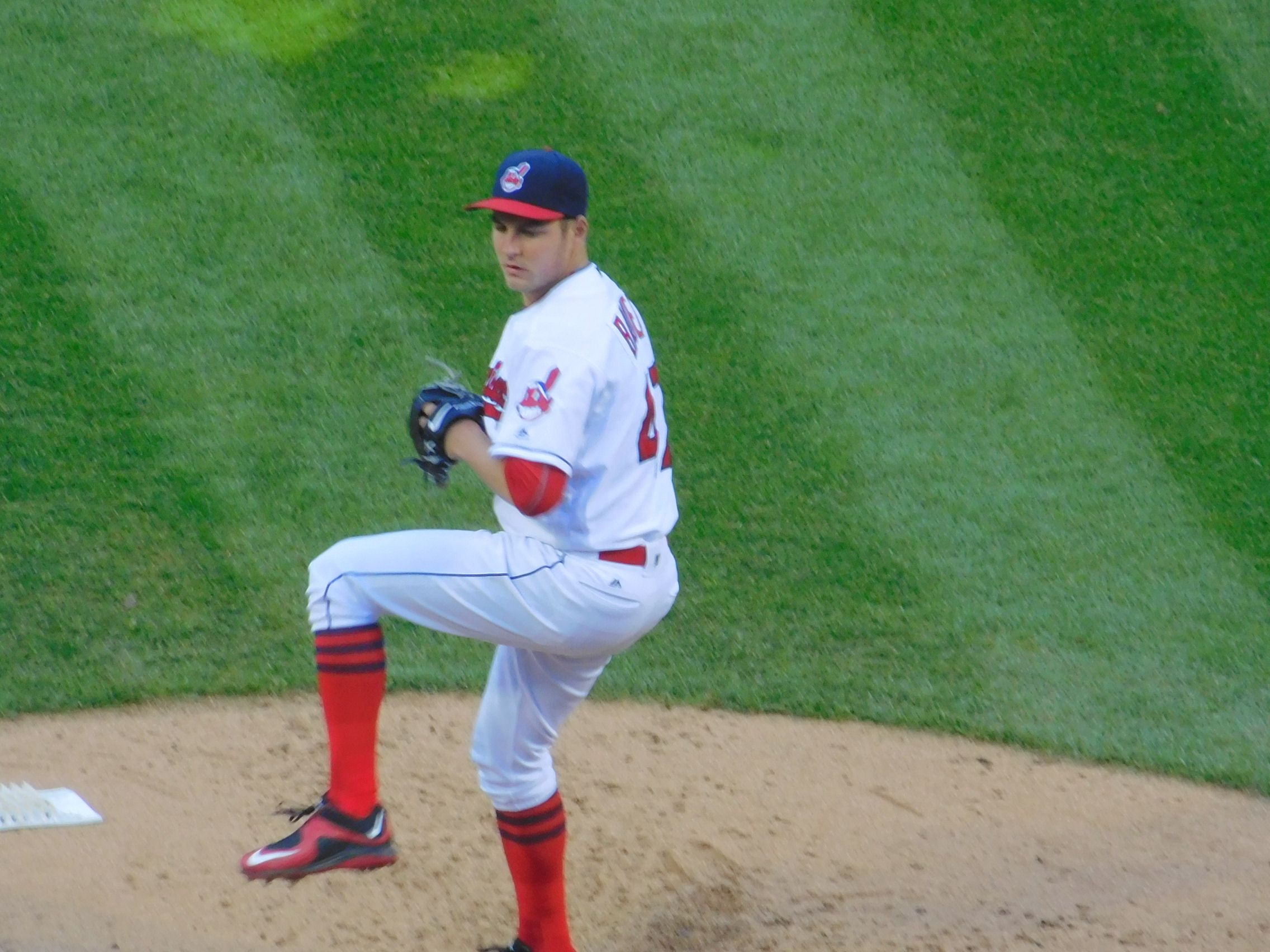 CLEVELAND– In the middle of the 2017 season, Trevor Bauer started to rely on a new pitch after ditching his splitter. He developed a modified slider that became a go-to down the stretch in August for the 27-year-old right-hander.
Most pitchers wouldn't even think of adding a new pitch that late into the season (let alone a pitcher on a team that was well on its way to winning the division), but for Bauer, he was looking for a breaking ball with "a little more depth" in the lower part of the strike zone. The modified slider used his cutter grip with his thumb down further on the ball to serve that purpose.
"I needed something besides fastball, curveball that I could throw low in the zone, and so yeah that's exactly what it was," he told reporters on Friday on the eve of Tribe Fest. "An on the fly adjustment to patch a hole and then use the off-season to hybrid what I actually want that pitch to be."
And hybrid that pitch he has. In his original modification, the grip wasn't the most comfortable, and as a result, gave him command issues at times. In the offseason, Bauer worked to find a pitch that will give him the same desired effect in the zone but without that discomfort.
"The modified slider has been nixed," Bauer said. "I've replaced it with what hopefully will have a similar movement profile to a Marcus Stroman curveball or a Corey Kluber slurve. All the info that I have on it so far says that it profiles very similar to those two. Obviously, we'll see once I get up against a hitter in a game."
Developing the pitch was part of his offseason training at Driveline Baseball outside of Seattle. Bauer has spent the last four offseasons training at Driveline, using unique drills and research to fine-tune different elements of his pitches. He's invested in new tech equipment to better analyze his pitches at the facility, and to even have some studies run during the summer.
Along with the research, Bauer said he also modified some of his physical training as well.
"I modified my lifts a little bit, trying to get a little bit stronger on in the upper half, which I haven't focused on a whole lot in the past, so hopefully that's beneficial," Bauer said. "My (velocity) is up a little bit, so early signs are that it has been beneficial. Pitch development stuff I've been focusing on quite a bit … Command training, my command has been pretty good. Obviously I'm still missing like everyone does, but my miss tendencies, my scatter pattern is smaller than it has been in prior years."
Fans on Twitter likely saw Bauer make waves a few weeks ago for throwing a 116.9 mph 3-ounce ball during a pull-down drill, a staple of his training at Driveline that is used before his live at-bat sessions.  The pitch got Bauer plenty of feedback.
"Mostly just people telling me that I am going to injure myself, or all the guys online who know infinitely more about the subject than I do," he said. "So that was fun, always is."
In other news, here's @baueroutage pulling down a new facility record of 116.9mph with a 3oz ?? pic.twitter.com/a21va55HyN

— Driveline Baseball (@DrivelineBB) January 10, 2018
But criticism of the video aside (and let's be real, it's not like Bauer cares about that criticism anyway), Bauer is happy with the progress he has made.
"Overall it's been a very good offseason, very productive so far."
A good offseason is promising for Bauer, who had his best year in the big leagues in 2017, putting together a 17-9 record with a 4.19 ERA and 196 strikeouts. From late July onward, Bauer really settled into his own, going 10-1 with a 2.60 ERA. In Game 1 of the ALDS against the Yankees he dominated, giving up just two hits and one walk while striking out eight in six and two-thirds scoreless innings. Heading into the sixth inning, he had a no-hitter going as the Tribe went on to win 4-0, earning Bauer his first career postseason victory.
But with the season not ending the way that the team wanted with a premature exit in the ALDS, Bauer is hoping to take all of the lessons (the good and the bad) from last season to Goodyear, Arizona for spring training in order to build on his 2017 campaign.
"Every time you come to spring training there's renewed hope," Bauer said. "You want to forget about the bad losses but you want to keep them with you in a way so that it motivates you if there's something you can do differently to have that not happen again."