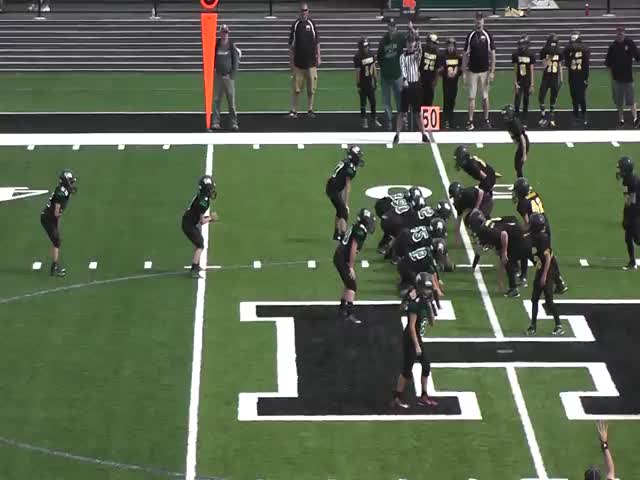 Look out for the Hornets of Highland this year as they are out to sting any opponent that comes their way.
Led by head coach Mike Gibbons the young men in green are looking to return to the playoffs this year as they play their second season in a beautiful new stadium.
The Hornets were the Suburban League champions in 2013. They made it all the way to the Division 2 Playoffs Final Four that season. They would return to the playoffs again in 2014.
The Hornets had an up and down season last year, falling just short of where they wanted to be season end. They graduated a great quarterback in Tyler Zelinski last season and look to Junior Matthew Earnst to take things over behind center this season.
Earnst is six foot, can look over the defense and use his strong arm to connect down field when needed. If Gibbons and the Hornets are to succeed this season, they will need Earnst to lead the way.
Helping carry the load on offense will be the running back combo of Chris Burnside (SR) and Brent Ponikvar (JR). Burnside is 5'11, 200 pounds and ready to run through defensive lines. The Junior Ponikvar is a pass catching tailback out of the backfield, at a slim 160 pounds. Opposing defenses will have t plan to stop both.
The main threat of Matthew Earnst will be the impressive set of wide receivers led by 6 foot 4 inch Senior Mitchell Hutchings. With his enormous size and speed he should be able to get open deep and pull down any jump ball thrown his way.
The Hornets will also look for big contributions out of fellow wide out's Jake Sir Louis ((JR), Evan Kasulones (JR) and Ryan Frederick (JR). Blocking for these men long enough to get open will be the front line of Corey Dennis at center. Joey D'Amico and Lucas King at Guards with Carson Ciesinski and Ben Miller at Tackles.
Senior Safety Mitchell Zaz will lead the lights out secondary, and also double on the offensive side of the ball as a wide receiver as well. Zaz brings leadership and the ability to lay the big hit down on opposing receivers coming across the middle. Look for big things out of Zaz this year.
The Hornets kick off the action Friday night in Brunswick against the Blue Devils. They won their home opener last year against the Blue Devils 17-7. Stay tuned to NEO Sports Insiders for more info on that game.

NEO Sports Insiders Newsletter
Sign up to receive our NEOSI newsletter, and keep up to date with all the latest Cleveland sports news.