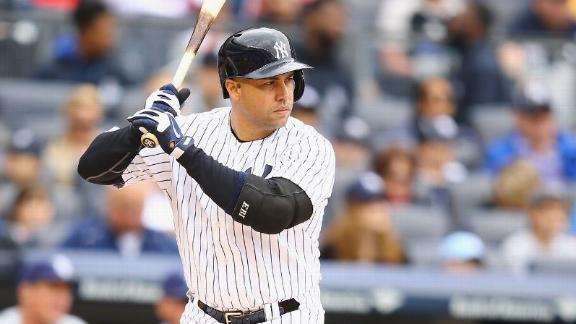 On the Tuesday, May 24th edition of the Baseball Tonight Podcast hosted by ESPN's Buster Olney, the topic of the New York Yankees potentially trading veteran players was brought up.
Olney was speaking with former Major Leaguer and current ESPN analyst Alex Cora, and said, "I know internally the Yankees are tying to find ways to incorporate younger players and that's why I think during the days leading up to trade deadline they will talk to other teams about some of their players who represent depth."
Olney brought up the names of relief pitcher Andrew Miller, closer Aroldis Chapman, catcher Brian McCann, and the most interesting name that was brought up at least from a Cleveland perspective was veteran outfielder, Carlos Beltran.
"I think in the days ahead, they're gonna' talk to other teams about Beltran," Olney told Cora.
Beltran's deal with the Yankees is constructed as such that the veteran can block a trade to 15 teams, but there are 14 teams that he can be traded to without his permission.
Olney picked out a few potential landing spots that "make sense" to him.
The first name Olney brought up was the Cleveland Indians, citing the injury to Michael Brantley and the need for another run-producing bat in the middle of the lineup.
Beltran has already hit 10 home runs (9th most in the American League), driving in 29 RBI with a .275 average. The switch-hitter could play either corner outfield position or DH.
"If they (the Indians) think that the Brantley injury situation could linger, that to me could be an interesting spot," said Olney. "The Indians would obviously need some salary relief because Beltran is making about $15 million this year."
Two other teams Olney mentioned as possible trade candidates for Beltran included the Washington Nationals and Kansas City Royals.
When Olney asked Cora about his thoughts on which team "jumps out at him" as a potential destination for Beltran, the former-infielder immediately responded, "The Cleveland Indians… This is a good baseball team. This is a team that offensively is a lot better than what people think. They're second in the American League in runs scored. Francisco Lindor at shortstop has been outstanding. Rajai Davis in just the last two weeks, he's been great… So I think Carlos Beltran, Cleveland is the perfect fit. Manager Tito Francona likes his veterans and they have a lot of moving parts (like) Uribe, Napoli, Carlos Santana, and he'll be a great fit for that team."
Cora went on to say that as a personal friend of Beltran's he would love to see him go back to Kansas City, where he started his career and would be a part of the defending World Series Champions, but it's interesting that the first name brought up by both the writer, Olney, and the former-infielder, Cora, was Cleveland.
The Indians have a deep farm system and in order to acquire Beltran, it's unlikely that they would have to give up one of their top-tier prospects, like Bradley Zimmer or Clint Frazier.
Beltran is a switch-hitter, who could bat 5th in almost any lineup in baseball, even one with more power than Cleveland.
It could be a one-year rental, as Beltran's contract is up after this season, and an outfield consisting of a healthy Brantley in left, Davis in center, and Beltran in right, would certainly be an upgrade over a Marlon Byrd/Lonnie Chisenhall platoon.
Like Olney mentioned in the podcast, if Brantley's injury is worse than the Tribe has let on, that could be a major hole in the lineup, and addressing the position could mean the difference between making the playoffs or coming up just short.
If you want to read Olney's column discussing the possibility of Beltran being traded, here's the link.
It's still only late-May, but with the American League Central Division race looking as competitive as any in baseball, we'll see who makes the first move to upgrade their team.

NEO Sports Insiders Newsletter
Sign up to receive our NEOSI newsletter, and keep up to date with all the latest Cleveland sports news.