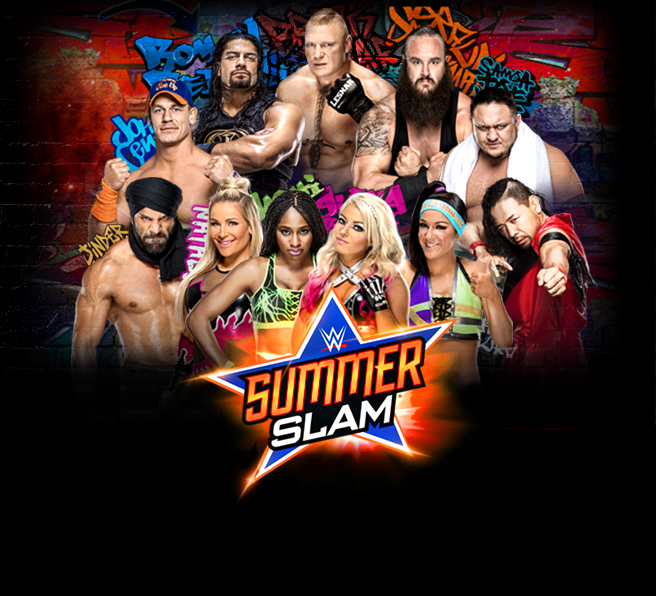 WWE Summerslam 2017 absolutely delivered tonight from the Barclays Center in Brooklyn.  There were several upsets, surprises and smart booking decisions.  The WWE had a great summer and continued that trend with their biggest party of the summer.  Here are some hot takes from tonight's excellent event!
Mike Kanelis and Maria were not on the card. 
Already left of a major PPV, not a good sign for this couple on Smackdown. Kanelis may be heading for a repackaging soon. Not to mention, no Sami Zayn or Dolph Ziggler.  No Charlotte, no Lana and several other big names on Smackdown left off the card.  Interesting that a 5 hour long card with 13 matches would have so many vacancies.  Despite that, still a very solid card!
Five title changes, but the biggest four staying put.
Tonight, saw a record, 5 title changes as both women's belts changed hands and both tag titles, along with the 205 Cruiserweight title swap.  However, after the madness, it needs to be pointed out that the 4 top singles titles are staying with the men who brought them to town.  The Miz, AJ Styles, Brock Lesnar and Jinder Mahal all remain champions with the four biggest belts in the company.  Showing exacly how much faith WWE creative has in their major single title holders.
John Cena vs Baron Corbin opened the PPV portion of the card with Cena crushing Corbin.
The Franchise and the man who was just the MITB winner jerk the curtain tonight?  A strange move to say the least.  Cena hasn't been around much as of late and he just lost cleanly to Shinsuke Nakamura before this.  Perhaps we are witnessing a slight punishment for taking so much time off?  It would seem odd, but maybe it was more so punishment for Corbin to further his burying, time will tell.
The Miz and The Miztourage (Bo Dallas and Curtis Axel) (with Maryse) defeated The Hardy Boyz (Jeff and Matt Hardy) and Jason Jordan. 
The Hardy Boyz can't buy a win and it will only to lead to them being broken very soon.  I feel as though I have been saying that for several months now, but it remains true.  Jason Jordan continues to look good.  I guess that HHH vs Angle match won't happen until mania, as there were rumors of it starting tonight but we are a ways away from that. How do the Hardy Boyz go from having the best moment of the night at WrestleMania, to losing on the pre show?
Neville defeated Akira Tozawa (c)
Why they took the belt off Neville for five days made very little sense to begin with.  Perhaps to show he is beatable and cause a certain amount of suspense in his matches moving forward as he had looked so dominant before this.  Either way, smart to put the strap back on him.  Tozawa is done.
The Usos (Jey and Jimmy Uso) defeated The New Day (Big E and Xavier Woods) (c)
The New Day loses the tag championship in what has been a stellar feud.  Look for this one to continue and it should.  However, it is only a matter of time before one of The New Day turns heel, so I wouldn't expect them to get the titles back.
Natalya defeated Naomi (c) by submission
Natalya is the best pound for pound women's wrestler on the roster and Naomi has been awful as champion.  Let's hope this leads to some classic matches with Natalya defending the title against Charlotte very soon.
Big Cass defeated Big Show
I'm not even going to brag that I called this one back in June when the whole mystery angle started.  This entire feud was awful, and did nothing for anyone.  Ray Charles could have predicted this one months ago as well.  I simply pray that this is it for this feud and everyone moves on to new things quickly.  Hard to believe Big Show was a WCW World Champ, WWF World Champ, ECW World Champ and WWE World Champ.  What happened?
Randy Orton defeated Rusev in 10 seconds!
Smart!
Sasha Banks defeated Alexa Bliss (c) by submission
This match was excellent just as I thought it would be!  Both women are at the top of their games and I would also expect this one to continue as well it should! Banks starting to stack up the title runs!  Perhaps this one will last longer then two weeks and people can actually remember it.
Finn Bálor defeated Bray Wyatt
As cool as it was to see Balor as the Demon King.  It is every bit as sad to see how little the WWE thinks of Wyatt.  He will be back on Smackdown soon, after the next shake up.  No one will remember that Wyatt won this past Monday on RAW.  People will always remember the Demon King.
Dean Ambrose and Seth Rollins defeated Cesaro and Sheamus (c)
Great match, and third longest of the night.  Ambrose regains his relevance and Rollins proves he can work wonders with anyone.  I'd be all for a Roman Reigns re-union as well.  Time will tell as this one is long from being over but the prospects are very exciting.
AJ Styles (c) defeated Kevin Owens
AJ Styles has one of, if not, the best match of the night!  Is anyone really surprised?  They need to keep him on Smackdown for the next five years and let him carry the brand.  Styles really can be the face that runs the place if they let him and listen to the fans.  Owens also showed just how darn good he can be as well.
Jinder Mahal (c) (with The Singh Brothers) defeated Shinsuke Nakamura
Excellent pre-match packages to get everyone hyped.  In a way it reminded me of Goldberg losing to HHH at Summerslam 2003.  You have the red hot newcomer everyone loves against the hated champ.  It almost seemed like a forgone conclusion that the baby face would win the belt, then it becomes swerve city!  At this point, the WWE has to, and I mean HAS TOO, leave the belt on Mahal until atleast Survivor Series if not the Rumble until Styles beats him.  He has become one of the top heels in the company and had a tremendous work ethic outside of the ring, he deserves his just desserts!
Brock Lesnar (c) (with Paul Heyman) defeated Braun Strowman, Roman Reigns, and Samoa Joe
Strowman showed how you can lose but still win.  He didn't take the pin fall and he looked amazing putting Lesnar through several tables at ringside.  Great match, great suspense.  Anything short of a Goldberg comeback, and Lesnar will have this belt for a while until losing it to Reigns at WrestleMania 34.
They are building towards that story very well as Lesnar being the only mountain Reigns can't seem to climb.  He will, and it will be at Mania, tonight pretty much assured us of that.  Where does Joe go from here?

NEO Sports Insiders Newsletter
Sign up to receive our NEOSI newsletter, and keep up to date with all the latest Cleveland sports news.