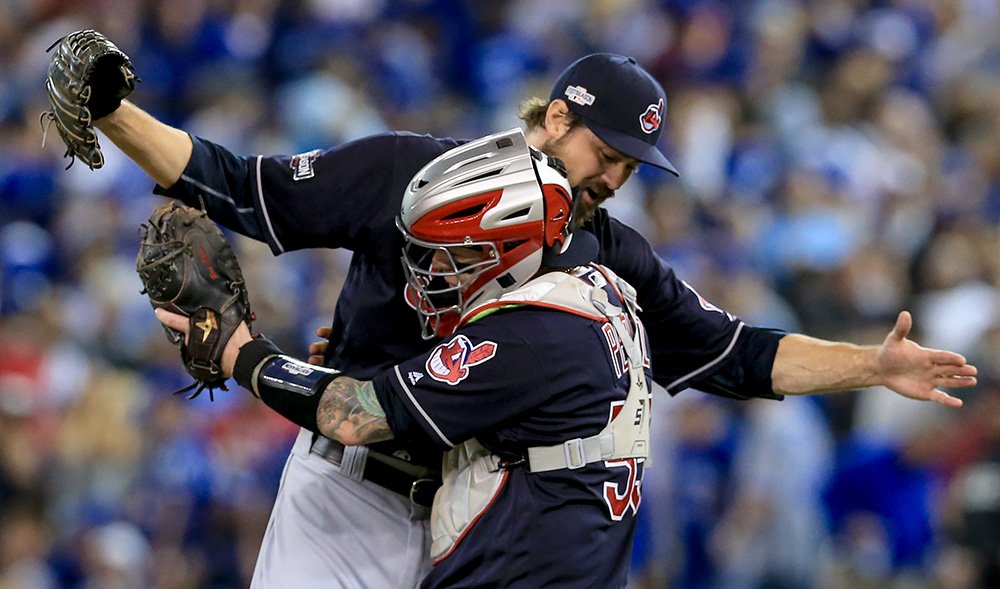 For the first time since 1997, the Cleveland Indians are headed to the World Series.
The American League champion Indians defeated the Toronto Blue Jays 3-0 to win Game 5 and take the series 4 games to 1.
The Indians jumped out to 1-0 lead in the top of the first, as Francisco Lindor singled and Mike Napoli followed him up with a double.
Lindor scored on a fielding error by left fielder Ezequiel Carrera.
Carlos Santana hit a solo homer in the third inning and Coco Crisp hit a solo shot in the fourth to make it 3-0.
Rookie starting pitcher Ryan Merritt went 4.1 shutout innings in his postseason debut.
The 24-year-old left-hander allowed just two hits, struck out three, and did not issue a walk.
Bryan Shaw entered the game with a runner on first and one out in the bottom of the fifth.
Despite allowing a single, Shaw worked his way out of the jam, striking out the next two hitters.
Shaw stayed on for the start of the sixth inning, retiring the lead-off man, but allowed a one-out single to Jose Bautista.
That was all manager Terry Francona needed to see before inserting Andrew Miller, who got 2015 MVP Josh Donaldson to ground into a 6-4-3 inning-ending double play on the first pitch.
Miller set down the side in order in the seventh, keeping Cleveland ahead 3-0.
Dioner Navarro led off the bottom of the eighth with a single, but Miller retired the next three to keep it a three-run game.
Lindor led off the top of the ninth with a ground rule double for his third hit of the night.
Napoli flied out to center and Jose Ramirez grounded out to second, moving Lindor to third.
Lonnie Chisenhall could not drive in the insurance run and the Tribe would head to the bottom of the ninth, still ahead 3-0.
After 2.2 shutout innings from Miller, Francona opted to insert Cody Allen to close it out.
Bautista fired up the crowd with a lead-off double to left.
Allen did not let it phase him and struck out the dangerous right-handed hitting Donaldson to get the first out.
Allen struck out Edwin Encarnacion for the second out.
Troy Tulowitzki popped out to Napoli in foul territorry to record final out of the game.
Cleveland awaits the winner of the National League Championship Series, in which the Los Angeles Dodgers own a 2-1 series lead over the Chicago Cubs heading into Game 4 at Dodger Stadium.
2016 marks the sixth time the Cleveland Indians have won the American League pennant in franchise history.
The last time the team won a World Series was 1948. Their only other World Series Championship Title came in 1920.
Game 1 will take place in Cleveland on Tuesday, October 25. The start time is to be determined.