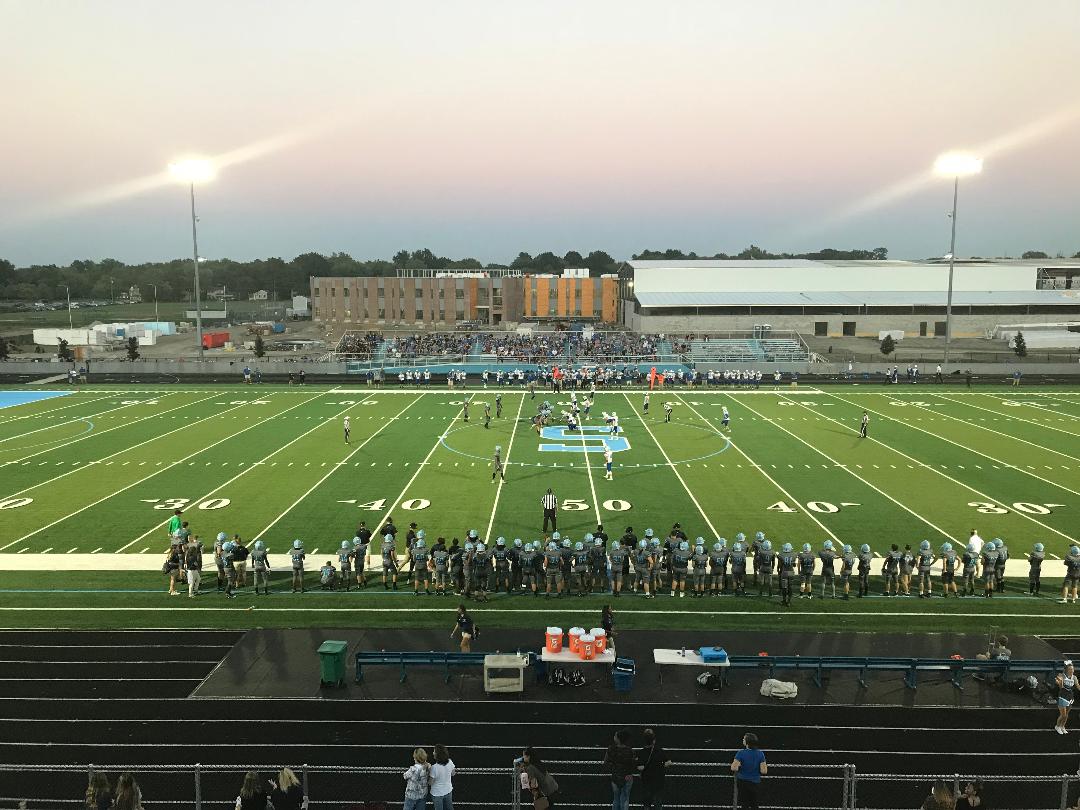 By Tyler Stotsky
WILLOUGHBY, OHIO – Heading into the first game of the Western Reserve Conference slate for both teams on Friday (Sept. 14) night, the Willoughby South Rebels (2-2, 1-0) used one play to set the script in a 42-21 victory over the Madison Blue Streaks (2-2, 0-1) at Harry E. Winters Stadium.
"The key for this week was to come out and do what we needed, pound the ball and play our defense (simple and fast)," said South defensive coordinator Nick Tomba. "Reese coming out of the gate with the score was one of the best ways to start a football game, it was huge for our guys. I'm impressed with the defense as the first string has only allowed 14 points over the seven quarters. Mix that with the offense clicking, I think we are ready for the Rivalry game."
After Madison kicked the ball off to start the game, Deshod Reese burst through the line on a 75-yard dash to the endzone. South led 7-0 on the first play from scrimmage. Madison attempted to answer with a scoring drive, but Willoughby South got a key sack from Tommy Elliott on a fourth-down conversion.
South quarterback Justin Grosel controlled the next Rebel drive as he drove the Rebels down the field on a five play, 57-yard drive. Grosel connected with Xavier Hopps on a 44-yard pass and catch that set the table for a one-yard TD scamper by Reese. Reese's second score of the game made it 14-0 South with 5:34 remaining in the first quarter.
Madison went three and out before each team turned the ball over once. Grosel threw an interception. After a 12 yard completion by Madison quarterback Alex Dragas to Ethan Wiles, Dominic Conforte coughed up the football and South's Michael Marino recovered the fumble. Willoughby South took possession as the first quarter came to a close.
On the fifth drive of the drive, Grosel found Rico Small for a 49-yard TD pass as Willoughby South pushed the advantage to 21-0 with ten minutes left in the second quarter.
Madison finally answered with a scoring drive that pulled the Blue Streaks within 14 points. Dragas led the Blue Streaks into the red zone with a help of a South face mask penalty. Conforte made up for the early fumble by punching it in from five yards out. Madison trailed 21-7 with 5:50 remaining before halftime.
Willoughby South had one final drive before the intermission as they took over from their own 43-yard line with 40 seconds on the clock. Grosel had two big rushing plays that led to him finding Small in the end zone for a 16-yard touchdown pass. South took a 28-7 lead into the locker room at halftime.
South's defense held Madison to 87 first half yards on 29 plays. Meanwhile, the Rebels' offense gained 264 yards of offense on 29 plays.
Madison went three and out on the first drive of the second half. South turned the drive into six points as the Grosel-Small connection scored for a third time, this time from 23 yards out.
South took over late in the third quarter following a strip sack by John Susnik but could not turn the drive into points. South led 35-7 after three quarters.
Reese capped his day with an 18-yard TD run on the Rebels' first drive of the fourth quarter.
Dragas cut the Rebels' lead down to 21 as he added two touchdown runs in the fourth quarter. He broke all sorts of tackles as he ran 58-yards to paydirt with 4:21 left in the game. After Madison got a fumble recovery by Conforte. Dragas ended the scoring with a 4-yard TD run with 11 seconds left. Willoughby South won the WRC opener 42-21.
South put up 416 yards of total offense, including 267 rushing yards in the game. Madison totaled 227 yards total with 145 of them coming on the ground.
Grosel ended the game with 9-of-17 passes completed for 149 yards, three touchdowns and one interception. He added 70 yards rushing on nine carries. Reese had a night where he ran the ball nine times for a total of 127 yards and three touchdowns. Small was the main target as he made five catches for 100 yards and three scores.
Grosel spoke about the energy from South's big start, "It was so exciting, everyone was happy and it made a great feeling on the sidelines. Deshod's run was a huge confidence boost and that's what we needed from the start. This was a big win and builds our confidence for North-South next week. I'm pumped."
For Madison, Dragas went 8-for-22 with 82 yards passing. He was the leading rusher with 148 yards and two touchdowns rushing on 13 attempts. Conforte added one touchdown and 31 yards rushing.
Willoughby South will travel to Eastlake North for a cross-town WRC rivalry next Friday (Sept. 21). Madison will host Riverside in WRC action next Friday.
Player of the Game:
Willoughby South Rebels RB Deshod Reese
Reese set the tone with two early touchdowns, including a 75-yard score on first play.
9 carries, 127 yards rushing, 3 TD

NEO Sports Insiders Newsletter
Sign up to receive our NEOSI newsletter, and keep up to date with all the latest Cleveland sports news.