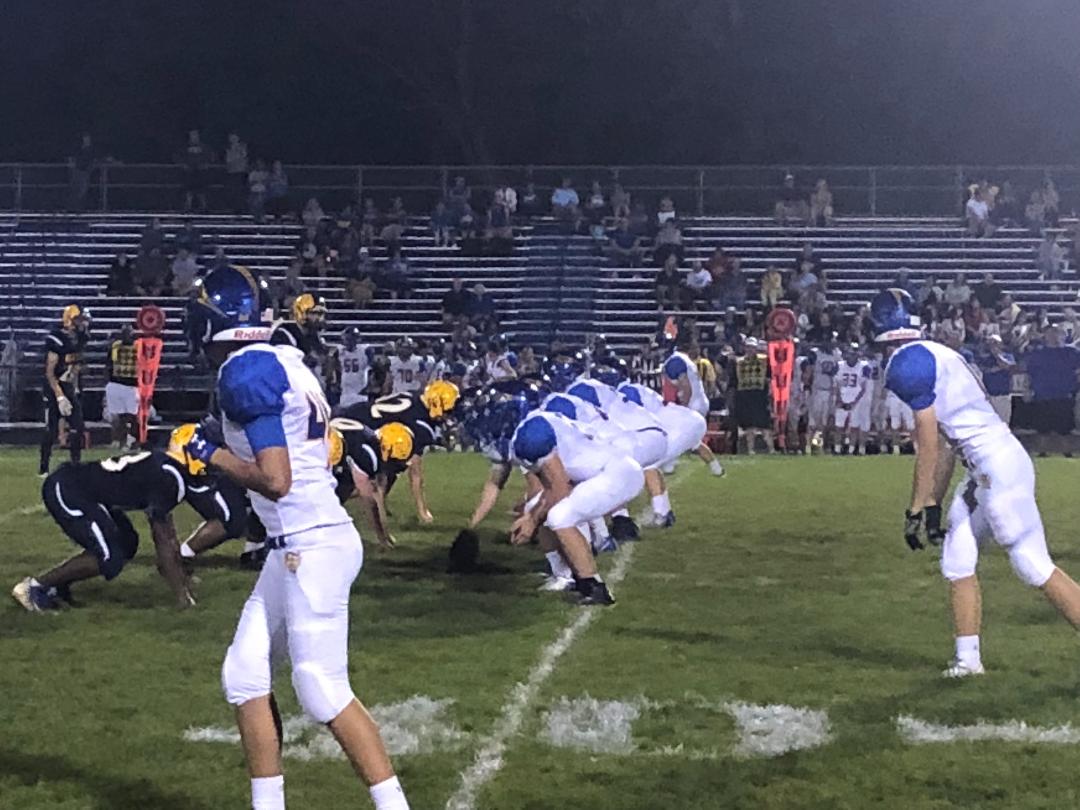 By Kevan Arnold
WICKLIFFE, OHIO – In the battle of Blue Devils, Wickliffe (4-0, 1-0) remains undefeated as they beat divisional foe Independence (2-2, 0-1) 40-6 on Friday night.
The game would mark first Chagrin Valley Conference game for both schools on the season as each team looked to make an early statement after strong non-conference showings by both squads
Wickliffe would waste little time making their first statement of conference play. Wickliffe's Swing Band had barely left the field from pregame festivities before Senior captain Isaac Pettway would take the opening kickoff 75 yards to the endzone to put Wickliffe up 7-0 only thirteen seconds into the game.
Independence would put together a great opening drive of their own taking over four minutes off the clock, but were unable to finish it off and turned it over on downs at Wickliffe's 10 yard line.
Although Wickliffe's first official offensive possession only lasted 18 seconds, it still resulted in the team's second touchdown of the game. Sophomore RB Chase Fortkamp would break a tackle and scamper 86 yards up the middle making the score 14-0.
After another long Independence possession that spanned across two quarters resulted in their second turnover on downs, Pettway would add a rushing score of his own from 7 yards out to give Wickliffe a 21-0 lead mid-way through the second quarter.
Wickliffe would later add two more quick touchdowns heading into halftime; including Fortkamp's second rushing touchdown of 18 yards, as well as a 7 yard hookup to pay dirt between QB Brad Dietrich and RB Jaylen Bowers to give Wickliffe the 34-0 lead at the break.
In the second half, Wickliffe would connect on two Dietrich field goals from 22 yards and 34 yards out.
However, Independence would not be denied payoff for the hard work put in by their offensive and defensive units all night long.
Independence's WR Matt Richards would find that payoff by way of a 24 yard rope thrown up the seam by Freshman QB Michael Tommer in the fourth quarter.
Despite this valiant effort put forth by Independence, ultimately the story of the game would be the defensive game plan executed by Wickliffe throughout the game.
Independence had come into this game with two strong offensive outputs against Trinity High School and Rhodes High School by scoring an average of 32.5 points per game over that span.
They were especially dangerous on the ground, rushing for over 450 yards with the attack being led by Senior QB/RB Robert Artrip.
Artrip came in tonight's matchup averaging 168 yards and 25 rushing attempts per game on the ground, but was held to just 66 yards on 18 attempts by the stingy Wickliffe defense.
Wickliffe's defense would also force Independence to turn it over on downs three different times during the game and held Indy's potent offense to just 182 total yards on the night.
Next week, Independence will look to rebound as they travel to Fairport to take on the Skippers at 7pm. Meanwhile, Wickliffe will try stay unbeaten at they hit road for the first time in three weeks traveling to Cardinal for a matchup against the Huskies at 7pm as well.
PLAYER OF THE GAME:
Wickliffe's Sophomore RB Chase Fortkamp
Fortkamp earns the honor of being selected as this week's player of the game. Fortkamp impacted all three phases of the game tonight by accumulating 186 all-purpose yards and two touchdowns on the night. Most of those yards would come from an efficient night running the ball with 3 carries for 106 yards, which included his two meetings with the endzone tonight.