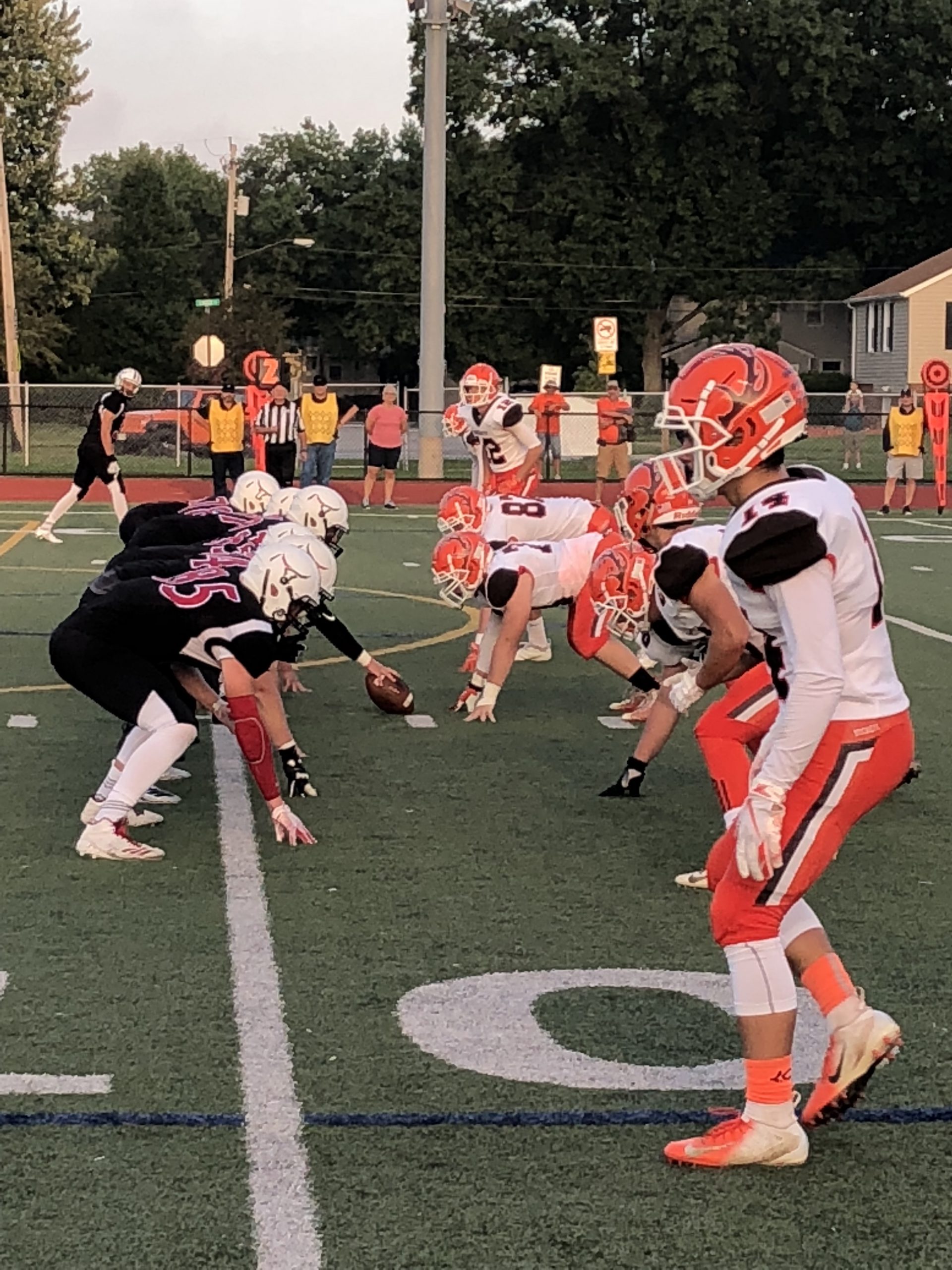 SOT Game of the Week sponsored by MDG Flooring
By Sean Duffy
Rocky River, OH-Week four in 2018 northeast Ohio High School football is in full swing as most teams begin the conference portion of their schedule.  Our week four match up  features two teams from the Patriot Athletic Conference.  The 2-1 Buckeye Bucks coming off two impressive wins, travel to Rocky River to take on the 3-0 Lutheran West Longhorns.  It is sure to be a hard hitting affair that is the calling card of the PAC.
Buckeye's defense was dominant right from the start, as they were finding themselves in the longhorn backfield for the majority of the quarter.  Buckeye's defense would hold Lutheran West to just 2 total yards in the 1st quarter.  The Longhorn Defense was able to contain the running game initially , however the Bucks got on the scoreboard late in the 1st quarter thanks to a 32 yd TD run from Senior WR Brock Brumfield.  Buckeye was driving as the 1st quarter came to an end with Buckeye holding a 7-0 Lead.
Touchdown @BuckeyeBucks15 Brock Brumfield from 32 yards out gives the Bucks a 7-0 lead over @LW_Athletics @NEOSportsInside @WOBLWDLWSPORTS @HSHysteria pic.twitter.com/O8F6RgTii3

— Sports On Tap (@SOTPodcast) September 14, 2018
Buckeye wasted no time adding to their lead as Senior Dom Monaco Plunged into the end zone from 3 yds out to give the Bucks a 14-0 lead with 11:56 left in the half .  Monaco would find the end zone on the next Buckeye possession, this time on a 2 yd TD run, with 9:10 left in the half Buckeye led 21-0.
Touchdown @BuckeyeBucks15 ! 2 yard touchdown run by Dom Monaco. XP GOOD @BuckeyeBucks15 now lead @LW_Athletics 21-0 2Q 9:10@HSHysteria @NEOSportsInside @WOBLWDLWSPORTS pic.twitter.com/7aYE006KBl

— Sports On Tap (@SOTPodcast) September 14, 2018
The Longhorns were finally able to get on the scoreboard thanks to an 80 yd throw and catch from QB Austin Kim to WR Shawn Naim, the score was now 21-7 in favor of the Bucks with 8:56 remaining.  Buckeye RB Dom Monaco would find pay dirt for the third time as the half expired, 16 yd TD Run.  At halftime the Buckeye Bucks led 28-7.
Pass intercepted by the Bucks before half. @BuckeyeBucks15 leads @LW_Athletics 28-7 at Half.@NEOSportsInside @HSHysteria @WOBLWDLWSPORTS @FOX8FNTD pic.twitter.com/YDdPbiOWzd

— Sports On Tap (@SOTPodcast) September 15, 2018
The third quarter was  a tale of defenses and  penalties as each team each had good drives but were not able to overcome costly penalties and great defensive play.  Lutheran West was able to put together a promising drive, thanks to a 43 yd pass and catch from Kim to Naim, but a interception on the very next play by Senior DB Michael Knoll ended that drive. As the third quarter the score was still 28-7 with Buckeye deep in Longhorn territory.
Buckeye would score to open the fourth quarter,  Junior QB Jacob Doerge with a 9 yd TD run.  Buckeye  led 35-7 with 11:54 remaining in the game.   Lutheran West was able to score on a 42 yd TD run by QB Austin Kim.
Touchdown Longhorns! 42 yard touchdown run by QB Austin Kim. XP GOOD @BuckeyeBucks15 now leads @LW_Athletics 35-14 4thQ 1:15 left @HSHysteria @NEOSportsInside @FOX8FNTD @WOBLWDLWSPORTS pic.twitter.com/UsMG6TLkPU

— Sports On Tap (@SOTPodcast) September 15, 2018
That would not be enough as the Longhorns were unable to overcome the deficit, and the punishing Bucks defense.  The final score was the Buckeye Bucks defeating the Lutheran West Longhorns 35-14.
The Longhorns drop their first game of the year and are now 3-1 on the season and will look to rebound in week 5 as they travel to take on Wellington.
Buckeye was led buy Player of the game RB Dom Monaco who finished with 3 rushing TDs and 1 interception on the defensive side of the ball.  Buckeye will look to continue their winning streak as they host Columbia in week 5.
Buckeye Head Coach Greg Dennison talked to us after the win.
Coach Dennison talking about the Bucks win tonight! @BuckeyeBucks15 @BuckeyeSchools @BuckNation330 @BHSAthDep @WOBLWDLWSPORTS @NEOSportsInside @HSHysteria pic.twitter.com/XWFaMAqT5S

— Sports On Tap (@SOTPodcast) September 15, 2018

NEO Sports Insiders Newsletter
Sign up to receive our NEOSI newsletter, and keep up to date with all the latest Cleveland sports news.