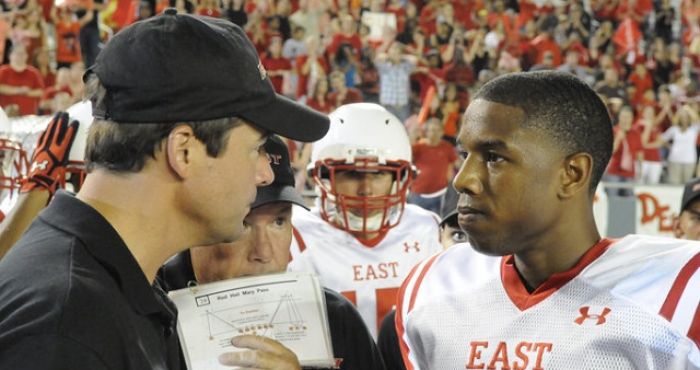 It was a wild week around High School Football last night that saw plenty of big performances.  It is that time again for you the fans, to decide who had the best performance of all.
This award is brought to you weekly by our fine sponsor, "Jenny's Old-Fashioned Popcorn."  You can visit them on Facebook at https://www.facebook.com/jennyspopcorn/?fb_dtsg_ag=AdwzH1MZWHNmFoNi4dX2JbidaASckYYwK-hUnAG5FXwURw%3AAdxntpkwprhq8OybmXzrGmR5mXF1fIwcKRA-vvAOVvlzpg  or on their website at https://www.jennyspopcorn.com/
Here are the rules.
–          Only 10 votes per IP address a day.
–          All votes are due Tuesday by 11 pm
–          Votes must be placed in comment section
–          You can vote for any player you want, they do not have to be listed on the ballot.  If we missed someone, put them on the ballot by tweeting at Vince McKee @VinceTheAuthor.
Good luck to all the candidates.
The winner has been announced.  No need for any further votes this week.  Thank you!
Buckeye Running Back Dom Monaco Wins Jenny's Old Fashioned Player Of The Week
Amherst RB Khennedy Scagliozzo: 184 yards on 24 carries, 6 total touchdowns.
Highland RB Jake Rogers: 250 plus all-purpose yards, 5 total touchdowns.
Wickliffe RB Chase Fortkamp: 186 all-purpose yards, 2 touchdowns.
Willoughby South Rebels RB Deshod Reese: 127 yards on 9 carries, 3 touchdowns.
Buckeye RB Dom Monaco: 100 plus yards, 3 touchdowns and 1 interception
Berea-Midpark S Chase Ivancic: 3 interceptions
Avon QB Ryan Maloy: 12 of 16 for 204 yards, 3 passing touchdowns with 68 yards rushing.
Mayfield RB Jamir Nunley: 68 rushing yards on 18 carries with 2 touchdowns.
Bay Village RB Luke Herbruck: 111 yards on 13 carries with 2 touchdowns.
St. Ignatius QB Patrick Delahunty: 6 of 8 passing for 218 yards with 4 touchdowns.