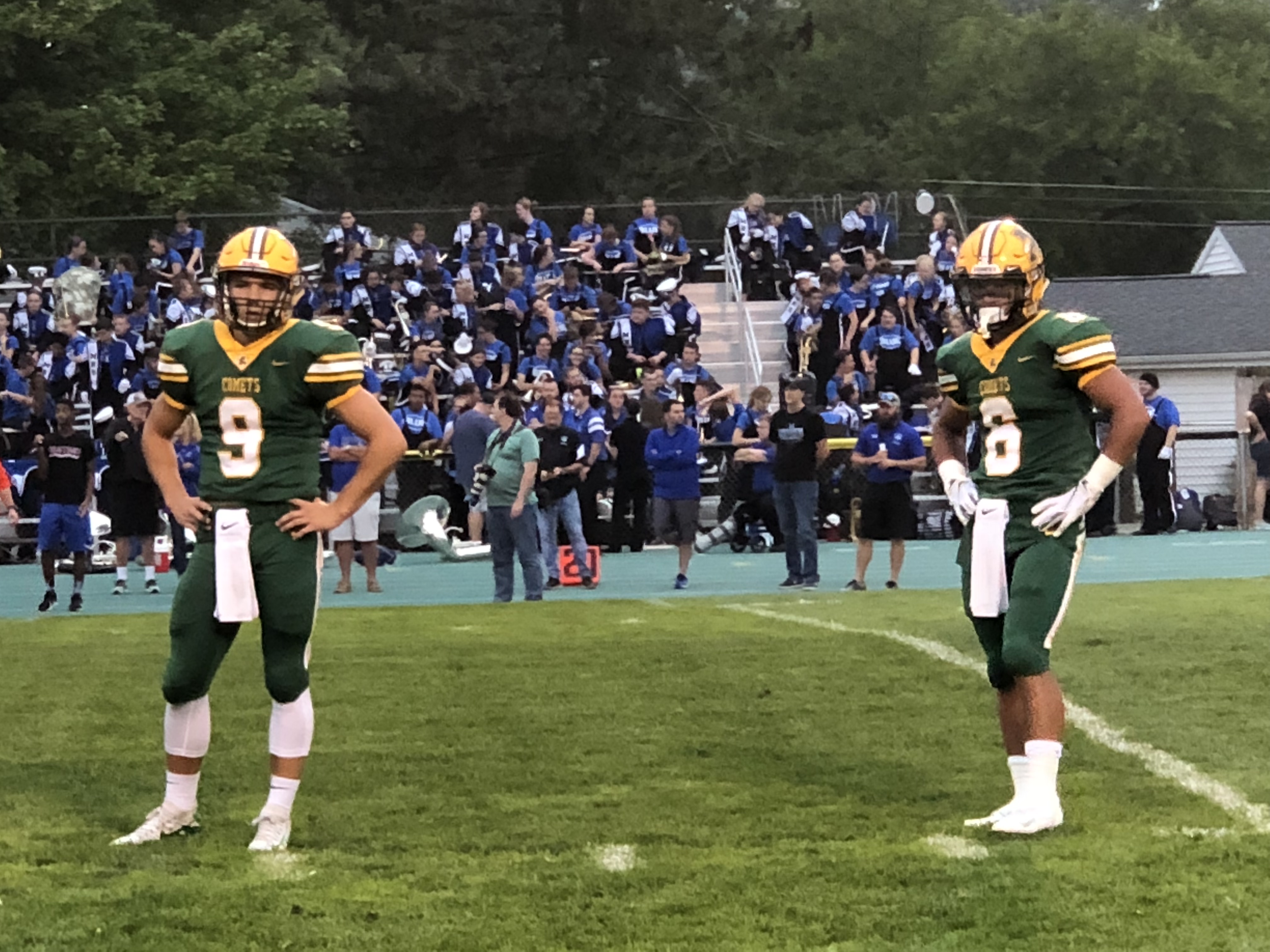 The SWC season is off to a fast and furious start.  We have seen some surprises including a Midview team starting the year at 0-4.  Also, an Avon Lake offense that appears to be unstoppable.  In fact, the Shoremen handed the Avon Eagles their first regular season loss in years. 
The Berea-Midpark offense appears as fast and powerful as ever.  Amherst has gone 4-0 to start the campaign, but will see tough games for the majority of the remainder of the season.  Including matchups against Avon, Avon Lake, Olmsted Falls and Berea-Midpark to name a few.
Both the Avon Eagles and Olmsted Falls Bulldogs have a loss on their slate, however neither team looks shaky or in any trouble, both appear to be as stout as ever.  The Eagles will need Nick Perusek back and healthy sooner than later if they hope to return to the final four in the state.
While the top four in the conference appears to be without debate, Avon Lake, Avon, Olmsted Falls and Amherst, the order does.  Please do not hesitate to let us know where you agree, and also disagree with these rankings. 
These rankings are solely of the author, Vince McKee, and do no reflect the thoughts of the entire staff.  You can tweet at me at VinceTheAuthor with your thoughts.
This week's schedule followed by the rankings can be found below.
North Olmsted at Westlake
Lakewood at Avon Lake
Berea-Midpark at Amherst
Avon at Midview
Olmsted Falls at North Ridgeville
| | | | |
| --- | --- | --- | --- |
| 1 | Avon Lake | (4-0) | With the Konnor Riggs rushing attack on full speed, the Shoremen have a real shot to run the table. |
| 2 | Avon | (3-1) | This team is one defensive stop and a Nick Perusek ankle away from being unbeaten. |
| 3 | Amherst | (4-0) | They are a Berea-Midpark blowout away from being ranked 2nd next week.  Can the Titans spoil those plans? |
| 4 | Olmsted Falls | (3-1) | The Bulldogs have a great coach and rushing attack.  If the defense gets on track, watch out for this team. |
| 5 | Berea-Midpark | (3-1) | The high octane quick strike offense is better then ever.  Can the defense continue to improve and do their part next? |
| 6 | North Olmsted | (2-2) | A good team at home, they will have a chance at their first road victory this week at Westlake. |
| 7 | North Ridgeville | (1-3) | A team far better then their record. A multitude of talent on offense.  They need to keep improving each week. |
| 8 | Midview | (0-4) | Andrew Gooch is far too good of a QB to let this team lose to many more games.  Expect a turnaround soon. |
| 9 | Westlake | (0-4) | The offense looks much improved this season.  Can they upset North Olmsted at home this week? |
| 10 | Lakewood | (0-4) | 3 touchdowns through 4 games doesn't give Ranger fans much hope. |