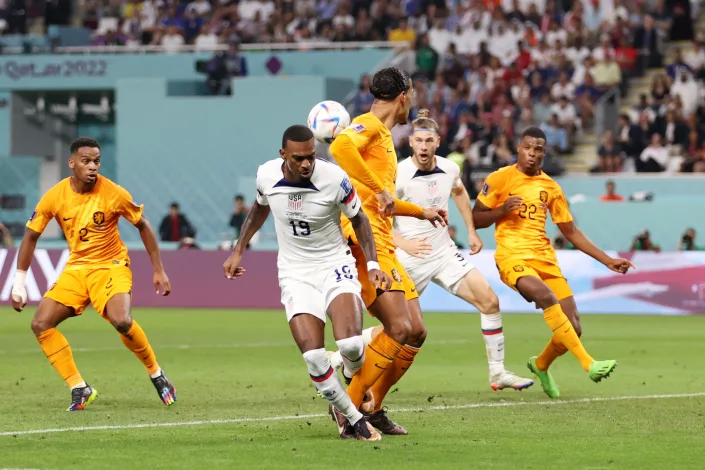 The US Men's National Soccer team lost a World Cup match to the Netherlands, 3-1, today in Qatar. The loss knocks the Americans out of the competition while the Dutch move on to the quarterfinals. And with the loss, we are left with questions.
Can Gregg Berhalter take this team further or is this as far as they were going?
Why is there no true #9 forward for this team?
Jesus Ferreira at the forward spot?
Why can't we seem to make adjustments well?
First half
The Americans, the youngest team at the WC, started strong with good passing and pressure. In the third minute, Cristian Pulisic nearly had his World Cup moment. Tyler Adams had a great ball to him that he tried to push past the Dutch keeper. Pulisic's shot wasn't high enough, and his attempt was denied.
Almost the perfect start for Christian Pulisic and USMNT 😮

(via @FOXSoccer)pic.twitter.com/VQijliohuZ

— B/R Football (@brfootball) December 3, 2022
THAT would have been a great World Cup moment.
But then in the tenth minute, Memphis Depay struck gold for the Dutch side. While rushing into the box, he was left unmarked by captain Tyler Adams and scored the first goal of the knockout stage. It showed how clinical the Dutch side was on a counter attack and the US weren't.
What a build up, what a goal. Memphis Depay 😮‍💨 #FIFAWorldCup #USAvNED
pic.twitter.com/6bnpLG4SaQ

— Maria Itzel (@mariaitzelll) December 3, 2022
Both sides were sloppy at times and relentless at times. The Dutch would triple team any American who grabbed the ball in the midfield channels, making passes difficult. But when a US player DID break the three-man press, space and teammates were plentiful. 
Two Solid US chances!
Tim Weah had a rocket that really was the best strike for the US late in the first half that had to be saved by Dutch goalie, Andries Noppert.
Weah with a STRIKE but Noppert comes up with the save!@USMNT pic.twitter.com/B3eiSE7fsy

— FOX Soccer (@FOXSoccer) December 3, 2022
Shortly after, Sergino Dest made a magnificent run into the Dutch box taking on three defenders. But his shot had very little on it from the pressure. But Dest's work might have impacted the second Dutch goal.
Denzel Dumfries for Holland was the man of the match as his second assist came exactly at the end of the half. After a throw-in, Dumfries centered a perfect ball to the aging Daley Blind. Unmarked again in the box, Blind finished as good teams do. Sergino Dest was possibly tired from his work just prior and let Blind go unchecked.
The second goal for the Netherlands by Daley Blind

US – Enpic.twitter.com/9leZvkoRgY

#NEDUSA #Qatar2022 #FIFAWorldCupQatar2022

— Whefi.com – Social hub (@WhefiDotCom) December 3, 2022
Second half
The US did get a goal back in the 76', when Haji Wright looked to back heel a pass to a teammate but instead watched it pop over the goalie for a goal! Down just 2-1 now! And the feeling was back!
HAJI WRIGHT YOU BEAUTY. You'll never score a goal like that again!!

|#USA #USMNT #USAvNED #FIFAWorldCup pic.twitter.com/xGKJ8i8tM0

— Swift Kicks ⚽️ (@realSwiftKicks) December 3, 2022
But the excitement was short lived as Dumfries scored pretty much like each other goal…unmarked, alone in the box and slotting it into the back of the net for the 3-1 final.
How far we've come but still far to go
This US team is like a family vacation drive from Cleveland to Los Angeles. The kids in the car ask, "Where are we, dad and mom?" And you respond, "Denver!" Still a long way to get to your destination. This World Cup was a good start, but this match showed the world that the US has a long way to go to be like the other top soccer nations.
Possession
The US owned possession against one of the best countries who teaches possession at the youth level, 54% to 33% with 13% contested. The US had 18 shots with seven of them on target! Eleven of those shots were in the penalty area. Holland had 11 shots and six on frame and seven in the penalty area. 
But with all those chances, only one goal is disheartening. There is no true person ruthless enough in the US to want the ball at that time and will be clinical in the finish. Maybe a Richardo Pepi, left off the squad by Gregg Berhalter, or a Brandon Vazquez would have helped.
Passing rate
567 US passes versus only 396 for the Netherlands is a stat I would have bet before the game was a misprint and should have been reversed. But the most telling stat of all. The US had 27 crosses into scoring areas but only two completed. Wow. A 7% success rate. The Dutch? 31%.
Defensive let downs
Matt Turner, the US goalie, made at one time two unbelievable saves back to back within seconds to keep the US alive in the 70'.
Matt Turner keeping America's hope alive👀

(Via @FOXSoccer) pic.twitter.com/DyRnF75zlF

— betr (@betr) December 3, 2022
After the loss, he was asked about his team's defensive breakdowns in his press conference.
"We were allowing balls into the box and just not tracking runners. We didn't block shots and it was just a tough night overall defensively and one that we'll probably lose some sleep over."
Pulisic on the match and his thoughts going forward.
"Thank you guys so much for the support… We wanted it so bad, and I hope we gave you some kind of excitement and showed you what this country is about, what this team is about."

Christian Pulisic joined @JennyTaft and had a heartfelt message for @USMNT fans ❤️🇺🇸 pic.twitter.com/ugyfhsmOPY

— FOX Soccer (@FOXSoccer) December 3, 2022
Berhalter's Future?
Here is a great exchange after the match on how former USMNT stars Landon Donovan and Alexi Lalas see Gregg Berhalter's future with the National Team.
Where does the USMNT go from here? @AlexiLalas, @landondonovan and David Mosse discuss Gregg Berhalter's future.

Sponsored by @StateFarm #GoodNeighbor pic.twitter.com/e5RxesenbE

— FOX Soccer (@FOXSoccer) December 4, 2022
Thank you, US Men's team
But through all the craziness the past two weeks, the Men's team seems to be on a good path. The program needs a coach who is a brilliant tactician. Someone who can make changes in game and force teams to follow YOUR lead. Gregg got us here, now we might need another driver or a coach who can dissect a game and get players to make adjustments.
Until we get that, we will have moments like this…a failure to move out of the round of 16.
But tip your hat to these young men. They kept us glued to our devices and gave us hope for the future.
I'm not sure how to wrap this up, but I felt the need to say THANK YOU !! This has been the greatest honor of my whole life and I will cherish the memories we made forever 🇺🇸 pic.twitter.com/xA6SLsF7M4

— Matt Turner (@headdturnerr) December 4, 2022

NEO Sports Insiders Newsletter
Sign up to receive our NEOSI newsletter, and keep up to date with all the latest Cleveland sports news.