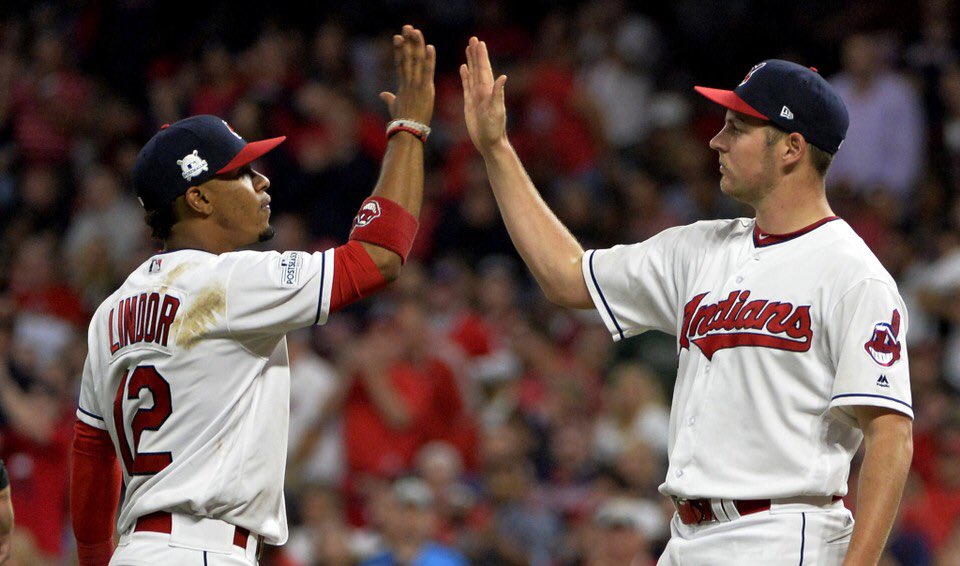 CLEVELAND – The Indians couldn't have asked for a better start to the American League Divisional Series on Thursday night at Progressive Field, topping the New York Yankees 4-0.
Better yet, they did it without ace Corey Kluber having to throw one single pitch, as the team went with and won with Trevor Bauer who looked a lot like Kluber in the win.
From Jason Kipnis' amazing snag in center, to Jay Bruce's two-run homer to Bauer's awesome outing to even Yankee slugger Aaron Judge striking out four times, Indians twitter had a lot of fun with this win which puts the Tribe for now in the driver's seat in the best of five.
Here's some of the best tweets from the win on Thursday night.
#RollTribe #Cleveland #Indians pic.twitter.com/aITVryPpGg

— Rich (@FiIthyRich) October 6, 2017
Cleveland Indians you can do it. Go all the way! ⚾⚾⚾⚾ pic.twitter.com/LUs82f2fDs

— Laurel Siek (@Laurelsk) October 6, 2017
Our final 2017 tailgate and party in Sec 259, game 161. See you 4/2/18 vs WS Champions Cleveland Indians? #AtTheBigA pic.twitter.com/Bm25hFRXis

— Phil Zantos (@PhilZantos) October 6, 2017
#clevelandindians #ClevelandAgainstTheWorld #newyorkyankees #believeland #OurYear @BauerOutage was ? out! pic.twitter.com/DuYWk1bFvE

— Michael Boyce (@realmikeboyce) October 6, 2017
How you feel when you love/hate Trevor Bauer ??‍♀️ #Indians #windians #gotribe #titletown #clevelandindians #baueroutage #rallytogether pic.twitter.com/J0z70BhNxe

— Katie Durante (@kduranteee) October 6, 2017
#ClevelandIndians Win Game 1 Of The #ALDS2017 #GoTribe #RollTribe #Indians #Cleveland @Indians pic.twitter.com/uHE3ZeVHqt

— Matthew ? (@ohiofam417) October 6, 2017
OUR YEAR‼️‼️#ClevelandIndians pic.twitter.com/uuQcrsFkit

— Ann D'Amico (@macybatiki) October 6, 2017
The Bauer went out tonight in Cleveland! @Indians @BauerOutage #RallyTogether pic.twitter.com/jVfO9aB3zI

— C. Clark (@CaseyWClarkHHS) October 6, 2017
WHY ARE YOU PLAYING JASON KIPNIS IN CEN—— pic.twitter.com/7vXWejny47

— AL Central champs! (@Indians) October 6, 2017
Bring it. (@ Progressive Field – @indians for New York Yankees at Cleveland Indians) https://t.co/uxkjpZ1rJc pic.twitter.com/qVZG6VItJM

— Jason Therrien (@JasonTherrien) October 6, 2017
LOOK | Cleveland Cavaliers cheer on Cleveland Indians in American League Division Series https://t.co/HC7P1cfwmE pic.twitter.com/AkPSjog13E

— WKYC Channel 3 News (@wkyc) October 6, 2017