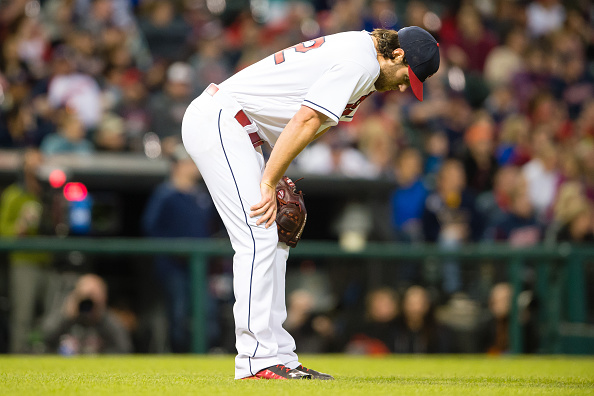 Cody Anderson had two goals when he got the word he would be starting Sunday's home series finale at Progressive Field against the Seattle Mariners.
The first was to actually log some innings, helping a pen that's been taxed big time over the last few days.
The second goal was to keep the Indians in the game, helping them to try and keep the M's in check while they took their swings against Seattle starter Erik Swanson.
The result of those two goals for Anderson – epic fail.
The team might as well have made phone calls for early tee times at the local golf courses, as Seattle pounded the Tribe 10-0.
The loss puts the Indians at 18-14 on the season, as they still trail the Twins by two games for first in the American League Central.
Here's three quick looks into today's disaster for the Indians:
1. Cody Cracks Early
Cody Anderson was put in a somewhat of a tough spot Sunday coming on to try and shut down a Mariners team that clearly was frustrated losing the first two games late.
They didn't wait long to get started, but Anderson only has himself to blame, walking a pair and giving up a single to Edwib Encarnacion before Jay Burce (remember him?) clubbed a grand slam to center right to make it a 4-0 M's lead.
Seattle added a homer from Mitch Haniger in the second to left center to make it 5-0, and Daniel Vogelbach made it 6-0 with a single in the fourth.
While Anderson was long gone by then, Edwin Encarnación hit a two-run bomb to center, 416 feet, making it an 8-0 affair.
Back to Anderson, he allowed four runs on four hits with three walks and a K. He was able to last just 38 pitches before Terry Francona pulled him to try and keep it close.
It never was, and the Indians used six pitchers and even Kevin Plawecki pitched an inning (and it wasn't that bad).
2. Hello My Old Friend
Two former Indians sluggers slammed their way into helping the Mariners build the huge Sunday en route to the 10-0 win.
First there was Jay Bruce, who came to the Indians late in 2016 when Michael Brantley went down with an ankle injury.
Bruce, who hit ten homers last year with the Mets, hit his 11th already in 2019 in the first inning, going after a low and away pitch, smashing in into the right center stands to put the M's up 4-0.
As if that wasn't enough, another former Indian, this time Edwin Encarnación, did more damage against his old team, hitting a two-run shot to center 416 feet to make it 8-0 in the fourth inning.
With the struggles the Indians offense has had, it would be great to have one or both of those players back in 2019, but Sunday the day belonged to the Seattle offense.
3. The Bats Back in Slump Mode Again
Two runs on Friday, five on Saturday and getting shutout on Sunday. Once again the inconsistency is back for the Tribe offense, as they managed just seven runs in three games.
The big bats in the teams' lineup are still not producing on a consistent basis. Francisco Lindor .229, Leonys Martin .209, Jason Kipnis .171, Jose Ramirez .188.
The Twins have more enough offense to win this division based on the first few weeks of 2019, and if the Indians can't get out of this prolonged early season slump, they may just find themselves being forced to try and deal some prospects in July for an established bat in this lineup.

NEO Sports Insiders Newsletter
Sign up to receive our NEOSI newsletter, and keep up to date with all the latest Cleveland sports news.