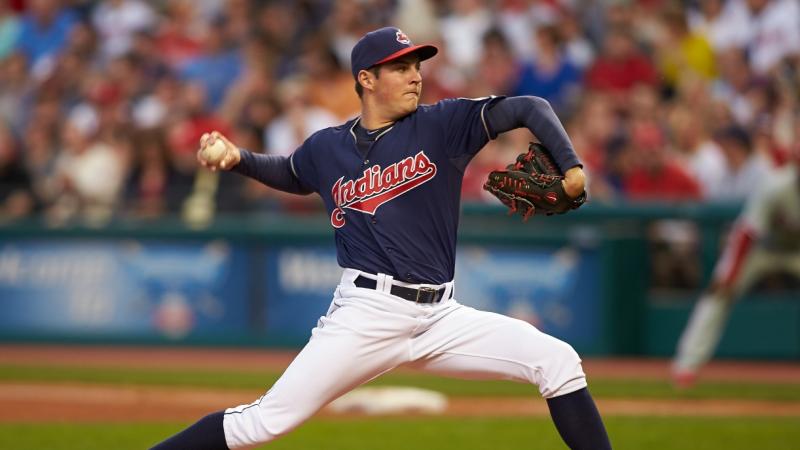 The Cleveland Indians just finished posting the franchise's longest winning streak in its 101 year history. They have the 2nd best record in the American League. All of this is following a disappointing season in which the Tribe were infamously picked by Sports Illustrated to win the World Series, and proceeded to miss the playoffs.
The main reason? A coming of age by a young pitching staff. The Indians have a top five pitching rotation by almost any statistical measure (fourth in ERA and WHIP, third in batting average against, second in complete games, tied for second in shutouts). During the team's 14 game winning streak, the starting rotation announced its arrival to the world. According to cleveland.com, the starting rotation posted a 1.83 ERA while giving up just 62 hits in 103 innings pitched.
All four of Cleveland's main rotation starters not named Corey Kluber are either at or approaching a career high in ERA or wins. However, the biggest turnaround season of them all has been right-hander Trevor Bauer.
Trever Bauer has never been considered run-of-the-mill. He was regarded as one of, if not the best high school pitchers out of southern California, an area with an embarrassment of baseball prospect riches. Bauer left high school early to enroll at UCLA at age 17 and eventually left school early again to enter the MLB Draft, where he was selected third overall by the Arizona Diamondbacks after his sophomore season. Bauer was seemingly always ahead of the curve.
But, like so many young hot shots before him, the big leagues punched him right in the mouth. After yet another brief stint at a developmental level, Bauer was called up to the majors less than 12 months after being drafted. This time, the learning curve was too great. In his first taste of the big leagues, Bauer allowed 11 earned runs in just 16 innings pitched.
The following offseason, Bauer was traded to the Indians, where he again spent most of his time in the minor leagues and got smacked around when he was called up to the show. According to cleveland.com, Bauer was throwing as many as seven different pitches in his early years, and had some unusual pre-game routines. In 2015, Bauer led the American League in walks.
Fast forward to 2016, and Trevor Bauer is beginning to look like the blue chip prospect the Diamondbacks thought he was five years ago. He is 7-2 with an ERA just over three, and he has gone from the AL's leader in walks to just top 20 (baby steps).
According to Tribe manager Terry Francona, Bauer's career year has been fueled by being something he has never been before–more like everyone else. "He's pitching more conventional," Francona said after Bauer's June 22nd start. "That's a compliment. He's pounding the strike zone with really good stuff, and he's changing speeds."

NEO Sports Insiders Newsletter
Sign up to receive our NEOSI newsletter, and keep up to date with all the latest Cleveland sports news.