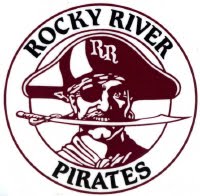 By: Chris Ginley
PARMA, Ohio– A decently warm day in Parma, Ohio saw GLC foes Parma Redmen host the Rocky River Pirates. The Pirates started out with their big hitters producing as their 2-3-4 hitters all reached base with Tommy Kelly scoring via a Ross Hartman single.
The Pirates went right back to work getting good at-bats and getting runners on base. Three walks and a double was unfortunately unable to get a run across the plate due to Cam Blue getting in a rundown trying to steal home.
Parma started to rally in the bottom of the second. After Pirates pitcher Jack White set down the Redmen 1-2-3 in the bottom of the first, Parma's next three hitters reached base via an infield single, walk, and an error on the Pirates shortstop, respectively. A sac fly by Nick Selinsky scored Parma's first run of the game and tied the game at 1 apiece. White set down the next three hitters to get out of the jam.
The Pirates got two more in the top of the third when Ryan Dunning and Ross Hartman scored on groundouts. Parma's shortstop made two terrific plays stopping scorchers off the Pirates' bats that prevented further damage being done.
White threw a terrific outing today, only allowing seven Parma hitters to reach base while throwing a complete game. Rocky River Head Coach Daryl Sanders had this to say about White's outing, "He made some good fielding plays and he set the tone throwing strikes and not wasting pitches." He had a sensational a no-look, behind-the-back, backhand stab at a ball that was trying to get through the infield in the bottom of the third while Parma was trying to chip away at the Pirate lead.
Owen Jaite became the second Pirates player that was picked off in this game as Parma's catcher and shortstop combined for a heads-up play in the top of the fourth when the Pirates had a speedy runner in scoring position.
Parma brought on a relief pitcher to throw in the top of the sixth and promptly loaded the bases. After another hit-by-pitch, the Redmen went to their bullpen once again to try and get out of the inning. Another hit batsmen and an error by the catcher allowed the Pirates to increase their lead to 5-1, which would end up being the final score.
"Out one to eight hitters were solid and getting good at-bats. It was important to get an early lead and maintain it throughout the game," said Sanders said after today's win.
Both teams will play in non-league games tomorrow as Rocky River will host Clearview and Parma will head to Benedictine.