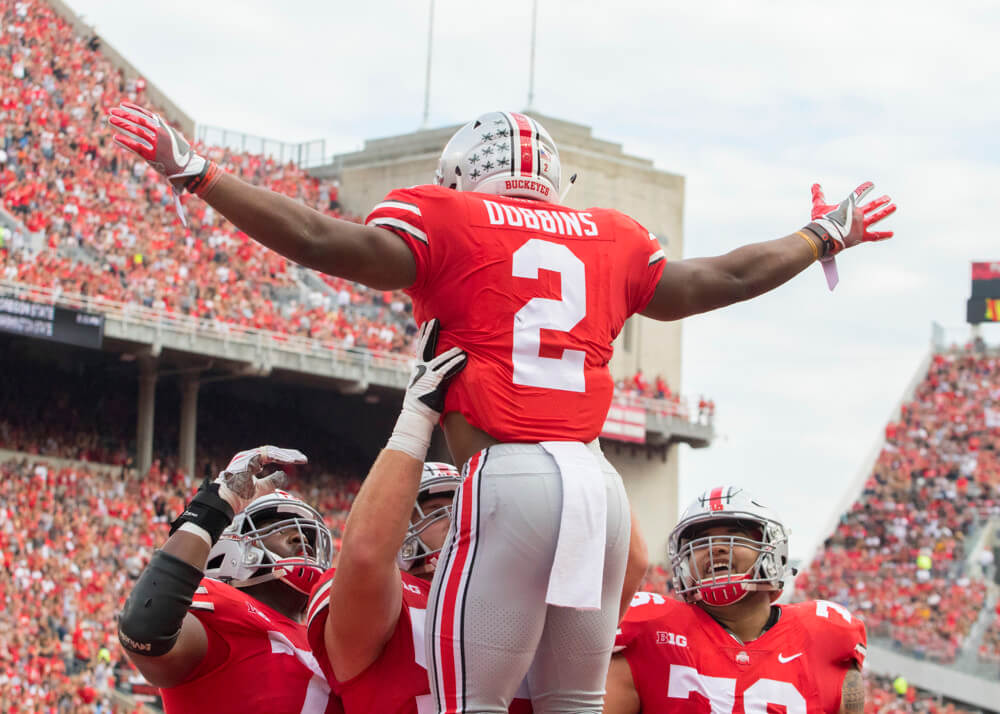 As Ohio State looks to win the Big Ten Conference, they face an undefeated Wisconsin team that may not have truly been tested thus far. The lack of recognition towards "Wisco" has not only led to the Buckeyes being considered the favorite by nearly a touchdown, but it also serves as a chip on the shoulders of the Badgers. Every Buckeye unit will need to be on point in order to take the title back to Columbus. Here are some factors for each Ohio State unit going into the game:
Special Teams
The lone unit led solely by head coach Urban Meyer has struggled throughout the season; giving up big plays, committing unnecessary penalties, and playing below expectations overall. This is an area where the Buckeyes need to play more effectively. Giving up the big plays on special teams has proven problematic time and time again. In the past, they have managed to recover, but with one of their toughest challenges ahead, any costly mistakes on special teams may be too much. Missed tackles, penalties, turnovers, Ohio Stater simply cannot commit such mistakes if they want to emerge victorious in Saturday night's showdown.
Defense
The Silver Bullet defense has long been considered the strong suit of this Ohio State squad. In last week's matchup against Michigan, however, the Bucks allowed the Wolverines' second and third string tailbacks to break off some big runs early. They were able to settle down and lock in, but freshman Jonathan Taylor has been nothing short of remarkable all season long. Taylor has notched over 1800 yards on the year while averaging seven yards per carry. He will be, without a doubt, the most dominant back that Ohio State has faced this year. Containing Taylor will be difficult, but if there's any defense that can, it's the Buckeyes. Wrap up, do not let Taylor break away, and continue to wear him down.
The other area where Ohio State has had some issues is covering the tight end, and the Badgers boast just the weapon to expose this flaw. Troy Fumagalli has shown that he can be dangerous. Standing at 6'6", Fumagalli provides quarterback Alex Hornibrook with a large target that will certainly pose a threat to the Buckeye secondary.
Speaking of Hornibrook, the 6'4" sophomore may be the weak point of this Wisconsin offense. Hornibrook enters Saturday's match with one of the worst interception rates in all of college football. This is a run-first team, but if Taylor can be slowed and the passing game is forced, the scarlet and gray will have plenty of opportunities to create turnovers.
Pressure, pressure, pressure. That will be the key to everything. Ohio State has practically set up camp in opposing backfields, but the Badgers have a reputation of great offensive linemen, and may cause more disruption than usual against that defensive front. How easy will it be for Nick Bosa, Sam Hubbard and company to rattle the young quarterback?
Offense
The biggest question heading into Saturday is the quarterback situation for Ohio State. Who gets the nod? Meyer has said that captain JT Barrett will be the guy. However, playing after having arthroscopic knee surgery less than a week ago is no easy task. Can Barrett stay healthy for the duration of the game? He is currently considered a game time decision.
Either way, there are two crucial keys to the offense gaining and sustaining their momentum: establishing the run and the intermediate to deep passing game.
With Barrett under center, the Buckeyes have often struggled to consistently make plays through the air. Barrett excels in the quarterback run game. No one in college executes the option better, but that will not be enough against a tough Wisconsin defense. In order to spread those Badger defenders out, Barrett must complete passes down the field, otherwise the run game will not be as threatening when the opponents know what is coming.
Mike Weber and JK Dobbins have provided an exceptional one-two punch. Oftentimes, the Buckeyes have been criticized for not using the two underclassmen enough. It is crucial to get them going. When a run play is stopped for short yardage, do not give up on it all together. Going back to the blowout against Iowa, the two tallied 11 carries, COMBINED. Relying on the arm of Barrett is simply not the answer, but there will be times when the fifth year senior has to step up and make the big throws. Running the ball well just reduces the frequency of these situations.
If Barrett's injury is too concerning for Meyer, either before the game or during, that leaves the redshirt freshman, Dwayne Haskins. If there is any area in which Haskins outperforms his teammate, it is the arm talent. As a recruit in high school, Haskins was considered a high-ranked "pro-style" quarterback, meaning he is more along the mold of making plays with his arm, as opposed to running like Barrett.
We know that the spotlight will not bother Haskins, as evidenced by his performance against Michigan. Yet, at the same time, there have been plenty of instances where the inexperienced signal caller has made dangerous throws and questionable decisions. Meyer mentioned that Dwayne had an excellent week of practice in preparation for Saturday, perhaps giving coach the confidence in placing Haskins under center.
Offensive coordinator Kevin Wilson will need to call a balanced offense regardless, in order to keep the Wisconsin defense on their toes. There have been moments of brilliance, as well as some of disgust. Which end of the spectrum will be showcased today? Much of this depends on the quarterback, but by this point Wilson knows his two quarterbacks well enough to cater to their strong suits.
The game kicks off at eight, with a potential playoff spot on the line. If Wisconsin wins, there is no question they will be ranked within the top four. As for Ohio State, much more must happen. Speaking strictly based off of what the Buckeyes can control, the only way the playoffs can be earned will be by winning convincingly. Another Scarlet squeak-out will not be enough.

NEO Sports Insiders Newsletter
Sign up to receive our NEOSI newsletter, and keep up to date with all the latest Cleveland sports news.