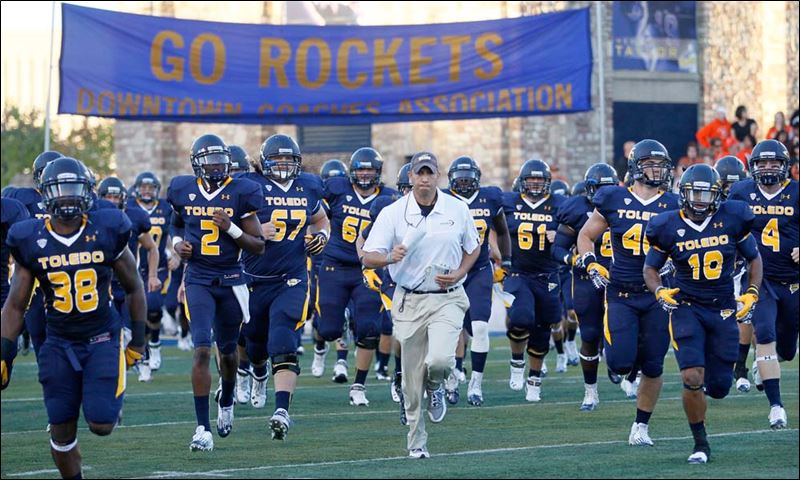 This Week's MAC Schedule And Notes is provided to NEOSI by The Mac Media Communications team.
Saturday, October 6
Buffalo at Central Michigan, Noon ET (CBS Sports Network)
Eastern Michigan at Western Michigan, Noon ET (ESPN+)
NIU at Ball State, 3:00 pm ET (ESPN3)
Bowling Green at Toledo, 3:30 pm ET (ESPN+)
Miami at Akron, 3:30 pm ET (ESPN+)
Ohio at Kent State, 3:30 pm ET(ESPN+)
MAC QUICK NOTES:
• The Week 6 schedule witnesses the MAC move into league play with six games on Saturday, Oct. 6. Two of the six games are crossovers with Buffalo at Central Michigan at Noon ET (CBS Sports Network) and Bowling Green at Toledo at 3:30 pm ET (ESPN+) in the Battle of the I-75 Trophy.
In each of the last eight consecutive years (2010-2017), the MAC West Division has bested the East Division in regular season head-to-head crossover games. This season the West Division leads the East Division, 2-1.
• Ohio head coach Frank Solich earned his 99th career victory in leading the Bobcats program after a 58-42 win over UMass. Solich aims for his 100th career victory this Saturday, Oct. 6 at Kent State at 3:30 pm ET on ESPN+.
• Buffalo had the fifth-largest crowd in UB Stadium history with 23,671 in attendance as the Bulls suffered a 42-13 loss to Army to fall to 4-1 overall on the season.
• Last week MAC program's went 1-4 in five non-conference contests. The MAC had its three week streak of a win over a Big Ten opponent snapped during Central Michigan's 31-20 loss at No. 21 Michigan State. Previously the MAC had defeated three Big Ten opponents in consecutive weeks (Purdue, Northwestern, Rutgers).
MAC WEEKLY NOTES
• Western Michigan defeated Miami, 40-39, as quarterback Jon Wassink threw for a career-high 439 yards and five touchdowns, while rushing for a sixth score, the game winner with 2:53 left in regulation. Wassink became the first Bronco since Zach Terrell in 2016 against Buffalo to throw for over 400 yards in a game.
• Western Michigan freshman receiver Jayden Reed set a single-game school record with four receiving touchdowns on seven receptions and a career-high 137 yards. Reed tied the school record set by Greg Jennings back in 2005 against Ball State. In addition, receiver D'Wayne Eskridge had seven receptions and 141 yards, marking the second time this season the Broncos have had two 100-yard receivers.
• NIU defeated Eastern Michigan 26-23 in (3OT), which marked the third consecutive year both teams have ended in overtime. NIU extended its winning streak over Eastern Michigan to 11 consecutive games dating back to the 2007 season. NIU running back Tre Harbison had 32 carries for 136 yards and the game-winning touchdown in the third overtime period.
• Miami opened its game against Western Michigan with a 99-yard kickoff return for a touchdown by Maurice Thomas. It marked the first kickoff return for a score in 21 years, since DeMarrio Jones took a kickoff 88 yards for a score against Kent State in 1997. It also was the first kickoff return to open a game for Miami since 1986 when Chris Thomas took the opening kickoff 96 yards for a touchdown against Ball State.
• Ball State quarterback Riley Neal threw for 402 yards and four touchdowns on 30-of-50 passing in leading the Cardinals to a 52-24 win over Kent State. Neal became the seventh quarterback in school history to throw for over 400 yards in a single game. He accounted for five touchdowns with four passing and another rushing with a 31-yard score.
His favorite target was his former high school teammate, Riley Miller, who had 11 receptions for 208 yards. Miller became the first Cardinal receiver to top 200 yards receiving in a single game since Willie Snead in 2012, also against Kent State.

NEO Sports Insiders Newsletter
Sign up to receive our NEOSI newsletter, and keep up to date with all the latest Cleveland sports news.