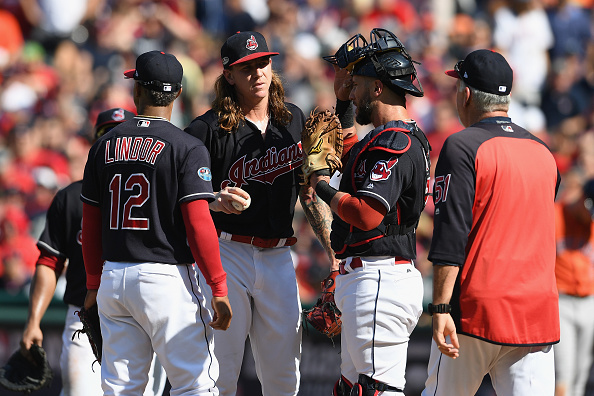 I'll go ahead and admit I haven't been known for beaming with Cleveland Indians optimism this offseason. It's been a bleak winter full of cost-cutting, taking fliers on past-their-prime vets and ownership essentially telling fans not to expect a contract extension for Francisco Lindor.
So, sure, with Opening Day approaching, it's tough to get overly excited about the year ahead.
However, in attempt to stay positive for a new season, I've found reason to embrace the idea of Cleveland's trimmed down roster. While the question marks hovering over the offense and bullpen may carry a sense of concern, they'll also give this team something it didn't have last season.
Pressure.
Simply put, after a year in which the Indians barely had to try when it came to winning the division, a suddenly weaker roster may be what it takes to light a necessary fire under them.
To clarify, there's reason to be anxious about the lineup Cleveland is bringing into the 2019 season. Lindor and Jose Ramirez represent the only two sure-things in the batting order. Younger, untested players like Jordan Luplow and Jake Bauers were initially expected to contribute, yet unimpressive spring training showings have tempered those hopes. The bullpen isn't as bleak as it seemed in December, though it still doesn't boast a ton of confidence-inspiring pitchers.
On paper, the Indians have a questionable roster in what's supposed to be a contending season. I'm not here to deny that.
I also won't pretend there's zero competition in the AL Central, as the Minnesota Twins have made significant additions to their lineup while Cleveland has spent months shedding salary.
Again, though, increased competition and a questionable roster can actually be used to the Indians' advantage. These factors might not just be beneficial to them, they may be necessary.
One of the biggest reasons the 2018 Tribe flopped was due to the fact there was never any pressure to succeed. The team was never pushed, never challenged. The Central was essentially locked up by Memorial Day.
If the Indians lost a game due to a shoddy bullpen showing or a lack of offense, they never felt any consequences. Nobody in the division finished the season above .500, so it was easy for Cleveland to shrug off bad losses since they didn't impact playoff chances.
As a result, the Indians disengaged, seemingly saving energy for the postseason. Unfortunately, shifting into cruise control that early resulted in the team being unable to shift back quick enough. The playoffs were over before the team even realized it.
Considering this, a situation where the Indians are forced to increase their effort should be seen as a good thing.
We should want them to spend the season fending off a division rival. We should hope they feel the need to exert more energy and pick up the slack for struggling bats.
Bottom line – additional pressure is exactly what this team needs.
We saw what happens when Cleveland doesn't feel compelled to overdo it, when there's no threat of losing significant ground in the standings. The result was a team showing up to the postseason looking like a college kid who forgot to set his alarm for a final.
If the Indians instead spend the 2019 campaign in a tight division race, if they truly have to earn their playoff berth, it could yield much better results come October.
Knowing this, I'm choosing to welcome better competition, to embrace the idea of a roster which looks notably weaker than the one which coasted to a division title last season.
And I'm doing so solely because the last thing the Indians need in 2019 is another year where they're never challenged.

NEO Sports Insiders Newsletter
Sign up to receive our NEOSI newsletter, and keep up to date with all the latest Cleveland sports news.