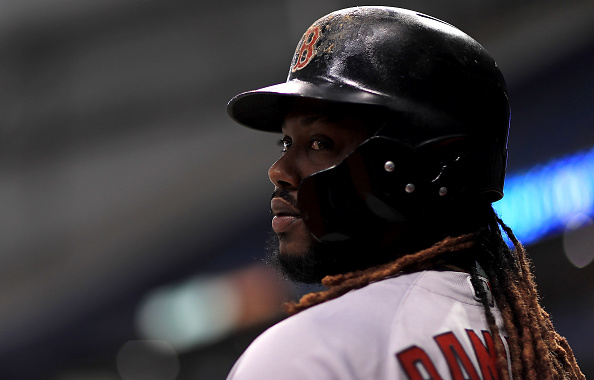 I won't lie, when I saw the update about the Cleveland Indians signing Hanley Ramirez this past weekend, I was a little intrigued.
It's a classic Tribe move, for one. Take a flier on a veteran player to see if he has anything left in the tank. This approach worked with Rajai Davis and Austin Jackson, why not test your luck with Ramirez?
Additionally, with the DH position still relatively up for grabs, it certainly doesn't hurt to kick the tires with him to see if he can be a solely-offensive contributor this season.
However, my intrigue shifted to concern as soon as I heard manager Terry Francona's comments on the matter yesterday. In laying out the hopes for Ramirez, Francona shed light on a glaring issue with the Indians' offense this season.
Discussing the signing with the media yesterday, Francona laid out the following about Ramirez.
"He played a little winter ball. He said he's been hitting and stuff, but he's mid-30s. He hasn't played a lot, so we need to let him get his legs under him, get some repetition."
Very fair and accurate. Ramirez has been out of the majors since being cut from the Boston Red Sox last May. It's only natural to give him some time to chip off the rust.
That said, Francona offered said insight after saying the team hoped Ramirez could be a "middle-of-the-order-type bat."
Oh.
To be clear, in attempt to solve any production issues which come from the team shedding expensive talent this winter, the current best-case scenario is to get middle-of-the-lineup production from Hanley Ramirez.
35-year-old Hanley Ramirez.
The same Hanley Ramirez who was not only DFA'd by the Boston last May, but who also received zero interest across the league for the rest of the season.
This is a lot to digest.
In 2009, sure, Ramirez as a middle-lineup hitter is a no-brainer. Back then, he was generating 100-plus RBIs and boasting an absurd .342 batting average.
I'll even give you 2016, when Ramirez had a bounce-back season with the Red Sox, hitting 30 home runs and contributing a career high 111 RBIs.
Of course, this was three years ago. Since then, Ramirez's production has tailed off, with things going so poorly for him the Red Sox had zero issue cutting him two months into last season despite still owing him around $15 million.
With that said, the Indians are hoping a change of scenery is all Ramirez needs. On top of this, they're hoping said setting change will result in the 35-year-old finding his swing and serving as a potential clean-up hitter.
Personally, this comes off as though the team is grasping at straws. Cleveland spent the past few months ousting offensive production in order to find salary relief, and the hope is to significantly replace it with a player whose career appeared to be concluding just a few months ago.
Yes, I was relatively open to this signing when hearing about it. Still, Cleveland acquiring Ramirez a little over a month before Opening Day and seeing him as a potential middle-of-the-order hitter paints this in a much more jarring light.
We already felt it fair to question how the Indians were going to consistently score runs this year. After all, Francisco Lindor and Jose Ramirez can only do so much. That the team is now pinning notable hope on Ramirez having a significant turnaround, three years after his last productive season, only exacerbates this issue.
Perhaps Ramirez will surprise us and show he's still got it at the plate. Who knows, maybe he really will prove to be a big boost to the offense.
The Indians are betting on as much, which sure says a lot about their plans for the season ahead.

NEO Sports Insiders Newsletter
Sign up to receive our NEOSI newsletter, and keep up to date with all the latest Cleveland sports news.