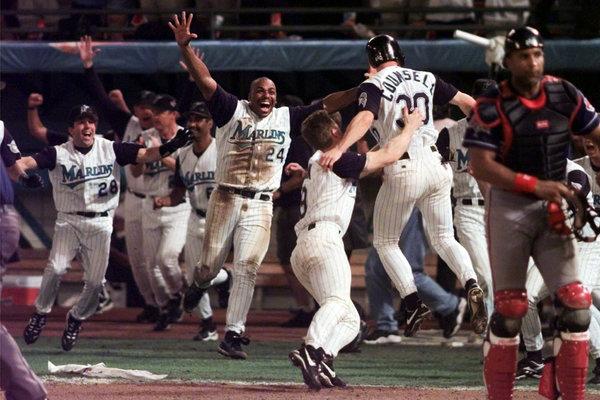 The Cleveland Indians will take on a team Tuesday night at Progressive Field they rarely ever see, but one that to this day makes the blood of many Tribe fans boil.
That team is the Miami (formerly known as the Florida) Marlins, a team that in the minds of many Indians fans 'stole' away the teams' World Series title in 1997.
While it's been 22 years since that dramatic World Series, one that when it happened went down as one of the best of all-time (much like the on the Indians lost just three years ago).
See if this sounds familiar – the series went seven games, the series went into extra innings, and just like the 2016 series against the Cubs – the Indians lost a heartbreaker.
When you talk about that World Series, names like Jaret Wright, Chad Ogea, Omar Vizquel, Jose Mesa, Sandy Alomar Jr., Mike Jackson, Matt Williams and Jim Thome quickly come to mind.
The Marlins, who had basically brought their team on the free agent market, had the likes of Edgar Renteria (who got the knife in the heart game winning hit in game seven), Bobby Bonilla, Moises Alou, Gary Sheffield, Kevin Brown, and Craig Counsell (who scored the game winning run).
It was a classic series that the Indians clearly should have won. The team already had the World Series trophy in their clubhouse in the ninth inning of game seven leading the game 2-1 (a sure sign bad things were going to happen).
Just about everyone knows the story – Jose Mesa blowing off signs, a ball going through the legs of Tony Fernandez to allow the Marlins to set up the winning run in the 11th inning, Edgar Renteria's line drive single off Charlie Nagy to score Craig Counsell.
So many gut-wrenching moments that Indians fans can't stand to relive, that is unless you have an alternate ending at the end of the movie.
So tonight and tomorrow, the Marlins are back in Cleveland. Not many faces are around from those teams of 1997 – Alomar may be the only one.
The baseball gods simply couldn't let the Indians win that World Series, even though clearly as the older franchise that had gone years without a title, they deserved it.
They fought hard to get to that World Series, they didn't 'buy' their players to get to a title, and fought from down three games to two to take a 2-1 lead into the ninth inning of game seven.
22 years later, it still seems like a bad dream, and still seems unfair.

NEO Sports Insiders Newsletter
Sign up to receive our NEOSI newsletter, and keep up to date with all the latest Cleveland sports news.