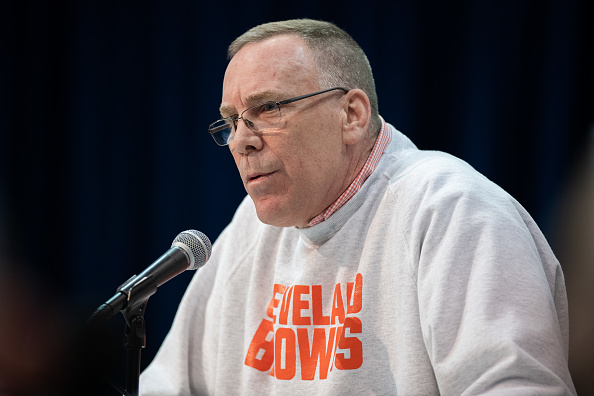 Back in December 2017, when John Dorsey was introduced as the new GM of the Cleveland Browns, I personally tried to temper my expectations. While many fans celebrated the moment as the first step towards turning this woebegone franchise around, I remained hesitant at first. After all, I'd been burned before, watching so many of Cleveland's celebrated hires flame out in an instant (see: Holmgren, Mike).
Today, said hesitance seems laughable. In the span of 15 months, Dorsey has turned an 0-16 Browns team into a franchise which has fans and media alike thinking Super Bowl. This may truly be the masterpiece of his career.
You may think this is excessive (and if you think this, you're probably a fan of another team). However, consider what he's done in, again, less than a year and a half.
Dorsey took the helm of a sinking ship. He arrived just in time to see the final defeats of a winless season. There were some promising players on the roster, sure, but glaring holes could be found at numerous key positions.
Dorsey was of course aided by a treasure trove of draft picks and available cap space. However, even the most optimistic fans probably didn't think he'd hit as many home runs as he's logged during his short time in Cleveland.
It took him just one offseason to find the franchise quarterback this team has been seeking since the Bernie Kosar era. He's shown an ability to manage the draft which hasn't been seen in Cleveland since the team returned in 1999. Almost every move he's made has benefited the Browns in some way, a success rate unheard of in these parts.
He then iced the cake yesterday by acquiring Odell Beckham Jr., adding one of the league's best wideouts to an offense now loaded with talent.
In a sense, Dorsey has done exactly what he set out to do during his introductory press conference, when he noted he was here to "wake the sleeping giant."
Last year, fans held a perfect season parade to "celebrate" Cleveland's 0-16 campaign. Said supporters are now on waiting lists for 2019 tickets.
The Browns themselves saw their expectations rise from "maybe they'll win a game this year" to "they might just win a championship this season."
Again, Dorsey only needed 15 months for this turnaround.
Not only should you be impressed with what Dorsey has done, it's also astounding considering what he hasn't done.
He hasn't spent free agency overpaying for veterans who were past their respective primes.
He hasn't thrown tons of money at a bridge quarterback.
He's assembled a roster packed with talent, but hasn't completely obliterated the Browns' salary cap to the point where they'll have to dump tons of contracts next year.
He hasn't completely burned all the Cleveland's draft assets and ensured the team's growth will eventually hit a brick wall.
Instead, Dorsey has built a core that is equal parts gifted and young, and done so without eliminating the flexibility to add more key pieces in the future.
More importantly, he's looked at all the moves previous regimes made in Cleveland, and decided he'd do the opposite.
As a result, the Browns have gone from NFL doormat to one of the most popular teams in the league. Their days of being the butt of all jokes appear to be coming to a close. Fans who used to attend games adorned in paper bags are now clearing their schedule for the playoffs.
A turnaround of this magnitude is impressive enough on its own. That Dorsey was able to orchestrate it in less than two calendar years is just pure wizardry.
Sure, this team still needs to prove itself on the field. The roster looks incredible on paper, but you don't make the playoffs by just showing up.
Of course, that we even have such high expectations for a team which had at one point won four games in three years is a miracle on its own. Dorsey didn't just put the Browns on the right track, he transformed them from a punching bag into a juggernaut.
It's tough to find a better claim to fame than that.

NEO Sports Insiders Newsletter
Sign up to receive our NEOSI newsletter, and keep up to date with all the latest Cleveland sports news.