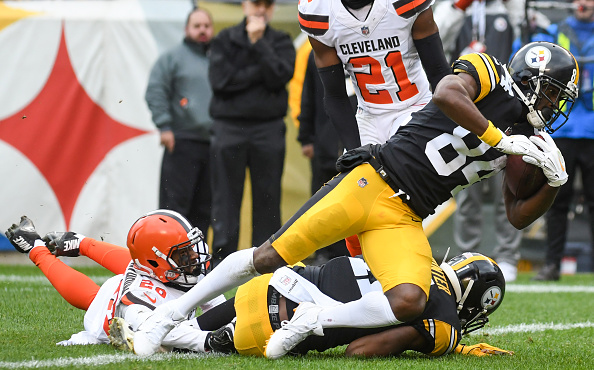 During today's press conference at the NFL Combine, Cleveland Browns GM John Dorsey was asked if he's reached out to the Pittsburgh Steelers to discuss a deal for disgruntled wideout Antonio Brown. Dorsey jokingly pointed to his cell phone, implying he'd be open to Pittsburgh calling him to talk trade.
I'm hoping said conversation doesn't go much further than this.
To be fair, I'm all for Cleveland leaving no stone unturned when it comes to making a big addition at wideout this offseason. However, if we're talking about a trade for Brown, I'm OK leaving that stone where it is.
Receiver is definitely a position the Browns should target this offseason. This will especially be the case if Breshad Perriman, who essentially served as their deep threat last year, finds another suitor in the open market.
Personally, if the team is looking to make a blockbuster trade, I'm an unabashed supporter of Cleveland going after New York Giants star Odell Beckham Jr. Said stance hasn't wavered much recently.
When writing that column, a few readers reached out saying they're against trading for Beckham because of "character concerns," but would prefer dealing for Brown if such a trade is possible.
Not only do I not quite understand that stance, I also don't think Cleveland needs to waste much effort going after the Steelers receiver in the first place.
Initially, I thought the idea of Pittsburgh dealing one of its best players to a division rival seemed far-fetched. However, GM Kevin Colbert claims the team hasn't eliminated anyone from trade talks.
Still, it's tough to believe Colbert can be convinced to send Brown to Cleveland. Even if he could, one has to imagine he'd request returns far richer than what he'd ask from teams outside the AFC North.
Even if this theory ends up being off base, I'm still against the idea of Cleveland pursuing Brown.
This isn't to knock his talent, as the seven-time Pro Bowler's stats speak for themselves. He hasn't logged less than 1,200 receiving yards since 2012, and is coming off a season in which he caught a career-high 15 touchdowns. He is, without a doubt, one of the best receivers in the NFL.
I'll say this, though. The character concerns everyone pointed out to me when I suggested trading for Beckham? They're even worse with Brown.
Remember, the reason he's even available in the first place is because he got into a fight with Steelers quarterback Ben Roethlisberger. Days later, Brown was a no-show for Pittsburgh's final game of the season. He also reportedly took issue with fellow wideout JuJu Smith-Schuster being voted as team MVP.
Say what you want about Beckham, he's not one to miss a game without telling his team, and do so in part because he doesn't like another wideout getting more praise than him.
Where Beckham's issues come from a fiery on-field personality, Brown has just been coming off like a bad teammate. He's shown no hesitation to air his grievances about those he shares a locker room with. When another player in his position gets high praise, his response was to bail on the team. Based on how he's acted since, it appears he sees no problem with this behavior.
To me, that's the kind of player you don't want joining the Browns. I'm all for someone whose emotions get the best of him, at least when compared to a player who will go AWOL because he doesn't like watching his teammates receive acclaim.
Again, Cleveland making a splash at wideout is a move I can get behind. However, when it comes to Brown, I'd rather someone else acquire that headache instead.

NEO Sports Insiders Newsletter
Sign up to receive our NEOSI newsletter, and keep up to date with all the latest Cleveland sports news.