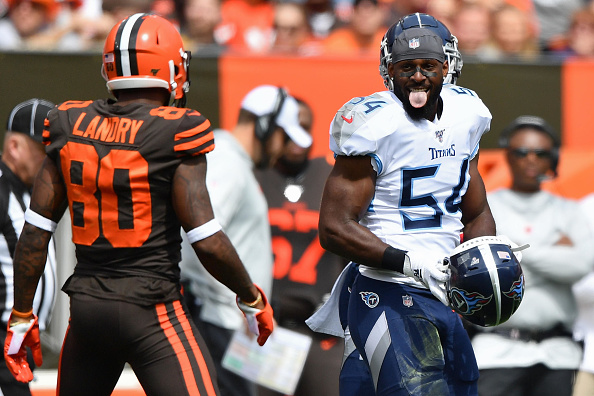 What's the best way to describe the Cleveland Browns' season opener? Everything we hoped would go right didn't, while everything we feared would go wrong did.
The Browns, entering 2019 as an NFL darling and playing in front of a deafening home crowd, spent an entire afternoon getting punched in the mouth. More often than not, it was Cleveland throwing the fists. The end result was a 43-13 drubbing by the Tennessee Titans that had most fans heading for the exits after the third quarter.
The sad part is it sure didn't seem like this would be the result early on. Cleveland took the field and put together a surgical, eight-play touchdown drive to open the game. For local fans, it served as the first real evidence that all the offseason hype was legit.
That was essentially the last good thing to happen on the day. Rookie kicker Austin Seibert shanked the extra point, and the Browns unraveled from there.
What followed was a whole lot of proof that the biggest concerns surrounding this team were extremely valid. Beyond the lack of a trustworthy kicker, Cleveland also displayed a leaky offensive line and a startling lack of discipline.
By halftime, the Browns were down two offensive linemen, one to injury and one to an ejection. For the day, the front line gave up five sacks, including one for a safety. This unit was by far one of the biggest red flags on Cleveland's roster, and little evidence was provided hinting those worries were misplaced.
That said, reservations about the line pale in comparison to the Browns spending the entire afternoon displaying the discipline of a bunch of fifth graders.
Cleveland was penalized 18 times. I'll say it again, 18 penalties. The Browns gifted Tennessee 182 free yards thanks to numerous personal fouls and holds. It was as if they entered the game having never read the rule book.
This goes double for left tackle Greg Robinson, who displayed a far more noticeable kicking game than Seibert did today.
welp, the Browns will have to play the second half without their starting left tackle. Greg Robinson ejected for kicking Kenny Vaccaro right in the face pic.twitter.com/y324hpluQ7

— Christian D'Andrea (@TrainIsland) September 8, 2019
I honestly made a valid attempt to find something, anything positive from this stinker of a season opener. Those efforts proved futile.
Running back Nick Chubb looked strong, yet the Browns didn't seem terribly interested in handing him the ball early on despite that.
Baker Mayfield was every bit as good as we expected him to be to start the game. He then proceeded to wrap up the day with three picks, including one taken back for a touchdown.
Odell Beckham Jr. notched 71 yards receiving in his Cleveland debut. It just didn't amount to anything on the scoreboard.
All in all, this was a Murphy's Law performance by the Browns. After an endless string of hype, Cleveland looked every bit like the woebegone franchise we're far too used to.
This, in my opinion, is what was most concerning about today's blowout. I spent more than a little time wondering if perhaps the Browns were a bit caught up in their own hype. It sure seemed like that was the case today.
The Browns played like a team which thought the result was already in hand. It was as if they expected Tennessee to roll over immediately after the opening touchdown drive. Cleveland, essentially, looked completely unprepared.
That falls on the players, who spent most of the day logging costly errors and shooting themselves in the foot. It also falls on coach Freddie Kitchens, who talked all offseason about how his team was tuning out the noise and staying focused on the task at hand.
I'll sit back and wait while you find an example of the Browns looking focused today.
The season isn't over after one loss. An obvious statement, sure, but this thought needs to be especially hammered home today.
That said, this effort from the Browns was appalling across the board. It was undisciplined, sloppy and, most notably, embarrassing.
How they respond to a pants-kicking like this will ultimately determine where the season goes from here. You could argue Cleveland deserved to get the hype shoved in its face today, and that the team will be better for it. I could certainly see things play out that way.
However, if this was a sign of what's to come, if the Browns spent eight months being touted as a contender only to instead look like an unmitigated disaster on a weekly basis, we'll quickly be falling back into "same ol' Browns" territory.
Those days of Cleveland being a league laughingstock were supposed to be a thing of the past. For one game, at least, that thinking was premature.

NEO Sports Insiders Newsletter
Sign up to receive our NEOSI newsletter, and keep up to date with all the latest Cleveland sports news.