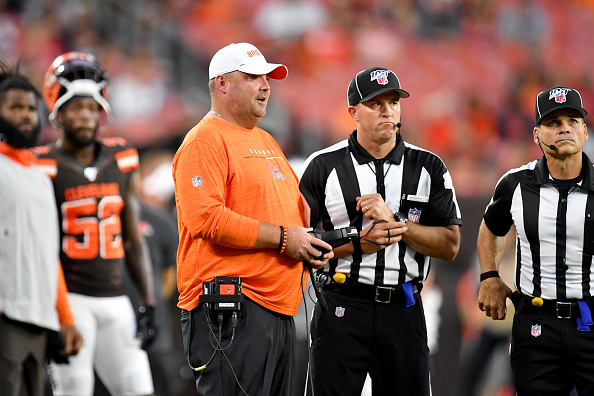 Freddie Kitchens is now just a day away from the first game of his NFL head coaching career.
Said debut presents more than a few obstacles for him to overcome. The obvious examples are taking on the increased responsibility that comes with being a head coach, while also trying to bring the Cleveland Browns their first Week 1 victory since 2004.
To me, though, he has an even bigger hurdle in front of him than those. Kitchens' biggest challenge this Sunday is ensuring the message he's been preaching all offseason – that the Browns are not in a place where they can win games just by showing up – got across to his players.
For Kitchens, this is the most important aspect of Sunday's game. The entire football world is looking to see how the Browns handle their newly-granted contender status. Taking the field with the assumption they're just going to dominate would be the wrong approach with that.
Unfortunately, some believe this is exactly the kind of vibe emanating out of Cleveland right now.
I'm sure the #Browns are preparing. But lots of indications from CLE that they think they will just show up and roll. I discussed with @delaniewalker82. #Titans pic.twitter.com/hsqtgAgp7S

— Paul Kuharsky (@PaulKuharskyNFL) September 5, 2019
No, this doesn't serve as proof the Browns believe they've already beaten the Tennessee Titans before we even get to the coin-toss. That said, it does highlight how dangerous it would be if this were the case.
For Kitchens, preventing this from taking place is his first big test as head coach. After all, we've seen plenty examples of what can happen when the Browns open the season looking unprepared.
To be fair, he's been saying all the right things since being promoted this winter. After all, this is the same man who once said "Yeah, our roster looks good on paper. Whoopdee-hell." Kitchens has long insisted that there's no reason for hype, that the Browns haven't won anything yet.
This thought process was hammered home further through August, as he put his team through lengthy, grueling practice sessions for the better part of training camp in an effort to toughen them up for the season ahead. Kitchens also insisted that it's his job to get his players prepared and, if they weren't, he'd be to blame.
While that's all well and good, we've yet to see how this translates on game day. Ensuring it does is a task which will make his head coaching debut even more daunting.
As Kitchens said, getting the Browns fully prepped for this newly brightened spotlight is on him. It's his job to prove the hype, which he's been dismissing for months, isn't a distraction for his team.
Failing to do so will not only result in Kitchens' tenure getting off to a rough start, it'll also bring with it questions about his ability to coach this team.
Unfair as it may be, that's life in the NFL for new head coaches. The second it appears as though they're in over their heads, waves of scrutiny start heading their way. It's tough to believe Kitchens, the man leading a team which has been the talk of the entire offseason, will be immune to something like this.
Again, he's been saying the right things ever since he won the job. Provided the Browns hit the field Sunday looking fully prepped and ready to live up to their hype, there will be no reason to doubt his ability to keep his team from getting caught in its headlines.
However, this is far easier said than done. That'd be the case even for seasoned head coaches, much less rookies.
For Kitchens, the challenge starts Sunday. Tennessee will be the first of many teams looking to prove the Browns have been over-hyped, a task made far easier if Cleveland heads into this game assuming it's already decided.
Kitchens insists that won't be the case, that his team is ready for the season ahead. Should that be the case, there's no reason to doubt the Browns' ability to kick off 2019 with a win.
If not, if his constant insistence that his players have tuned out the hype was just talk, then, as he said, he'll be to blame. I'm willing to bet more than a few people will be quick to take him up on that if Cleveland gets its season off to a bad start.

NEO Sports Insiders Newsletter
Sign up to receive our NEOSI newsletter, and keep up to date with all the latest Cleveland sports news.