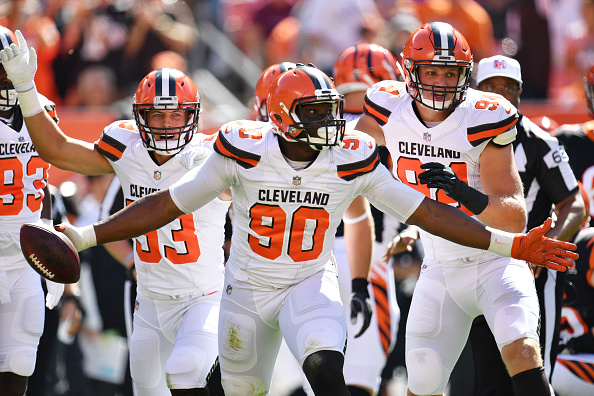 While the Cleveland Browns are making plenty of headlines for the marquee additions they've made to their roster this week, they're also getting attention for the players they appear to be eager to oust.
Various rumors continue to hint running back Duke Johnson is indeed being shopped by Cleveland. On top of this, defensive end Emmanuel Ogbah is also seeing his name tossed around as potential trade bait.
In some ways, this is understandable. After all, the Browns made offseason upgrades at both positions, signing recently suspended running back Kareem Hunt and trading for New York Giants defensive end Olivier Vernon.
At the same time, said moves shouldn't serve as proof GM John Dorsey can consider Johnson, Ogbah or any players who are suddenly no longer starting expendable. After all, there's really no sense in Cleveland shedding depth.
Again, I would get why some of these rumors make sense. Once Hunt's eight-game suspension wraps up, it's difficult to see how the Browns can get Johnson carries, especially with Nick Chubb also in the picture. After starting opposite Myles Garrett last year, Ogbah is sure to see his snaps decrease now that Vernon is likely moving to the top of the depth chart.
With that said, I'd be hesitant to move either player.
Let's start with the obvious – injuries happen pretty frequently in the NFL.
Cleveland's defensive line will take a hit if Garrett is sidelined, while Chubb getting hurt before Hunt's suspension ends would leave the Browns in a bind at running back. Dealing Ogbah or Johnson will only make these situations worse.
Secondly, while neither player would be considered elite, having them as backups should certainly be considered an advantage. Moving Johnson would shift the unproven Dontrell Hilliard into the second-string running back role, while unknowns Chad Thomas, Anthony Zettel and Chris Smith currently serve as backup defensive ends.
Most importantly, retaining depth players like Johnson and Ogbah will make life much easier for the starters they're playing behind.
I've already said my peace when it comes to why Johnson shouldn't be going anywhere, primarily noting the Browns can't afford to suddenly make Chubb the lone workhorse for the first half of the season. On top of this, we've already seen proof of what happens when Cleveland sheds defensive line depth.
Heading into last season, Dorsey surprisingly released tackle Jamie Meder and defensive end Carl Nassib. While neither was considered an All-Pro, they were still questionable cuts.
This was made more apparent when you considered what these moves did to the snap-counts of Myles Garrett and Larry Ogunjobi. Without a legit backup to give either defensive star a breather, both found themselves playing an absurdly high amount of snaps. Garrett led the league with 1,011 total, while Ogunjobi wasn't far behind him with 930.
Keeping these two on the field so often will only hamper the defense deeper into the season, when neither has the stamina to give 100% during late-game situations. Having seen evidence of this last season, I struggle to understand why Ogbah is apparently on the market.
As great as the additions of Hunt and Vernon are for the Browns, they shouldn't motivate Dorsey to test the market on Johnson or Ogbah. Said moves shouldn't make those two expendable.
If anything, they make them more useful.

NEO Sports Insiders Newsletter
Sign up to receive our NEOSI newsletter, and keep up to date with all the latest Cleveland sports news.