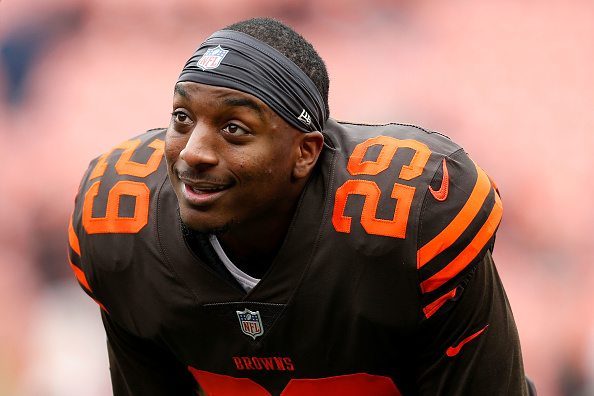 Cleveland Browns fans are understandably getting antsy as we near the start of the new league year. Sure, some of this is due to various players taking part in a fun game of "let's stir the pot on Twitter" last night.
However, another reason for buzz among the fan-base is the status of running back Duke Johnson. Trade rumors have begun to swirl around the fifth-year running back, and he caught attention this morning when he appeared to remove many Browns-related posts from his social media pages.
While we all know Cleveland GM John Dorsey loves to kick the year off with a good trade or two, I hope whatever deals he's cooking up don't involve Johnson. This mainly due to the simple fact trading him now would be a foolish move.
Ever since being drafted in 2015, Johnson's place on this team has been a curious one. Though he's a clear dual-threat back, two separate coaching staffs have come and gone with no clear idea on how best to utilize him.
Things hit a low-point early on last year, as Johnson was essentially omitted from coach Hue Jackson's weekly game-plan. While interim offensive coordinator Freddie Kitchens was able to get him involved every now and then, doing so consistently proved difficult. As a result, Johnson finished 2018 with career lows in both rushing and receiving yards.
With that said, this in no way makes Johnson expendable. Just because you've had trouble getting a talented player into your game-plan doesn't mean he should be viewed as a trade asset.
This conversation seemed to hit a new height when Cleveland announced the signing of troubled back Kareem Hunt. Understandably, when your depth chart features the league's leading rusher in 2017, rookie of the year candidate Nick Chubb and Johnson, it may appear as though your backfield is a bit too crowded.
That said, there are other factors to keep in mind before suddenly determining the Browns should test the market with Johnson.
To start, injuries need to be considered. Sure, this applies to all players on the field. Still, it should especially be kept in mind when it comes to such a punishing position like running back. Should Chubb get hurt before or during the season, not having Johnson certainly puts Cleveland in a bind.
This is exacerbated by the fact Hunt's status for the year ahead has yet to be determined.
We all know Hunt will eventually be suspended for his shoving and kicking a woman last year. What we don't know is when this announcement will come, or how long he'll be out.
With this in mind, why would you move Johnson now? Sure, Hunt is ultimately a more talented back. However, if he ends up being suspended until mid-season or later, you essentially have one proven back to work with in Chubb.
This, of course, is under the assumption Hunt will stay on the right path and avoid any more off-field trouble. While I'm in no way guaranteeing he's going to cause issues, that it's too early to say otherwise highlights why Cleveland is in no place to be sending Johnson packing.
As you can see, there are more than enough variables to make testing the market on Johnson a bad idea, especially right now. Cleveland has no insight into how long Hunt will be out, or if he can even prove to be trustworthy in the long-term. Add in the ever-present concern with potential injuries, and you can see it just doesn't make sense to voluntarily remove depth from the backfield.
Johnson is a very talented player, and the answer to determining his role on the team isn't "let's just trade him." Instead, it should be "let's finally figure out how we can use him properly."
Likewise, Johnson may be airing his frustrations as we speak, but I'm one to believe this can be resolved. After all, he pulled a similar move in clearing the Browns out of his social media last year, yet eventually signed a contract extension.
Bottom line – there's a right way to handle Johnson's status, and a wrong way. Trading him should definitely be considered as the latter.

NEO Sports Insiders Newsletter
Sign up to receive our NEOSI newsletter, and keep up to date with all the latest Cleveland sports news.