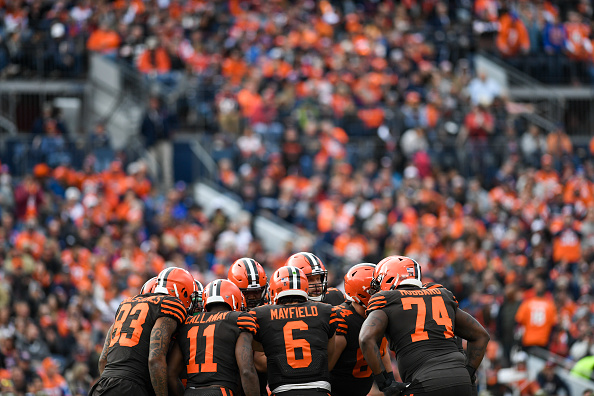 This was when things were supposed to turn around.
The Cleveland Browns had finally navigated out of the brutal first half of their schedule. At 2-5 and facing suspect competition the rest of the way, they had finally approached their opportunity to go on a big run and live up to their potential.
Instead, they lost to the 2-6 Denver Broncos. They lost to Brandon Allen, a quarterback making his first career start, playing for his third different team, after being drafted three years ago.
They lost, frankly, because the Browns don't seem to care too much about winning football games.
It's one hell of an indictment, I understand. That said, consider what this team has been focusing on besides football for the past few weeks.
Cleveland hasn't won a game since September. The team has become experts at making ill-timed mistakes. Quarterback Baker Mayfield has been one of the worst quarterbacks in the league this season.
Simply put, there were far too many things this team needed to direct its attention towards to ensure this much-hyped campaign didn't fall off the rails.
Why, then, do we instead hear midweek complaints about officiating? Why do we watch Cleveland's quarterback focus his energy on carrying out a tired grudge with a local beat writer? Why do we see a team which has struggled to execute all season long still look like it has no idea how to function when it matters most?
What's really important to the Browns? You'd think the obvious answer would be keeping their season alive, coming up with a much-needed win against a short-handed Denver team which, again, was starting a quarterback nobody had heard of.
Based on today's performance, said answer apparently ranks below "yelling at Tony Grossi" and "wearing cool cleats."
This game was to save the season. I saw maybe 1 player playing w/ that kind of urgency. I saw a bunch of individuals. No leadership. Defense uninspired in big moments. Uniform violations. Penalties. Wasted timeouts. And…our best player on the bench 4 a game deciding play.

— Jay Crawford (@JaycrawfordCLE) November 4, 2019
With their season on the line, the Browns came out just as flat and lifeless as ever. They once again played like a team which assumed it was going to win. How this still happens after the amount of times that kind of thinking has burned the Browns this season is beyond me.
Instead of keeping the season on life support, Cleveland got punched in the mouth by a reeling Denver team. The Browns failed in a game where they generated more first downs, ran 30 more plays, out-gained the Broncos by 49 yards, committed fewer penalties and led the time of possession battle.
In a game many saw as an easy win, Cleveland just got embarrassed.
Again, though, is it really that surprising?
It wasn't for me.
Not when you have Jarvis Landry and Odell Beckham Jr. dealing with uniform violations for what feels like the umpteenth time of the season.
Not when you have a quarterback who spends more time complaining about officials and snapping at reporters than he does on addressing why his trademark accuracy has suddenly gone missing.
Not when you have a coach who's seen plenty of evidence when it comes to what works for this team, only to openly run in the opposite direction of it.
Freddie Kitchens had all season plus the bye to look at these numbers.

If he hasn't figured it out by now, he either isn't being presented the data or doesn't think it matters.

The Browns are substantially better from 12 than they are from 11 & yet he continues to overuse 11. pic.twitter.com/NLGKIFGsM7

— Warren Sharp (@SharpFootball) October 29, 2019
Said coach has also spent all year scoffing at concerns, insisting the problems this team was showing were simple to fix. Why we're eight games into the season and said problems haven't been addressed yet remains a mystery.
Honestly, at what point is anyone on this team going to prioritize winning? At what point do they decide it's time to stop focusing on outside distractions, on tiffs with the media, on complaining about uniform fines they very much knew were coming? At what point are the Browns going to stop and try to figure out why they're playing so poorly?
We clearly haven't reached that point yet. By now, it's safe to wonder if we ever will. At a time when winning was essentially a necessity, Cleveland just doesn't look like a team which cares about that concept too much.
The cleats aren't why the Browns have struggled this season. Neither are the diatribes about refs, or the venting at beat writers.
What these are, though, are things this team appears to care more about than figuring out why a season which carried so much promise just went down the drain.

NEO Sports Insiders Newsletter
Sign up to receive our NEOSI newsletter, and keep up to date with all the latest Cleveland sports news.