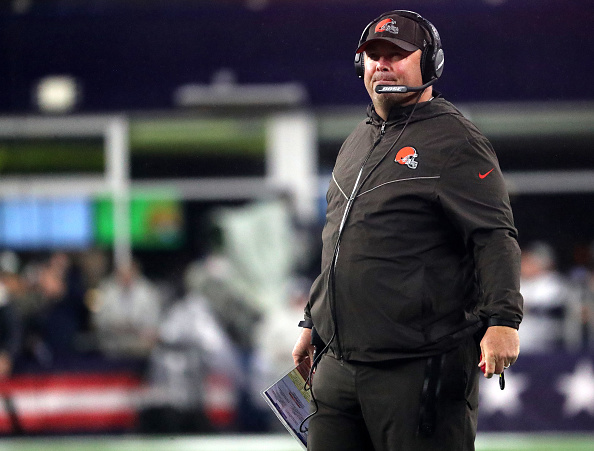 I've resisted the urge to make any snap reactions throughout this let-down of a season for the Cleveland Browns. It's been unpleasant, no denying that. However, with new additions and new expectations, it felt unfair to make any concrete conclusions early on.
After today, there's one belief which no longer feels like an overreaction. The Browns hired the wrong head coach.
Throughout this season, Freddie Kitchens has made endless questionable decisions which continue to hurt the team he was tasked with coaching. Under his watch, the Browns have been sloppy, unprepared, disorganized and undisciplined. Now, at 2-5 and suffering another brutally mismanaged loss, Cleveland needs to start accepting the fact it made a mistake in handing the reins to Kitchens ahead of such an important season.
The cracks with Kitchens were on display early this season. However, it just felt so easy to shrug it off as growing pains. Sure, he claimed such an excuse was some sort of media-driven narrative. Still, it didn't seem like a leap to assume Kitchens was just going through the same initial struggles every head coach experiences during their first games in charge.
Weeks later, said cracks haven't gone anywhere. If anything, they've widened to near-canyon size. Kitchens is in so far over his head, something even he can no longer deny.
His team, which had an extra week to prepare for today's match-up against the New England Patriots, opened the game with three straight turnovers on three straight offensive snaps. A timeout had to be burned early when only ten men took the field on defense. Another timeout was wasted on a questionable challenge from Kitchens.
Frankly, it was the same slop we've seen throughout the year. The Browns have been their own worst enemy all season, killing off any momentum by alternating between turnovers and ill-timed penalties. That they continued to do this today, and did so coming off a bye week, is inexcusable.
The lack of preparation and discipline is becoming a calling card for Kitchens. So, too, is his mind-boggling decision-making.
Two weeks ago, against the Seattle Seahawks, the Browns raced through a two-minute drill in the red zone as opposed to running the ball and milking the clock. Kitchens claimed this was done because he wanted to score, stop Seattle on defense, get the ball back and score again before halftime.
Instead, Browns quarterback Baker Mayfield threw a pick, which was followed by the Seahawks driving downfield for a touchdown. It was a decision Kitchens was still defending earlier this week.
In today's game, he did the exact opposite.
After Cleveland blocked a New England field goal with just over two minutes before halftime, down just ten points, Kitchens dialed up two straight running plays. He let 45 seconds run off the clock before the next play was snapped. The half ended, with the Browns failing to cross their own 30-yard line.
If only this was the worst decision Kitchens made on the day.
So false start in 4th & 11, with punt unit, Freddie pulls them puts offense out for 4th & 16. Baker sacked. Nathan Zegura just reported, #Browns deliberately false started so the offense could return to the field because Kitchens didn't want to burn final timeout. Clown show.

— Daryl Ruiter (@RuiterWrongFAN) October 27, 2019
This has sadly become a trend with him. Kitchens is constantly overthinking on the sideline, which ends up constantly setting his team back.
Between games, he continues to insist nothing is wrong, that Cleveland's problems are easy to fix. It's simple, he claims, he just needs to do his job better.
Seven games into the season, we've yet to see any progress on that front.
Instead, we've seen a team make endless mistakes, even when given additional time to prepare for games. We've seen a team shoot itself in the foot by constantly getting penalized. We've seen a team endure all of this and somehow still establish some momentum, only to have it undone by the man the front office determined was the right hire at head coach.
He's not. We've received all the proof we need when it comes to that.
Where the Browns go from here is a mystery. Their schedule softens up after today, but this obviously doesn't matter if they continue to suffer at the hands of poor coaching.
I'm sure Kitchens will dismiss the doubt once again this week, perhaps even trying to rally his team by tossing out his favorite line, "if you don't wear brown and orange, you don't matter."
Unfortunately for him, it sure feels like he won't be wearing brown and orange much longer.

NEO Sports Insiders Newsletter
Sign up to receive our NEOSI newsletter, and keep up to date with all the latest Cleveland sports news.