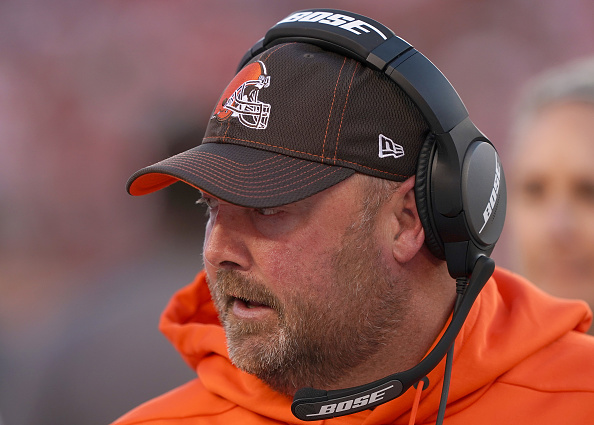 This is hardly a hot take, but it's safe to say Freddie Kitchens' first year as an NFL head coach isn't going smoothly.
Since taking over the Cleveland Browns, Kitchens' team has looked disjointed and underwhelming. Despite being loaded with talent, Cleveland's offense has no flow, often moving like a car on square wheels.
Overall, it appears Kitchens is in over his head.
That's not what he thinks, though. In fact, he believes such a statement is just some media-driven narrative. The Browns' problems aren't that serious, in fact they're apparently simple to fix.
While I understand Kitchens trying to avoid making it sound as though Cleveland's 2-3 start has him hitting the panic button, the problem with comments like these is that they only make things harder for him.
Kitchens has carried this attitude ever since taking over as head coach. Sure, he's displayed an ability to be humble, like when he took all the blame for the Browns' struggles against the Los Angeles Rams.
However, when presented with questions about his ability to handle the pressure of his job, he often just brushes it off.
When asked about fixing offensive problems after Monday night's 31-3 drubbing at the hands of San Francisco, Kitchens insisted it's as simple as "everyone doing their job better," nothing more than that.
Questioned about the team's struggles in general, Kitchens keeps claiming that the Browns aren't that far off, something that's only recognized by "the people that matter."
Presented with the suggestion that he's experiencing the typical growing pains of a first-year coach, Kitchens quickly shuts it down.
"Of course, that can be the narrative," he claimed. "That's the easy thing to say."
This last one has been a running theme for Kitchens lately.
Any issues being perceived with the Browns, any red flags indicating struggles in his new position, these are simply media-driven narratives. Within the walls of the team facility, where everyone matters because they wear orange and brown, things are fine.
While he may feel reassurance making statements like these, you certainly hope he realizes the corner he's painting himself into. You could argue all the constant scoffing does is make his own job more difficult.
Sure, I completely understand Kitchens' resistance to admitting life has been difficult through the first five weeks of the season. I'd hardly expect him to follow Monday night's throttling by saying "this is really hard, I'm struggling and have a lot on my plate."
Still, when he keeps dismissing concerns, when he continues to insist fixing the Browns' troubles is easy, he opens himself up to more scrutiny.
If the offense is so simple to fix, why has it only been good in one of your five games?
If Cleveland's struggles are just a media narrative, why has your team lost by 25 or more twice this season, looking severely unprepared in each of these contests?
If the growing pains of a rookie head coach are simply media fodder, why has your team struggled with running plays and paying attention to detail?
The fact is Kitchens can't keep dismissing the Browns' problems, mocking concerns by saying "it's not that hard to figure out." In doing so, and in following that up with more uneven and outright bad play, he's only making himself look worse. He can't keep claiming the issues this team is dealing with are being overblown when they've been on full display for all but one game this year.
We don't yet know for sure if Kitchens is officially the wrong man for the job, if he truly is too overwhelmed by the task at hand. Even if he won't admit it, the growing pains are expected, and can eventually be resolved.
If they're not, though, and if this team keeps looking like an over-complicated mess, Kitchens would be wise to change his tune. Continued struggles from the Browns are only going to be made worse if their head coach keeps explaining how easy this problem is to fix.

NEO Sports Insiders Newsletter
Sign up to receive our NEOSI newsletter, and keep up to date with all the latest Cleveland sports news.