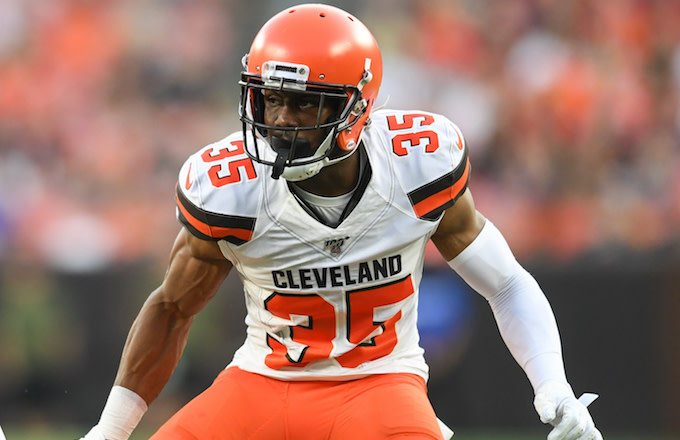 First the Browns lost their game to the Denver Broncos. Then veteran safety Jermaine Whitehead lost his mind.
Following Cleveland's 24-19 loss to the Broncos, Whitehead, 26, went at a number of his critics on Twitter with a series of threatening, profanity laced tweets, including local radio personality and former Ohio State Buckeye Dustin Fox. Whitehead was dragged though the mud on social media during Sunday's game after whiffing on a number of tackles.
In his response to Fox, Whitehead colorfully made it known that he was playing with a broken hand. In another response he sent someone the address of the Browns training facility, daring him to come stand outside the building and tweet negatively about him. It didn't take long for Whitehead's Twitter account to be suspended but the internet made sure to save and share his responses.
Browns player Jermaine Whitehead just got his twitter suspended 15 min after losing to the Broncos.

Things are going well! pic.twitter.com/yPVPOwtHVW

— Sports Nation Ohio (@SN_Ohio) November 4, 2019
Now, the Browns have followed up the veteran's tirade with a statement expressing their displeasure with the veteran defensive back.
It read:
"Jermaine Whitehead's Social media posts following today's game were totally unacceptable and highly inappropriate. We immediately spoke with Jermaine upon learning of these comments. The Browns in now ay condone that type of behavior. This matter will be further addressed internally."
What exactly addressing the situation further internally looks like remains to be seen, but some speculate Whitehead could end up released by the Browns.
— Andrew Gribble (@Andrew_Gribble) November 4, 2019
It's completely reasonable for Whitehead to be enraged immediately following a devastating loss where it sounds like he was also injured. In fact most fans would say they want players to be angry after a game like that. However, letting that emotion out on social media has never worked out for professional athletes. In this case, it very well might cost Whitehead his job.
The timing is also terrible given the current state of the team. The loss to Denver drops the Browns to 2-6 on the season and all but cancels any playoff dreams the team may have had. Whitehead's social media comments present an image that this is the same old Browns and that when things get tough the entire teams starts to unravel.

NEO Sports Insiders Newsletter
Sign up to receive our NEOSI newsletter, and keep up to date with all the latest Cleveland sports news.