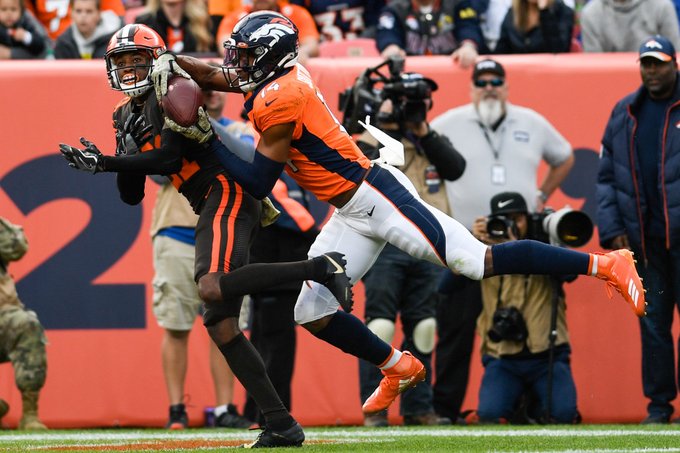 Call it whatever you want, Sunday's game was one of great importance to the Browns, who according to many were entering the 'easy' portion of their 2019 schedule, starting with the 2-6 Broncos.
Not only that, they were going up against a guy who was stepping into his first game at quarterback that many had never even heard of in Brandon Allen.
It all seemed to be adding up to a season-changing win for the brown and orange, who would use Sunday as a stepping stone to get back into the playoff race in the AFC.
Instead, they watched as Allen threw a pair of touchdowns, their own offense really (per usual), never got into sync, and in the end it added up to their 6th loss in eight games – a 24-19 setback in Mile High.
How it's come to this for a team with so much promise is anyone's guess, but per usual there were penalties, miscommunication on both sides of the ball, and again a chance at the end with a play here and there to pull out a win – only to once again not get it done.
Will changes be made at the top? That's a great question, but now this 'easy' schedule will see a young up and coming Bills team come to town in a week, and they are 6-2 and playing at a high enough level easily to leave Cleveland at 7-2.
Here's a few things to chew on from this latest Browns setback, as we again ponder the 'what if' game and how this team may (or may not) get on track.
1. The Red Zone of Terror
The Browns were able to move the ball on the Broncos often, getting into the red zone a number of times, but here was the issue – they couldn't get into the end zone.
Austin Siebert nailed four field goals to get it to a 17-12 game at the half, but if just one of these four first half field goals would have been touchdowns it could have totally changed the game.
Instead it was another 'oh well' effort as time after time we watched as Baker Mayfield tried to get the ball into the end zone, and it seemed like each time he was denied trying to get it to either of his top playmakers in either Odell Beckham Jr. or Jarvis Landry.
The red zone situation has been frustrating all season, and it reared its ugly head again on Sunday time after time.
2. Who is This Guy?
The Browns defense made Broncos quarterback Brandon Allen look way too good for a quarterback that was making his very first NFL start.
He took a couple sacks when he still seemed to have time in the pocket, but he also made two huge throws that put the Broncos up at one point 14-3 in the second quarter.
The first was a beautiful throw for six to their best play maker in Cortland Sutton, who outfought Denzel Ward for a score to make it 7-0 with 6:09 left in the first quarter.
The second throw wasn't all that impressive, but what Broncos tight end Noah Fant did after the catch was impressive, as he ran over one Brown defender, and then after two more missed tackles he galloped 75 yards for a score.
Allen went 12-for-20 with 193 yards and the two scores, but he avoided big mistakes as well as didn't throw any picks.
To see this guy making plays on a Browns defense that was supposed to be able to make plays and get turnovers was again frustrating for fans to watch.
3. Jermaine Whitehead
As if there wasn't enough distractions for the this football team, one of their safeties seemed to be in the mood after the game to go after anyone and everyone who buried his poor tackling effort in Sunday's affair.
The tackling in question came on Noah Fant's 75-yard score, when Jermaine Whitehead came up and was went low, only to get run over by the Broncos tight end.
As per usual after such a play, fans and even a media member went after Whitehead, and he took it upon himself to go after those that busted on his tackling effort.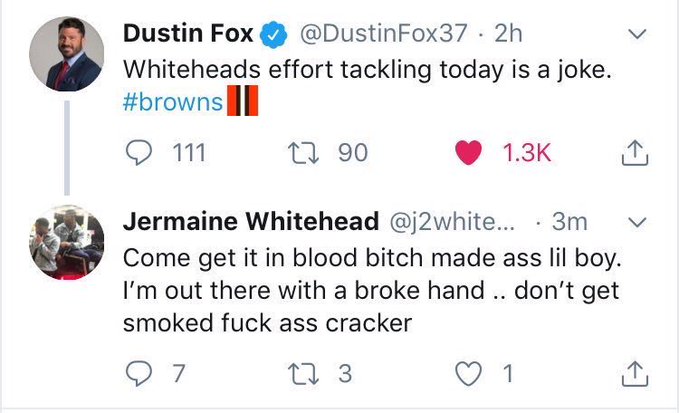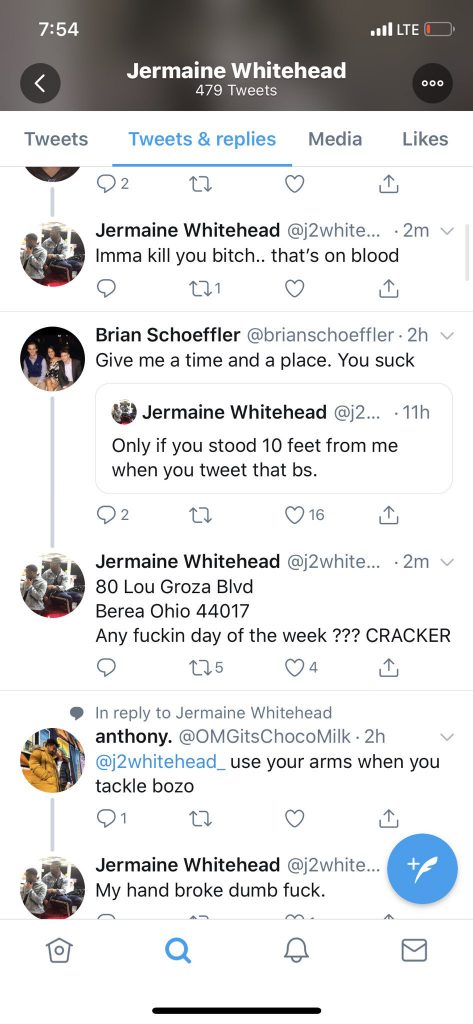 Whitehead's account according to those on Twitter was immediately suspended and for good reason. The Browns should take action and dump him off the roster next for his actions.
4. That Third and Fourth Down
I don't think it's even worth arguing how important running back Nick Chubb is to the Browns offense, and Sunday again he seemed to be running hard even when there was nowhere to go.
So why Chubb was not in the game on a third-and-three from the Broncos seven in the fourth quarter with the team down only 17-12 is anyone's guess.
The third down play went to Dontrell Hilliard, who managed two yards to make it a fourth-and-one.
Imagine the shock when on fourth down, as Baker Mayfield eventually was stopped short of the first down by a few inches, when again Chubb was on the sideline.
Over and over there's been head scratching calls and decisions on players on the field at points in the game by coach Freddie Kitchens, and this one again seemed to drive fans nuts.
Chubb ended the day with 65 yards on 20 carries, but you get a sense that if he would have carried the ball on third or fourth down he would have gotten the first down.
5. Now What?
The Browns have yet to win a game at First Energy Stadium this season, and their next three games are at home.
First up is the Buffalo Bills, who as mentioned above are 6-2 and a team that with Josh Allen and a young defense has played well this season, losing only to the Patriots and Eagles.
Then the rival Steelers, who beat the 5-2 Colts on Sunday come to town, they lead the Browns by two games in the AFC North with a mark of 4-4.
After that it's the Dolphins, who won their first game of the year on Sunday, finally getting in the win column against the Jets, one of the two teams the Browns beat in 2019.
It's going to be another tough week in Berea having to swallow this five-point loss, a game that most had marked as a 'W' on the schedule when it came out back in April.
Instead, this team seems to be heading nowhere fast, and with six losses in eight games you have to wonder if this is a lost season or if this team is ever really going to get back on track.

NEO Sports Insiders Newsletter
Sign up to receive our NEOSI newsletter, and keep up to date with all the latest Cleveland sports news.