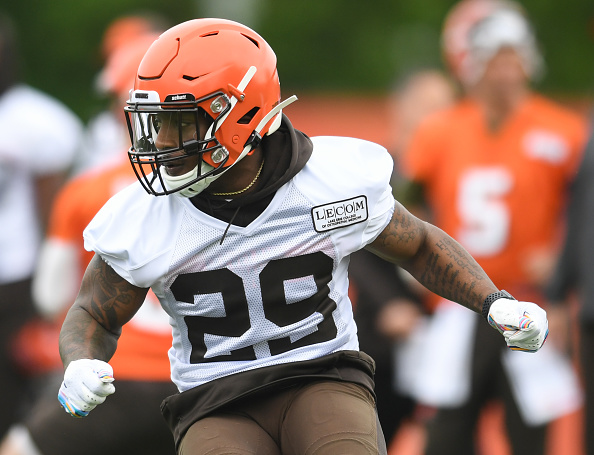 The Duke Johnson trade saga has been one of the biggest offseason storylines for the Cleveland Browns. The disgruntled running back has spent the past few months insisting he wants to be dealt, primarily because he doesn't feel wanted by his current team.
However, Johnson didn't let this prevent him from arriving to Browns training camp on time. He did so today, despite his refusal to back down from his demand, and despite the fact his agent, Drew Rosenhaus, recently spoke with the Cleveland's front office in attempts to push a trade.
This is good news, primarily because Johnson is a talented player the Browns can use to their advantage. It's also good news because his team is making his trade request look more foolish by the day.
As a refresher, Johnson is demanding to be moved because, in his words, "I only want to be somewhere I'm wanted." He claimed that, since he's no longer wanted in Cleveland, there's no need to keep him there.
The initial problem with this statement was, outside of their signing Kareem Hunt, the Browns haven't given any indication they don't want Johnson. On the surface, this made Johnson's comments seem a little off-base, especially considering he just signed a contract extension with Cleveland the previous season.
However, if his feelings of neglect seemed misplaced before, they're even more so today.
Both GM John Dorsey and coach Freddie Kitchens left no gray area when it came to their thoughts on the disgruntled back during today's training camp press conference. The former implied his conversations with Rosenhaus had little effect on his stance of not trading Johnson. Kitchens was far less subtle.
"We're not giving away good players," he said, insisting Johnson is "going to have a significant role on this football team."
It doesn't exactly sound like Johnson is unwanted in Cleveland.
The comments from Dorsey and Kitchens seem to further state how outlandish it is for Johnson to claim the Browns don't have a place for him. He's stated his desire to play somewhere he's valued, yet his GM and coach spent this afternoon insisting he's a significant piece of Cleveland's offense.
They aren't addressing questions about Johnson's trade demands with a "we'll see what happens." They aren't even hinting they're open to discussing deals.
Instead, they're saying Johnson is a good football player they have big plans for this season. Point blank.
As previously noted, Johnson is already coming into this situation with minimal leverage. No matter how badly he wants to be moved, he knows holding out or becoming a major distraction won't help his cause.
Now, it's near impossible for him to continue insisting nobody wants him in Cleveland. It'd be tough to take him seriously if he keeps claiming the Browns have no use for him when his coach is adamantly stating otherwise.
At this point, it might be time for Johnson to just make peace with his situation. The Browns have been clear with their refusal to move him just because he's demanding to be traded. They're also poking some serious holes in his claims of not being wanted.
Bottom line – the Browns value Johnson, a point initially proven by their giving him a new contract last year. If Johnson thinks he's unwelcome in Cleveland, he's out of evidence to work with.

NEO Sports Insiders Newsletter
Sign up to receive our NEOSI newsletter, and keep up to date with all the latest Cleveland sports news.