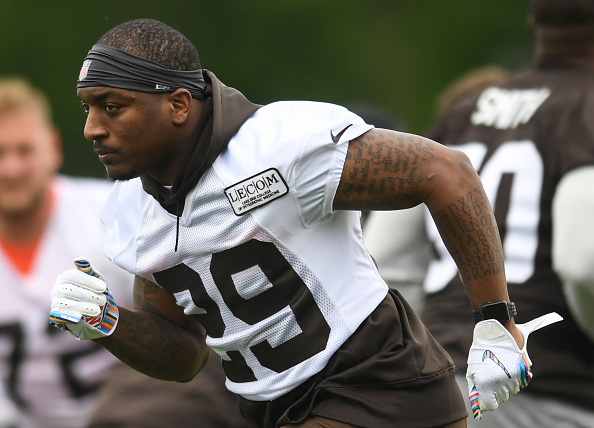 The ongoing Duke Johnson saga took another twist this week.
The disgruntled running back – still seeking a trade from the Cleveland Browns – dropped his former agent and hired Drew Rosenhaus as a replacement. It appears Johnson is hoping Rosenhaus – the most powerful agent in the NFL – will help fulfill his request to be traded by Cleveland.
While that's all well and good, it's important to note this change does nothing from the Browns' perspective. I hate to break it to Johnson, but he can hire every agent in the league and it won't change the fact Cleveland still has all the leverage in this staring contest.
I'll admit, I understand Johnson's frustration. He's one of the league's most criminally underused players, and just watched his team sign Kareem Hunt this offseason. It's safe to say his touches will decrease once Hunt's suspension is up during the second half of the season.
That said, the Browns continue to insist they have no interest in trading Johnson. This remained so even after the running back spent an entire mini-camp media session expressing both his unhappiness and his desire to be dealt.
I imagine this is why Johnson swapped agents. His former representation was unable to convince Cleveland to move him, so perhaps someone as powerful as Rosenhaus will get the job done.
Again, though, despite the agent swap, this situation remains unchanged for the Browns.
Cleveland still has a need for Johnson, especially in the first half of the season. Outside of Nick Chubb, the Browns have no other proven running backs on their depth chart while Hunt is out. As a result, there's zero reason to feel compelled to move Johnson.
On top of this, GM John Dorsey just gave Johnson a contract extension last year. He's not going to trade him just for the sake of doing it. Unless another team offers Dorsey something he deems valuable, Johnson is staying in Cleveland.
I think it's safe to assume that remains the case even with Rosenhaus representing Johnson.
Rosenhaus can force the narrative as much as he wants, but unless the right offer comes along, the Browns are keeping his client. Johnson can spend every media session making requests to be traded, but if Cleveland is unhappy with the offers it's getting, said wish will remain unfulfilled.
This is a big reason why the hiring of Rosenhaus changes nothing from the Browns' perspective.
Clearly Dorsey isn't seeing what he wants when it comes to offers from other teams. One would think this is due to Johnson's attempt to force his hand, as the rest of the league sees a disgruntled player and assumes Dorsey would just want him gone.
However, that's not the case. Dorsey is holding strong, because he knows Johnson has little to no control of this situation.
Rosenhaus could convince Johnson to hold out, but this would hinder his chances of proving his worth to any interested teams.
Johnson could start becoming a bigger off-field distraction, but this wouldn't result any improved trade offers. After all, he's publicly demanded to be dealt, and it hasn't resulted in Dorsey getting returns he views as fair. Why would Johnson deciding to pitch a bigger fit change that?
No matter who his agent is, Johnson essentially has no choice in this situation beyond being a professional and doing his job with the Browns. Cleveland knows this, and knows that won't change simply because Johnson hired a better agent.
To be fair, I've gone on record as saying the situation is a mess, and that the Browns may be better off trading him because of it. That said, I understand Dorsey's stance of "I'm not going to move you just because you want me to." Cleveland has every right to hold out for the best deal.
It's safe to say the team will continue doing so, no matter how much effort Johnson puts into changing that. One would hope he realizes that, unless his agent can convince another team to meet Dorsey's demands, he's not going anywhere.

NEO Sports Insiders Newsletter
Sign up to receive our NEOSI newsletter, and keep up to date with all the latest Cleveland sports news.