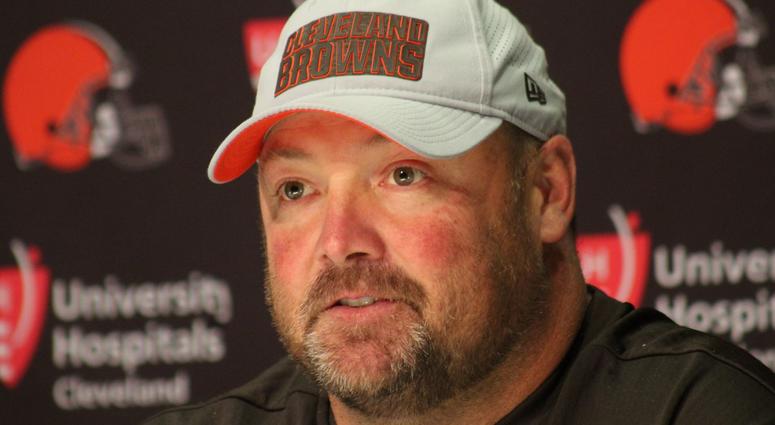 NFL Training Camps are a breeding ground for competition leading up to the regular season in September. That's no different here in Cleveland for the Browns and first year head coach Freddie Kitchens.
Kitchen's first day of camp as head coach featured plenty of competition at key positions, from cornerback, to wide receiver — it was all eyes on Odell Beckham Jr. — to the offensive line, and they may not be done creating more competition along the defensive line.
"We make a decision before training camp how we're gonna start," Kitchens explained after practice. "You can't play but 11 at a time and [what your saw] that's who ended up out there first. There's a lot of positions that people may have penciled in, but we're competing for these jobs.
The competition goes beyond what fans get to see out on the field too. As Kitchens later discussed, there's no safe space inside or outside the walls of the team's facility out in Berea. They're always being watched and compared to their teammates.
"As long as you're here at the Cleveland Browns, you're always gonna be evaluated in everything that you do: the way you walk into the lunch room, the way you approach the media, how you practice, how you prepare in meetings," Kitchens said. You're always being evaluated. Our coaches are being evaluated. The game of football is about making good evaluations and we're gonna try to do that and do it with the most information we have."
One of the most talked about day one competitions was at right cornerback, where second-round pick Greedy Williams is hoping to establish himself as Denzel Ward's running mate on opposite sides of the secondary. The rookie may have been the first man-up in 11-on-11 drills at the position, but Williams falls into that category of guys who is only penciled in for now.
"[Terrance] Mitchell ain't going anywhere, he's gonna compete," Kitchens said. "T.J. Carrie's gonna be here, he's gonna compete. Greedy's not just gonna get handed the job. After everything was said and done they all had about the same reps today. So we'll go in and judge it and see how they did."
A similar competition is taking place at right guard, where 2018 second-round pick Austin Corbett is looking to earn a starting job too. Browns fans should expect a healthy rotation of players to see action there as well during camp.
The D-line competition could ratchet up too if all goes well with former Packers DT Mike Daniels. Daniels is reportedly visiting with the Browns on Thursday, one day after he was cut by Green Bay after seven seasons there.
It's no surprise that Cleveland's motivation for potentially adding the former Pro Bowler to the roster is more competition.
"Anytime you can add great football players and create competition, [we're in], Kitchens said. "And those other guys aren't going away either. The defensive line could be a strength of our team and anytime we're adding better players or good players or anything, we create more competition and get those guys better that are already here."

NEO Sports Insiders Newsletter
Sign up to receive our NEOSI newsletter, and keep up to date with all the latest Cleveland sports news.