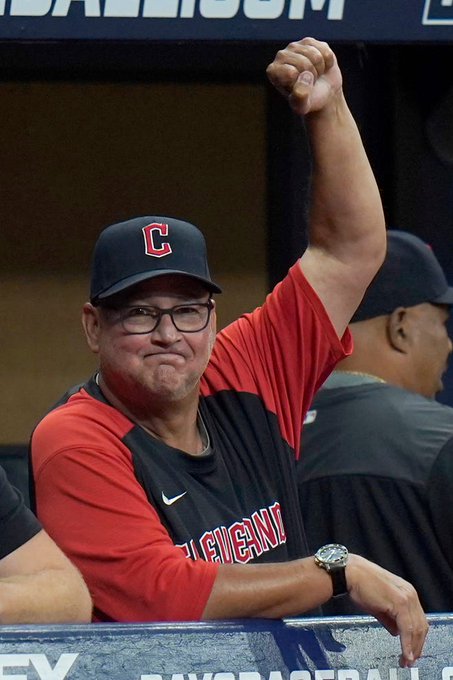 Cleveland, OH-
The Guardians' skipper, Terry Francona, was awarded American League Manager of the Year for the 2022 season. This is the third time he's won this award. He also became the winningest manager in Cleveland franchise history.
Congratulations, Tito! ❤️

Yesterday, the @CleGuardians surprised Terry Francona with a special celebration in honor of his being the winningest manager in franchise history.#ForTheLand pic.twitter.com/dB73MMrL3r

— Bally Sports Cleveland (@BallySportsCLE) September 29, 2022
Francona's time in Cleveland
In his 10 years with the franchise he's posted the second most wins in the American League. Along with the fourth most wins in the majors, six trips to the post season and nine winning seasons under his belt.
2022 Memorable Tito Moments
This season was full of memories…comeback wins, rookie debuts, and a wild ride to a 92-70 record. Guardians' players gave us their fair share of memories, however, their skipper added some as well.
Let's take a look at some reasons Tito gave fans and his team to smile:
Francona prepares for Naylor's headbutt
ELITE headbutt energy after walking it off 🤣 @BRWalkoff

(via @CleGuardians)pic.twitter.com/x93WTZcdk4

— Bleacher Report (@BleacherReport) June 30, 2022
Josh Naylor had walk-off win against the Twins and his manager was ready for it. In a hyped yet endearing move Naylor headbutted Francona as he came off the field. What made this great was Tito had a helmet on ready for the first baseman's antics. Everyone loves Naylor's enthusiasm and Francona joining in is the cherry on top.
Used Ernie Clement as a relief pitcher twice in one week
Ernie Clement, Knuckleball.

89 RPMs…and 20 inches of Run. pic.twitter.com/h6bkWvwkXj

— Rob Friedman (@PitchingNinja) June 28, 2022
Cleveland's bullpen was taxed and Francona went to position player, Clement, in relief. The infielder didn't fair too poorly as he did record three outs.
Ok, the moment should be about Clement however, since we're talking about Tito it brings us back to a time when he also came in to pitch. It was 1989 and Francona was with Milwaukee. He took the mound, striking out one batter on three pitches. He only threw 12 pitches in the inning.
Francona ejected
Cleveland was playing the Angels on September 12 when Umpire Ron Kulpa denied Francona an opportunity to challenge a hit by a pitch call. Thus, sending the Guardians' skipper to the field to give Kulpa a piece of his mind. This caused him to be ejected however he left with chants of "Tito, Tito" echoing from fans. Moments later Angels coach, Phil Nevin, was also tossed by Kulpa. Nevin was lobbying for his pitcher, Ryan Tepera, to get some warm-up throws in but Kulpa wasn't having it.
Terry Francona rarely gets this heated! Had to be something big because both Tito and Angels manager Phil Nevin got ejected at the same time!

— Dan Roche (@RochieWBZ) September 13, 2022
A flash of sorts
Francona is often spotted on his Vespa scooter on the downtown streets of Cleveland.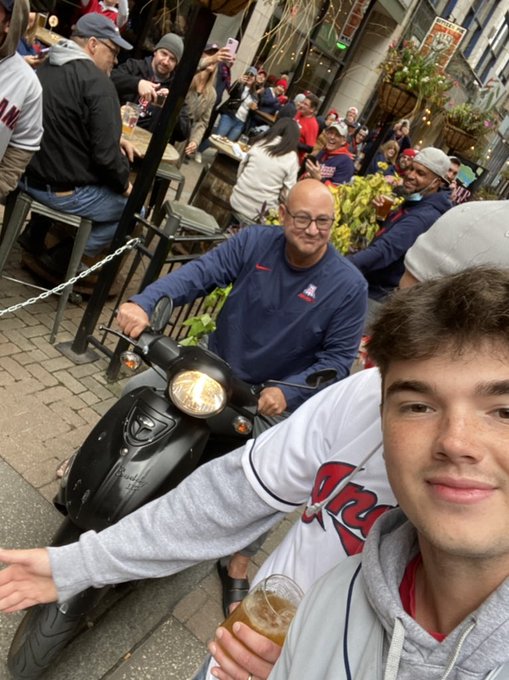 He recounted a story that happened in early October this season. A woman began to lift up her shirt therefore startlingly Tito. However, she was wearing a shirt with his picture on underneath. Despite giving the Guardians' skipper a reason to pause, he was somewhat flattered that she had a shirt with his face on it!
Francona's team defies the odds
At the beginning of the season, nobody saw the Guardians as being competitive nonetheless winning the division. The youngest team in baseball quieted naysayers with a 92-70 record along with a commanding win of the AL Central. In a division where the White Sox had all their key players and spent $154 million on payroll and the Twins went in at the MLB trade deadline, the Guardians still prevailed.
The youth of the team brought fun to Francona and it was showcased during the team's division clinching celebration in the locker room.
The party is on in the @CleGuardians' clubhouse! 🍾🍾#ForTheLand pic.twitter.com/QBwyENYtVJ

— Bally Sports Cleveland (@BallySportsCLE) September 25, 2022
Was able to return to the team healthy
The last two seasons, Francona battled several health issues that caused him to have to be away from the team. The skipper had to leave July 29, 2021 and DeMarlo Hale took over. He returned healthy and the young team rejuvenated him this season.
During the spring this year, Francona said, "It's hard because I don't take it lightly. I don't like the idea of letting people down. It's not that they can't survive without me. I don't mean it like that. But this is my responsibility. I'm uncomfortable when I can't do it right."
He did it right this season that's for sure winning Manager of the Year. As well as leading a team that had 17 rookies make their major league debut. The Guardians and their award winning manager made history this season. The team that was overlooked won 92 games, dominated the American League Central and took the Yankees all the way to Game 5 of the ALDS.
Francona's future
He'll be back in the dugout to manage the team next year. Chris Antonetti says he has an open-ended contract, "We want Tito to manage as long as it makes sense to him on his end."
The Guardians' manager is eager for next season saying:

"This needs to be a starting place for us. This can't just be a good story this year. We need to take this and go. I think we have a chance to have something really special."

NEO Sports Insiders Newsletter
Sign up to receive our NEOSI newsletter, and keep up to date with all the latest Cleveland sports news.